Salespage Snapshot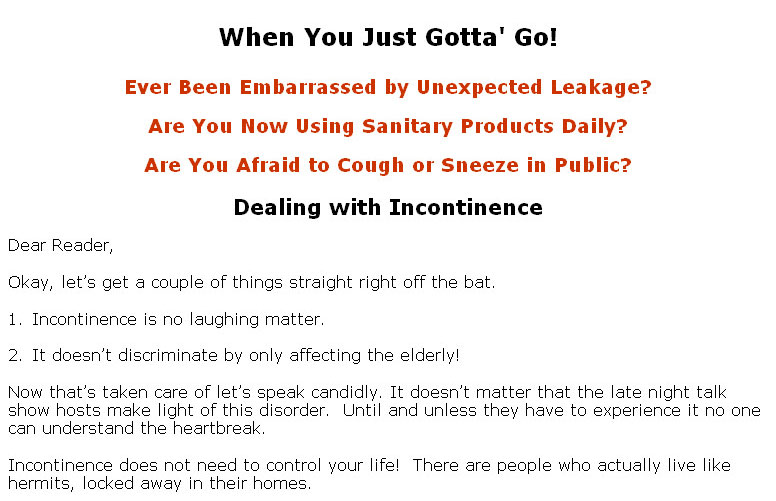 >> Click Here To View Sales Page...
PLR Ebook Table Of Contents
Frequent Urination
Who is at Risk for Incontinence?
Types of Incontinence
Causes of Incontinence
Incontinence in Women
Incontinence in Men
Overactive Bladder Treatments
Incontinence Medications
Functional Incontinence
Bladder Spasms
Kegel Exercises
Incontinence and Sex
Diagnosing Incontinence
Diet and Your Bladder
Bladder Suspension Surgery
PLR Ebook Sample Content Preview
Frequent Urination
Most people can store urine in their bladders until it is convenient time for them to go to the toilet. Typically, a person urinates four to eight times a day. Needing to go more than eight times a day or waking up in the middle of the night just to relieve oneself is a different story. This is called frequent urination.
Either you drank too much before sleeping or it could be a signal to some health conditions (if it becomes regular).
It is important to distinguish 'frequent urination' (frequent trips to the bathroom) as against 'excessive urination' (production of too much urine leading to frequent urination). Frequent urination means needing to urinate more often than usual. Urgent urination is a sudden, compelling urge to urinate, along with bladder discomfort.
The frequent need to urinate at night is called nocturia. Although most people can sleep for 6 to 8 hours without having to urinate, some middle aged or older men and women often wake up in early morning hours to urinate.
Other Details* Sales Page:
Included, HTML, MS Word Doc
* File Format:
MS Word Doc, PDF
* Number of Pages:
61
* Included Graphics:
Ecovers, PSD
* Download File Size:
1,419 KB