Salespage Snapshot: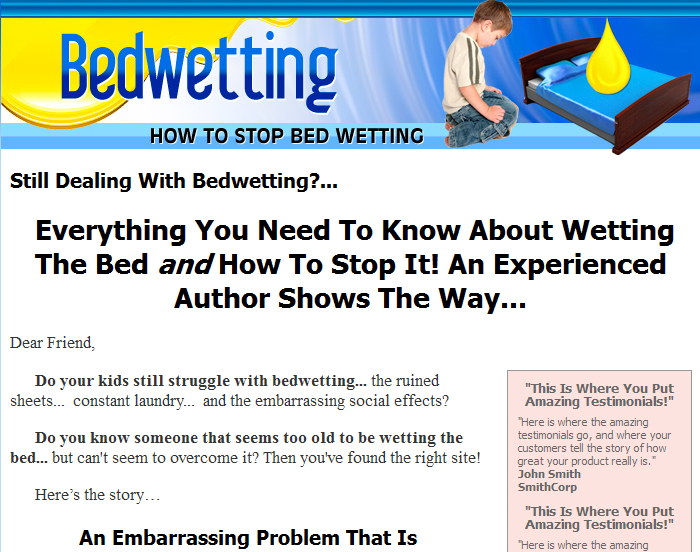 >>> Click Here To View Full Sales Page…
Table of Contents
INTRODUCTION
A LOOK AT BEDWETTING
CAUSES OF BEDWETTING IN CHILDREN
FACTS ABOUT BEDWETTING AND CHILDREN
ADULT BEDWETTING
TOILET TRAINING TIPS FOR BEDWETTERS
CLEANING UP AFTER A BED WETTER
HOW TO STOP BED WETTING
PRODUCTS THAT HELP BEDWETTING
CONCLUSION
Sample Content Preview
A LOOK AT BEDWETTING
Bedwetting is probably more common than you may think. Chances are, you probably even know someone that suffers from this common problem. Children, teens and adults all suffer from bedwetting. For some, it is a temporary or isolated incident, but others suffer from this chronically.
What is bedwetting?
As you probably know, bedwetting means passing urine while sleeping. Bedwetting is also known as "nocturnal enuresis". "Enuresis" means wetting and this can refer to wetting during the day or at night time. Sometimes bedwetting is referred to as incontinence. It is extremely common for children to have bed wetting issues. Until children are toilet trained, the passing of urine, whether at night or during the day is completely involuntary. They have no control over when they urinate. This is not a health issue or a medical concern at this age. It is simply a matter of proper toilet training and development. Even when children are toilet trained during the day, it is very common for them to need protection at night. In fact, pediatricians usually agree that most children gain some sort of bladder control by age four. Most children will have day time control first followed by night time control.
When adults suffer from bed wetting it is usually a different matter. Many times adult enuresis is the direct result of a medical condition or other health related issue. Adults who have issues with wetting the bed at night can usually see a doctor who will pin point and treat a certain condition. Chronic adult bed wetting often needs treatment. While it is not as common as child bed wetting, there are a fair amount of adults who suffer from this embarrassing problem either from time to time or on a regular basis. There are many adult products that can be used to help with bed wetting and many of these products are quite helpful at either limiting the incidences or stopping the problem all together.
Other Details
- 30 Articles (TXT)
- 2 Ebook (PDF, RTF), 43 Pages
- 7 Part Autoresponder Email Messages (TXT)
- 1 Salespage (HTML, RTF)
- 3 Ecovers (JPG)
- File Size: 1,194 KB