Salespage Snapshot: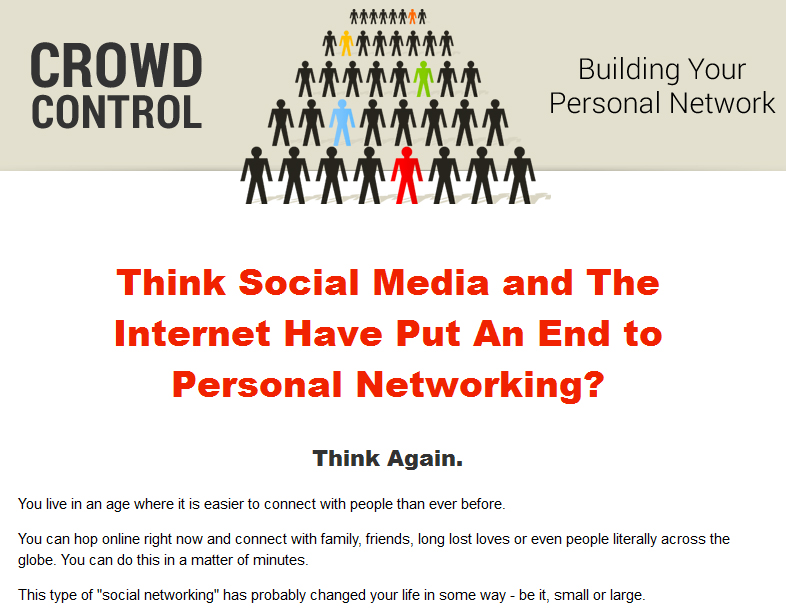 >>> Click Here To View Full Sales Page…
Table of Contents
Introduction 4
What is Networking? 10
Takeaways for This Section 12
Why Should You Network? 13
Takeaways for This Section 15
Networking Skills 17
The More You Network, The Better You Get 17
Know Your Contacts 18
The Pareto Principle 18
Takeaways for This Section 19
Networking Obstacles 20
I Can't/Won't/Don't Network 20
I Don't/Won't Know What To Say 20
I Don't Know Anyone To Network With 21
Takeaways for This Section 21
Face-To-Face Networking Checklist 23
Online Networking 25
Conclusion 27
Sample Content Preview
Introduction
It's not what you know; it's who you know, right? Well, that's partially right. What you know and what you do with that knowledge are two very important components that lead to business success. After all, a business without an in-demand product line isn't in business very long. So, where does this demand come from? That's where the other half of the equation kicks in. The demand comes from who you know – your clients and customers. So, where do the clients and customers come from?
Clients and customers come from networking. Networking is how the buying public gets to know you and the products that you offer. This interplay between you and the public is what generates trust in you, loyalty to your brand and, most importantly, demand for your product line.
The goal of this book is to allow you, the business owner, to develop excellent networking skills that will enable your business to reach a new level of visibility. This increased visibility among the members of the buying public will, in turn, allow you to increase your edge against your competition and leverage that edge into greater profitability.
You will start at the beginning, learning what focused networking is all about and why it is so vitally important to your business. Next, you'll look at effective networking techniques and strategies. These proven techniques and strategies will be broken down into actionable steps that you can begin to use today. You'll also learn about some very common networking obstacles and what you can do to overcome them. You will then learn how to put together a networking checklist that you can use on the fly, prior to any networking events or opportunities. Finally, you'll take a look at the world of online networking and how you can use social media to further enhance both your exposure in the marketplace and your profitability.
Before we begin though, let's take a moment to examine some of the other core business principles that work alongside networking to ensure success. While networking is probably one of the most important of these principles, it cannot work its magic in a vacuum. You need to make sure that the rest of your business house is order, so that when you do network you gain the most traction from your efforts and, hence, the most profit.
So, besides networking, what's the most important element in a successful business? The answer depends on the viewpoint of the business owner. An owner who is tightly focused on day to day operations may have a different answer than an owner who is taking a broad look at where the business might be in five years' time. In fact, the same owner could give you a different answer on different days, depending on where their priorities are at that time. Unfortunately, that's a problem.
You see, the basic building blocks of success don't ever change. They remain the same no matter what problems or preoccupations you may be experiencing. Your day to day perspective can and will change. The elements of success do not change. They are rock solid and immutable and you forget or ignore them at your own peril.
Other Details
- 10 Articles (PDF)
- 2 Ebooks (PDF), 27 Pages
- 1 Salespage (HTML)
- Checklist, Posters, Infographic
- Year Released/Circulated: 2015
- File Size: 5,329 KB
License Details:
[YES] Can be used for your personal use.
[NO] Can be given away.
[NO] Can be sold.