Salespage Snapshot: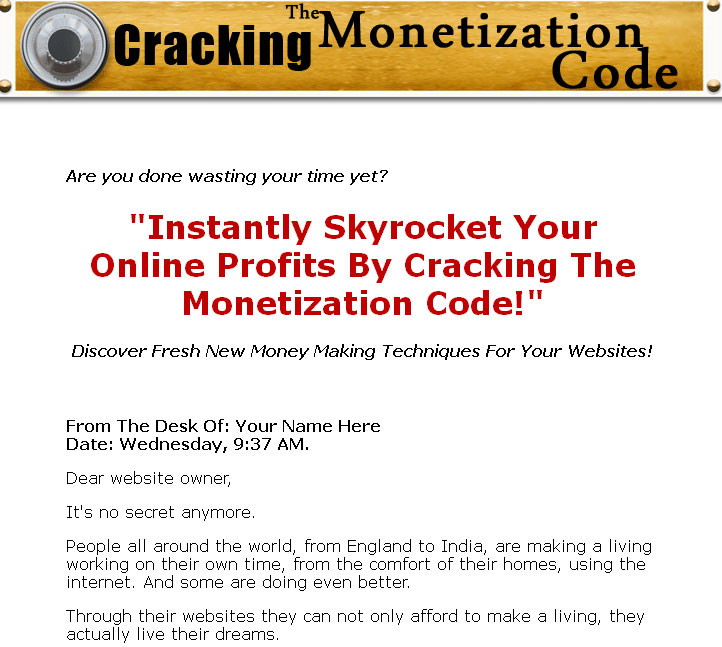 >>> Click Here To View Full Sales Page…
Table Of Contents
Introduction
Pay-Per-Click advertising (PPC)
Google AdSense
Define your target using Spyfu
Get your blog online
Other PPC advertising options
Cost-per-action advertising (CPA)
Cost-per-thousand advertising (CPM)
Selling advertising space directly to the advertiser
Paid to blog
Affiliate marketing
Digital products that affiliates can sell
Selling 'real world' products as an affiliate
Stand out by doing things differently
Amazon and eBay
Direct product promotion
Resell and Master Resell Rights products
Creating your own products
Conclusion
Sample Content Preview
Introduction
If you plan to start making money on the internet, then one of the first things that you are going to need is a way of doing so. That is, the site that you create must have some method of making money for you, which in internet marketing terms is a process known as monetization.
There are many different ways that you can make money from a web site, and the best part about it is that some money making methods can be instigated almost immediately. Perhaps not too surprisingly, however, the monetization methods that tend to be the most profitable are also the ones that take the most time and effort to put in place as well.
In this book, we will therefore look at a broad range of methods of monetizing both web sites and blogs, principally as a way of demonstrating just how easy it really can be to start making money online. We will also consider the places that you can find these money making resources as well.
It is important to appreciate, however, that there are other factors that need to be taken into account when trying to decide what is going to work best and make the most money or you. For example, the type of web site that you are building will have an influence on how effective certain types of monetization for that site will be, as will the type of business that you are running.
Nevertheless, the main thing to understand is that there is no shortage of ways to make money from any web site that you build, and it really is just a question of you deciding how you want to start earning.
One final thing that I want to do before moving on is to highlight that making money from the internet is a truly global business. Anyone, anywhere who can get a half reasonable internet connection can do it.
You must therefore also give some consideration to the way that companies will actually pay you for your efforts. For example, if a US based company pays you by check, then that will work fine for you if you are a US resident, but it is not nearly so convenient if you live in Singapore or the Philippines.
In fact, if you live outside the USA and you get paid by check, then bank charges can have a significant impact on your net earnings, so it is something that you need to think about and be aware of.
Pay-Per-Click advertising (PPC)
No matter how new your web site or blog is, and irrespective of how many site visitors you currently enjoy, there are companies and businesses out there that are willing to pay you to advertise on your site.
Of course, common sense would tell you that the more people there are that visit your site, the more money you are going to make. That is certainly true, but it is also the case that the topic or subject matter of your site will have an influence on your earning power as well. That is something that you will quickly appreciate when we start to look at the details of the various different advertising options available.
Other Details
- Ebook (PDF), 44 Pages
- Salespage (HTML)
- Ecover (GIF)
- Year Released/Circulated: 2008
- File Size: 796 KB
License Details:
[YES] You May Sell and Convey Master Resell Rights To This Product.
[YES] You May Sell and Convey Basic Resell Rights To Your Customers.
[YES] You May Resell This eBook For Personal Use.
[YES] You May Add This Product Into A Paid Membership.
[YES] You May Add This Product Into A Paid Package.
[YES] You May Sell This Product On eBay Or Any Other Auction Site.
[NO] You May Add This Product Into A Free Membership.
[NO] You May Giveaway This Product.
[NO] You May Not Alter Or Offer Private Label Rights To This Product.