Salespage Snapshot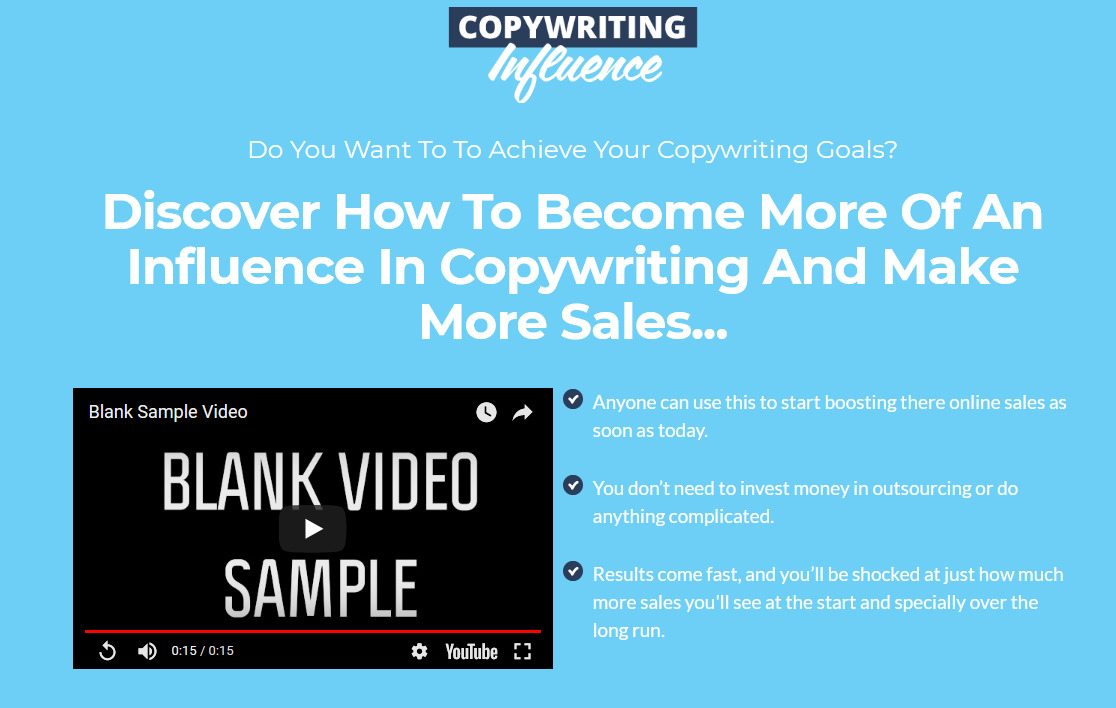 >> Click Here To View Sales Page...
Table of Contents
Introduction 7
Chapter 1: Writing a Sales Letter That Sells 10
Use The Verbal "2×4" …… 11
Go Fast; It Goes in a Round File ….. 12
Testimonial Time ….. 12
Make Your Customers an Offer They Can't Refuse … 13
Use a Guarantee ….. 14
Encourage Those Delaying …… 14
Action Call 14
Always Be Closing … 15
Use Magical Afterthoughts …… 15
Use The Order Form to Drive It Home …. 15
Chapter 2: The Power of Words and Their Hidden Secrets …… 17
Entice Your Prospects with an Excellent Sales Copy. 19
Chapter 3: Correct Copywriting for Search Engine Optimization
(SEO) .. 24
What Is SEO Copywriting? 28
Some Dos of SEO Copywriting: …… 29
Chapter 4: Questions You Must Have When Copywriting . 32
Making Yourself a Better Copywriter 34
Copywriting Influence
Chapter 5: Selecting The Correct Copywriting …. 38
Choosing an Influential Copywriter .. 40
Watch Out For The Following: . 41
Chapter 6: Successful Copywriting Necessities .. 44
Headlines That Will Either Make or Break Your Copywriting …. 46
Chapter 7: Knowing The Correct Length of a Sales Letter 51
Some Basic Outlines to Follow: …… 51
Emphasis Importance On Your Sentences 53
Chapter 8: The Basics of Perfect Copywriting …. 56
Conclusion . 59
Sample Content Preview
Chapter 2: The Power of Words and Their Hidden Secrets
This chapter is very important as to what I'll be sharing. We will have learned codes so that we can all communicate mutually using codes if that were to be our proven best method of communication with our existing or prospective customers or perhaps learned sign languages if those were very effective. But I guess our proven communication process is much simpler.
The difference between a salesperson and a telesales person is the ability of a salesperson to meet the prospect physically, gauge the pitch according in a face to face response and through signs displayed by the prospect. Through facial, body language expressions, a professional salesman will immediately know if they're passing a message. These can be noted from the nodding of the head together with a smile and opening eyes in appreciation.
Unlike the salesperson, a telesales person can only appraise their sales from a pitch from the prospect's responses to questioning. The telesales person has lesser work to do, finds the job easier, tries to imagine the facial expression of their prospects while discussing with them. The final conclusion will be from the tone of voice expressed by the two parties.
Prospects have advantages over a direct mail and internet marketer as they cannot be seen nor heard. The only tool for the sales pitches is just their written word. To achieve success in getting a prospect, how written words are passed serves as the solution to successful offline and online marketing.
Irrespective of the form, whether email adverts or sales letter, written words must pass a message straight into the prospect's mind. The only barrier to having your written words get straight to a prospect has to ensure your prospects read your message.
Your "hello", "hey you", "listen up" as an introduction in your headline will determine if someone will read your sales pitch and this ultimately depends on your headline. Your headline has to take hold of the prospect's attention else it becomes a farewell and send-off message.
Ever given attention to a "sub-heading"? Subheadings are incorporated to maintain the interest of the prospect through the copy majorly to the benefit of the prospect to decide to read the whole message. Subheadings are as cogent as the headline. Let your headline not become a "killer" to your sales message.
How about the body of the copy? Here, you display your talents and skills of copywriting. You have no excuse for using all your knowledge and opportunity of the English Language to better explain and describe in details the features and benefits of your product or service you have on the offer. The English language has all the adjectives needed for your writing, so make use of them as applicable.
In creating a catchy copy, you must remember the word "senses". Using our day to day activities from the sense of seeing, smelling, tasting, touching, and listening. We trust them as they represent the human survival mechanisms, just like other mammals too rely on them.
You can anticipate some types of responses which you can propel into your prospect's heart to achieve maximum contact when you use the sense words alongside emotionally generated words. It is a skill for every offline and online marketer to really understand how to maximize profit capitalizing on words.
Achieving business success is beyond writing an emotionally charged and outstanding sales copy but it is effective to recognize its importance.
The secret power of words must never be underrated.
Entice Your Prospects with an Excellent Sales Copy The sales of a copy depending on the quantity and quality of the details included whether it is a short copy or long copy. It does not mean more words bring better sales.
There are tips to follow to create a successful sales letter having the accurate structure to keep the reader interested from start to end.
– Using a commanding headline: From the start, grab the attention of the reader to make them continue reading. This can also be achieved by putting the main benefits of your product across in a short sentence.
– Use Sub-headlines to create excitement: Explain the advantages of your product's features and generate the excitement of your reader in no more than one or two short sentences. Specify the limitations of your offer if you are offering a limited promotion.
– List the advantages of your product: Every reader needs to have good reasons to buy your product. Think about what your customer wants and these reasons have nothing to do with your product's features. If you're selling holiday villas, you can put across something like the following…
"Save your money and enjoy the Mediterranean sun on your summer vacations if you want to take advantage of the comfort of a luxury apartment, then you have the most important letter to read".
– Describe your distinctive selling proposition: Here, you have to mention your distinctive selling proposition in two or three sentences to specify the benefits that differentiate your product from all the others, then let your reader know you will describe the details later in the sales letter.
– Establish your credibility: Credibility is the most important thing to sell on the internet. Before your reader will buy anything from you, they will have to trust you first. Highlight three reasons they should believe you. Reveal that what you say is correct.
– Describe the benefits and features of your product: Describe how your reader's problem will be solved, or how his or her life will be improved. You can be more convincing with the more details you can provide.
– Give more details regarding your product: At this stage, you enlighten your reader about everything as regarding your product. Write till you are bored and use as much space as you can.
– Show your customers' testimonials: You just need to continue to ascertaining your credibility. Show your customers' testimonials that have already enjoyed your product. Instead of making general comments, mention what your customers like about your product or something similar. You can make reference to at least five testimonials.
– Get rid of competition: You can get rid of competition by revealing to your reader the information they need to read that distinguishes your product. Show the elements that make it more preferred to your competitors.
– Continuously build value: Continuously let your readers know that your offer is so good by building the value they cannot refuse. A way is to evaluate the value of the offer to the normal value of your product.
– Outline a summary of all that your customer will receive: Let your reader have knowledge of everything he or she will be getting from you.
– Talk about the price of your product: Talk about the sales price and regular price of your product. Cross out the regular price and let the offer price follow.
Other Details
- 10 Articles (TXT)
- 1 Ebook (PDF), 61 Pages
- 1 Salespage (HTML)
- 10 Ecovers (PNG)
- Promotional Ad Material (Emails, Banners)
- Checklist, Resource Cheat Sheet, Mindmap, Sales Video, Social Media Images
- Year Released/Circulated: 2017
- File Size: 73,940 KB
License Details:
[YES] Can be sold as it is no less than $7.00.
[YES] Can pass on master resell rights to your customers.
[YES] Can pass on resell rights to your customers.
[YES] Can pass on personal use rights to your customers.
[YES] Can add this product to a PAID membership site.
[YES] Can be bundled within a product package.
[YES] Can be giving away as a bonus.
[YES] Can give away the product to your subscribers.
[YES] Can edit the sales page and opt-in page.
[NO] Can add to a free membership site.
[NO] Can pass away the product for free.
[NO] Can edit the contents of the ebook.