Salespage Snapshot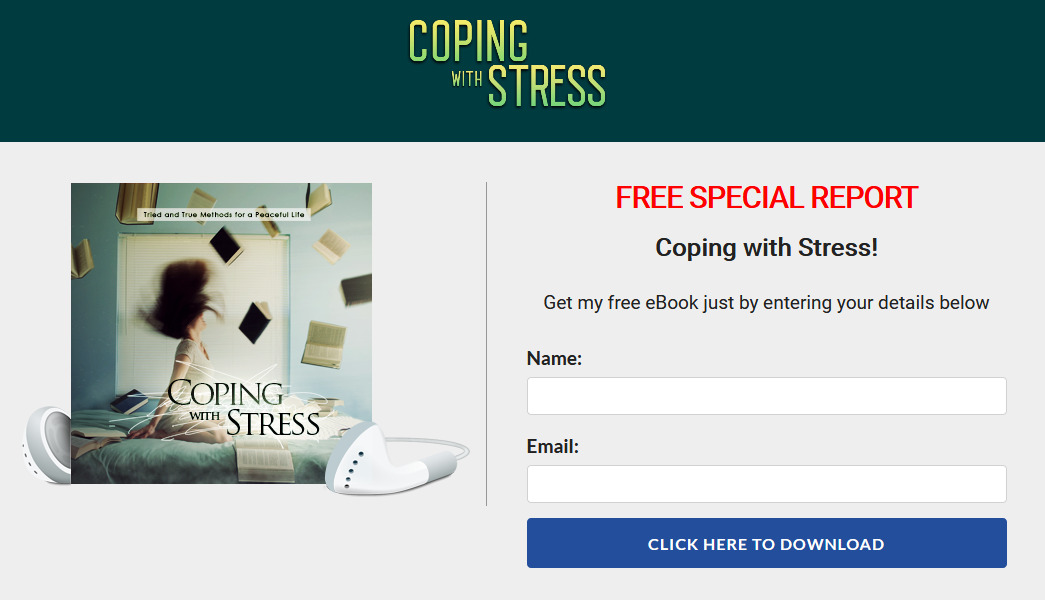 >> Click Here To View Sales Page...
Sample Content Preview
Stress can be one of the most dangerous things in the world. It can cause us to have physical ailments, lower our life expectancy and decrease the effectiveness of our immune systems. It can also leave us vulnerable to people who may be manipulative and who find it easy to prey upon people's emotions when they are under times of duress. Anyone can feel stressed out. We can all shoulder heavy burdens that can sometimes seem to weigh us down far more than we feel is fair.
Stress is the weight of those burdens culminating into our bodies in an often physical way. It is the pain in our chests we feel when we are stricken by how heavy the weight we have to carry is. It is the sharp pain in your head you feel when you are having a conversation that you just don't feel heard in. It is the tightening of your muscles that you don't even notice when you find that things just are not going the way you wish they might.
Stress can affect us in many ways, and it does. There is no denying how stressful it can be to have many demands placed upon you when sometimes you just don't know if you can or will be up to the task of performing in a way that proves successful. Many people are defeated by their stress. Many people become physically ill from their stress and are never able to find a way around it. Some people are even triggered into mental illness through their stress, because they may have a predisposition to the illness but being overwhelmed by their burdens is more than they can handle on an emotional, and sometimes physical, level.
Stress affects us all because we all have goals in mind and obstacles that arise to prevent us from achieving those goals. We all have to try to think outside the box and find unconventional solutions to issues that we don't always anticipate facing. Most of us are comfortable and often expect that comfort to last, so when something goes wrong it really throws us for a loop. Others of us have been forced to work hard from day one and are never secure in the things that they have accumulated, and so the insecurity of knowing that the things they work for may not last can cause significant strain. Whatever type of stress you may be more prone to, there are solutions for you. You don't have to resort to negative coping mechanisms or things that will ultimately make it more difficult for you to achieve your goals. Coping With Stress will help to guide you away from these negative coping mechanisms so you might be able to start your life anew with solutions to issues you may not have even known you have!
Biologically speaking, stress is a response that we inherited from our ancient ancestors. Stress is something that was a call to action. If we found ourselves in a situation that could result in either life or death, a stress response would be triggered and we would either fight or run away. Sometimes though, there is also the deer in headlights response. Sometimes, the stress is overwhelming and a decision can't be reached right away.
In that timespan, things freeze up. We find ourselves locking in an effort to figure out the best course of action to take next. People who are unable to reach a decision in time ultimately find that they are losing out because of it. The stress response can either save us or destroy us. And in today's day and age where our threats are far more modern and require us to be on the ball at all times, ultimately, stress is far more often our destroyer.
Our ancient ancestors were able to recognize that their stresses were activated as they attempted to survive. They understood that if they were feeling pressure or stress about something, it was because if they were not able to meet the demands placed upon them, they, or the people they cared most about, could die. Survival is a serious business.
It's not so different in today's day and age. We are still expected to provide for our families and to take care of ourselves. We are expected to hold a job and pay rent and buy our food. We are meant to know that if we don't follow the rules, we will lose our privileges and freedoms.
All of these things are stressful. Everything we do can be considered a means to an end; that end being survival. And when we catch ourselves slipping off the ball, that stress can come at us full force and bring us to a full stop. The deer in headlights effect. And if we find that we are in the headlights and unable to act, then everything begins to fall apart around us.
But there is a solution. We do not need to be overwhelmed by stress. There are ways around it, and all of us are able to recognize that stress does not have to rule over us. In Coping with Stress, strategies for coping with these issues are readily available to anyone who is in danger of losing themselves to the stressful situations of every day life.
Other Details
- 1 Ebook (PDF, DOC), 6 Pages
- 1 Audio (MP3)
- 1 Graphic (PNG)
- 1 Squeeze Page (HTML)
- Year Released/Circulated: 2020
- File Size: 6,986 KB
License Details:
You may add this product to your PAID membership site
You may giveaway the product as a bonus when people buy through your affiliate link
You may edit the included opt-in / squeeze / landing page
You may giveaway the eBook for Lead Generation purpose
No, you may NOT edit the contents of the eBook
No, this product does NOT include private label rights. You are granted Master Resell Rights only