Salespage Snapshot: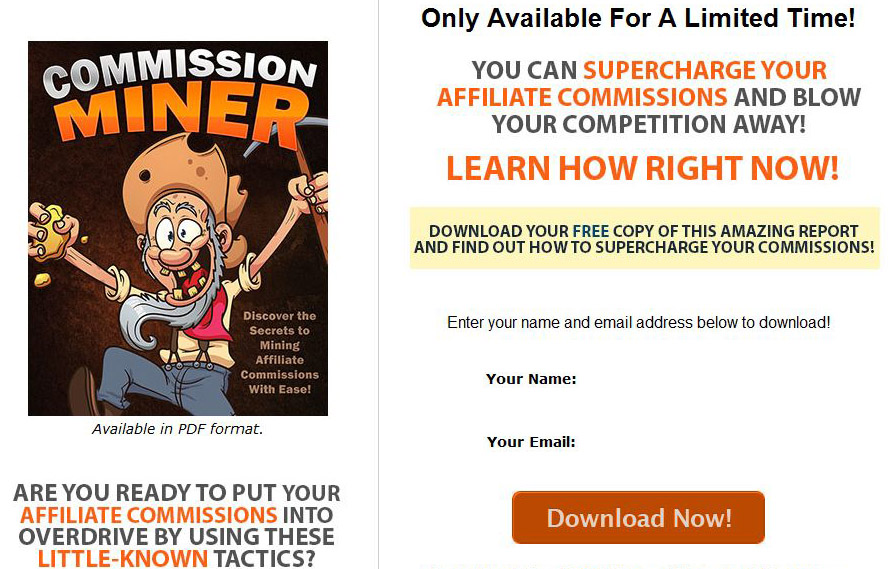 >>> Click Here To View Full Sales Page…
Table of Contents
Table of Contents …. 2
Introduction 3
Super Affiliate Secrets ……….. 6
They Become An Authority 6
They Add Value To Offers . 7
Crushing The Competition ….. 9
Create a Review Blog …….. 9
Choose Great Products … 10
Preselling ……….. 10
Super Affiliate Stealth Secrets ……….. 13
WARNING!! ……. 13
Preselling Made Easy ………. 16
Sample Content Preview
Crushing The Competition
All affiliates have competition. If you're in an extremely competitive niche like internet marketing, you'll have to stay way ahead of the competition in order to survive.
There are a few ways you can do this, and start bringing in the same types of commission checks the big boys do.
Create a Review Blog
A review blog will really help boost your conversions, because you'll be positioned as an authority, you'll get a built-in traffic source, you can use it to build your mailing list, and it captures an audience that isn't already on your existing list.
Here is an example:
>> http://www.BestBonusBlog.com
Make sure your blog contains the following:
1. Product reviews and announcements. Be honest in your reviews. Don't just review products for commission!
2. Upcoming products. People want to hear about the latest products right away!
3. Newsletter signups. These are obviously invaluable!
4. Contests. People love contests and will come to your blog just to enter one. They'll also share the contest with others!
Choose Great Products
Never, ever promote a product just because you want a commission. I know, the bottom line is making money. But remember, if you promote a product without checking it out to ensure its quality, you could destroy your reputation in your niche!
Here are some tips for choosing great products:
1. Be sure you're promoting quality products.
2. Make sure they appeal to a wide audience. If they are too specialized, you'll lose sales.
3. Focus on new product launches.
4. Chose recurring commissions whenever possible.
Preselling
You always want to presell prospects, because the sales page may not be enough to get them to buy. Additionally, they're already warm because they know you and trust you. (Remember, you've built authority!)
So how should you go about preselling? First, establish the basics:
1. Make sure they know and trust you. If they like you and trust you, they are much more likely to buy.
2. Add value. People will always prefer to buy with a bonus. Who doesn't like free stuff?
3. Trigger reciprocity. If you give someone something for free, they feel indebted to you. This makes them more likely to do what you ask.
4. Presell the product itself. Let them know how good it is and why you think it's so good.
Once the basics are in place, it's time to start preselling in earnest. Even if the vendor's sales page is pretty good, preselling will always boost conversions.
Here are some ways you can presell prospects:
1. Use an email series. Build excitement and anticipation using a series of related articles or emails.
2. Share the product's benefits. Tell them exactly what is in it for them if they buy. What benefits will they see? What problems will it solve? Push those emotional buttons!
3. Use a strong call-to-action. Make sure you tell them exactly what you want them to do. Don't expect them to guess! Tell them, "Go grab your copy right now, because my special bonus is only available for another 24 hours!"
4. Use notification bars. You can overlay a bar over the sales page that will draw attention to a special offer, create a sense of urgency and include a call-to-action. This will increase conversions. (We'll take a closer look at this bar later.)
Super Affiliate Stealth Secrets
Now you've seen a glimpse of one of the really sneaky stealth tricks super affiliates use to boost their conversions – notification bars, also called attention bars.
You can put notification bars on your own site to call attention to things such as a special sale or your newsletter opt-in. But did you know you can overlay them on top of a vendor's sales page?
You'll have to use some iframes trickery to do this. An iframe lets you put something over someone else's own webpage by loading two frames… one yours, and the other with the vendor's site in it.
Fortunately, you don't need to use any coding to do this. You can use a neat little tool call Attention Monkey to create these bars for you, so that all you have to do is insert a little snippet of code onto your web page, and boom!
Other Details
- 1 Ebook (PDF, DOC), 22 Pages
- 7 Part Autoresponder Email Messages (TXT)
- 1 Squeeze Page (HTML, PSD)
- File Size: 38,751 KB