Salespage Snapshot: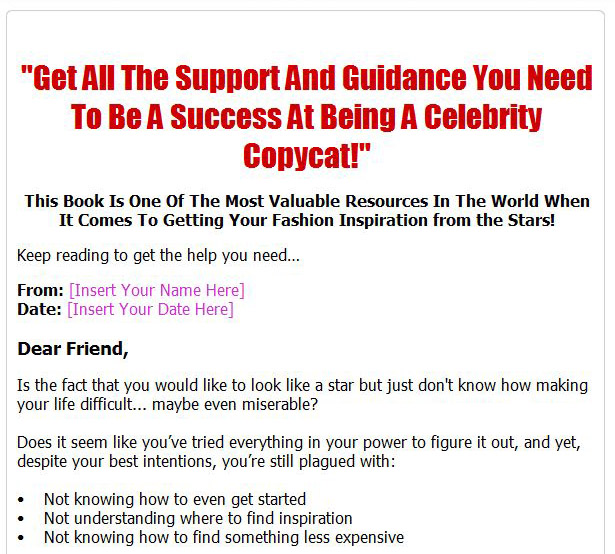 >>> Click Here To View Full Sales Page…
Table of Contents
Introduction
Chapter 1:
Dressing like a Star Basics
Chapter 2:
Get Inspiration from a Celebrity Most Shaped Like You
Chapter 3:
Use Celebrity Magazines
Chapter 4:
Use Accessories
Chapter 5:
Finding a Cheaper Look-A-Like Outfit
Chapter 6:
Make Sure You Have a Good Fit
Chapter 7:
Be Confident In What You Wear
Sample Content Preview
Chapter 2: Get Inspiration from a Celebrity Most Shaped Like You
Celebrity fashion is indeed a source of inspiration. And getting inspiration from a celebrity most shaped like you is a good decision. It is even easy to find for the celebrity fashion muse that serves as your fashion inspiration.
You can further check the clothes of the celebrity and take note on how they are wearing different items and the colors that look best on them. This is a one way of keeping up with her current style and learning about fashion.
Finding a celebrity that has the same body type is a must. It really helps you in configuring out the clothes that look best on your body. Another bonus is to search for the celebrity that has the same personal style just like you. This is still another excellent way of getting exposure and inspiration.
Here are a few of the popular celebrity fashion muses from where you can choose of the celebrity most shaped like you:
Lauren Conrad
Lauren Conrad is popular and her style is mainstream and cute. She has that sexy body wherein she wears on high heels and rocking leggings everywhere.
Jennifer Hudson
Naturally gorgeous, Jennifer Hudson dressed in her body type and has an excellent eye in fashion. She has a curvy figure and she is not a slave with all the trends that come up in the fashion industry.
Truly, you can be like her who is a perfect example of a woman that makes fashion looks good on her.
Eva Longoria
Eva Longoria may be a celebrity shaped fashion that looks like you. If you are tan, petite and have that sexy but classy sense of style, then you can get inspiration from her. She always wears with that high heels, cute dresses, designer sunglasses and expensive bags.
Jessica Simpson
If you have that sexy body but your style is casual, Jessica Simpson can be your fashion icon. She dresses in that trendy and spunky style that looks like a cowgirl. She is always in her high heels and cowboy hoots and trendy pieces.
One Reminder:
Once you have found out the celebrity that is most shaped like you, you can always add that individual twist for your look. It is still not fun and enjoying to copy a celebrity for her own piece: it is a fashion plagiarism.
Just let celebrity styles and outfits inspire you and have the confidence in wearing your newer and twister version for your look. This can definitely suits you.
Chapter 3: Use Celebrity Magazines
Fashion is not just about the clothes that you wear, but also the footwear and accessories that you have. It all starts from the top of your own head to the bottom part of your feet. All of these things are accounted as part of your celebrity copycat fashion.
In getting your fashion inspiration from the stars, it is further recommended to use magazines. This is one of the tips to follow in keeping up with the most updated trends in celebrity fashion.
From using celebrity magazines, you can learn on the following:
• Choosing the Celebrity Clothes that Best Complement your Size, Height and Skin Color
By turning your attention to celebrity magazines, you can learn on how to complement clothes for your height, size and skin color. Other people usually have the mistake of wearing outfits of their favorite celebrities. They have no idea that these clothes no longer suit them.
• Choosing the Ideal Celebrity that Serves as Your Fashion Muse
In using celebrity magazines, you can choose for the ideal celebrity whom you can turn to as your fashion muse. You can imitate her outfits that best highlight your aristocratic, good and bright features.
• Not Going on For Too Much
Even though it is okay to copy your favorite celebrity, you can learn from a celebrity magazine that it is not right to go on for too much. It is a good idea to be bold at times and be just like a celebrity. However, you do not have to look just like a human placard.
• Knowing How to Mix Celebrity Clothes and Match Them
By using a celebrity magazine, you can know how and learn to mix celebrity clothes and match them. Apart from it, you get the idea on shopping (e.g. your favorite celebrity like plain prints and neutral colors). Then, you can possibly match them with other clothes you have in your own closet.
• Getting An Idea From the Celebrity in Creating your Unique Style
Being a celebrity copycat or being exactly like your most favorite celebrity is not wrong. Remember that you have the freedom in doing so.
And by using a celebrity magazine, you can get the idea of creating your own unique style.
Celebrity magazines can guide you in wearing the same pants, shoes, accessories and shirts with that of the celebrities. You can exactly be guided on the celebrity clothing seen in the magazine that makes you a celebrity copycat.
• Looking Stylish in Dressing on Celebrity Clothes
The best thing about using celebrity magazines is that you are presented of the many ideas on how to look stylish in dressing on those celebrity clothes.
Always remember that looking stylish is not a rocket science. You can deeply rely on the information presented on celebrity magazines. Through this way, you can achieve the same look and appearance of your favorite celebrity.
Other Details
- 1 Ebook (DOCX, PDF), 31 Pages
- 1 Salespage (HTML)
- Ecover (JPG)
- File Size: 13,124 KB