Salespage Snapshot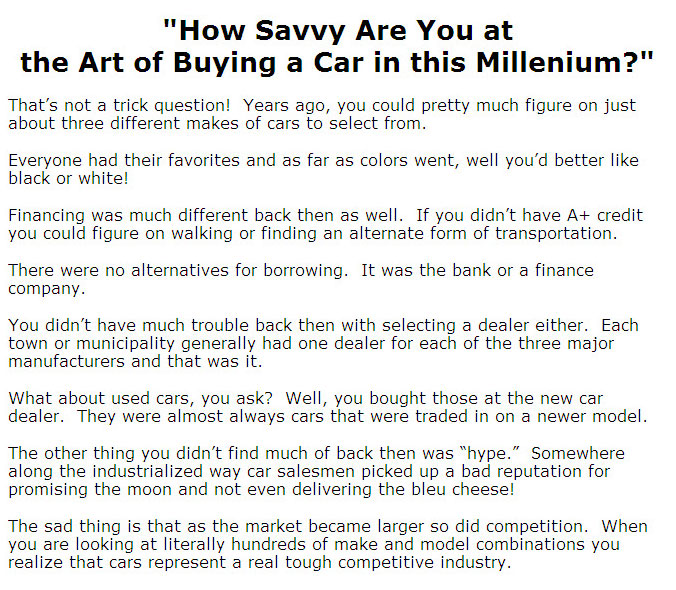 >> Click Here To View Sales Page...
Ebook Table Of Contents
Know your reason for buying a car
Different sources for buying a car
Tips about Financing
What should you look for in a used car
What you should know before you sign a contract
Common dealership scams
Avoiding auto refinancing scams
What to look for in a road test
Where to investigate and compare prices
Do not buy a flood damaged car
Buying a car online
Vehicle auctions – a good place to shop?
What you should know about auto service contracts
On the alert for "gas saving" claims
Understanding warrantees
Ebook Sample Content Preview
Reasons for Buying a Car
Besides the obvious reason, that being transportation, just like water a car is now considered a necessity in most urban areas. One of the reasons to consider when buying a car is if the vehicle being purchased is a good deal. Is it in good condition? How long a life does it have left? Is it an excellent ride? Does it have a great warranty, etc.
As we said, it's virtually impossible to get along without a car and if you can't afford a new car, following are some basic reasons you should consider when making that all important car purchase.
Is it a good buy?
The best time period to buy a car is later in the month. Usually, there are numerous rebate programs and bonuses offered by month's end based on a dealer's monthly sales quotas. The idea is, sometimes dealers fall short of meeting their sales objectives if their performance is assessed by the end of the month. This happens more often than not. The result of this is good news to most car buyers. Since dealers are more desperate to meet their quotas, they now have no choice but to sell the vehicle at a lesser than normal price just to make the sales they need to meet their goals.
Other Details
strong>* Sales Page: Included, HTML, MS Word Doc
* File Format:
MS Word Doc, PDF
* Number of Pages:
43
* Included Graphics:
Ecovers, PSD
* Download File Size:
1,438 KB