Salespage Snapshot: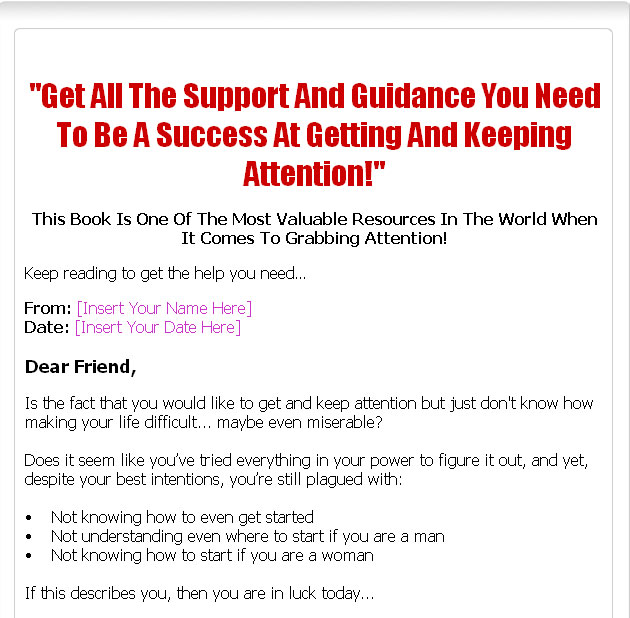 >>> Click Here To View Full Sales Page…
Table Of Contents
Foreword
Chapter 1: Part 1 – Tips for men
Chapter 2: Express with body language
Chapter 3: Be flirtatious with pickup-lines
Chapter 4: Energy is the key
Chapter 5: Women like guys who speak their mind
Chapter 6: Tips for women
Chapter 7: Words that blind men
Chapter 8: Attract guys with the scent of a women
Chapter 9: Attract guys with the scent of a women
Wrapping Up
Sample Content Preview
Chapter 2: Express with body language
Synopsis
Most people would claim that it is comparatively easy to read a woman's body language than that of a male's. However with some knowledge on this and careful observations it is often very possible to read and understand the male's body language portrayals.
The following are some examples of the often used and various body language styles by the male gender.
Expressing
It is said that the eyes are the windows to the soul and often men are not very accomplished in being able to disguise their feeling well when it comes to the eyes. Making direct eye contact and holding the gaze is one definite way the male signals that he is interested in connecting with the other person. If eye contact is not dominant in the meeting, then chances are that he is not really interested in continuing or taking the initial contact to any other level.
The male stance is also another very telling and informing body language movement. Most male with an impressive stance that is shown through the squaring of the shoulders and a straight back position is their way of displaying a high level of confidence. The open stance is a good indication that he will open, confident, friendly and willing to be approached and this is defiantly an attractive feature and open sign to the female who may be interested in engaging in a conversation and connection.
Any show of emotion on the part of the male gender is usually taken as something to be seriously noted, as most males find it very difficult to show any sort of emotion and are usually very guarded in this area. Therefore taking a male's emotional display for granted is not something that would be encouraged as this is probably a very rare display on his part and ridicule or disregard towards this display will not be well received and certainly remembered.
Chapter 3: Be flirtatious with pickup-lines
Synopsis
There is a fine line between good pick up lines and cheesy one that will end up working against the male instead of for. Therefore some careful consideration should be given to the circumstances, person and type of pick up line chosen to be used at any given time.
Flirting
Most males use the pickup line style to facilitate and create a possible gateway to connecting with someone they would like get to know further. Approaching someone in this style is fairly common and a popularly expected exercise from the male gender. Therefore having a good knowledge of pickup lines would defiantly be an advantage to arm one's self with if making the initial contact is to be well received.
Most suave men have fine tuned, this skill to perfection to ensure it comes across as genuine and sincere, thus allowing the female it is being addressed to, to feel special and delighted.
The following are some popularly used pickup lines that most men have found to be useful and appropriate for most occasions:
• Have you always been this cute or did you have to work at it?
• Do you want to talk or continue flirting form a distance?
• Can I buy you a drink and spend some time getting to know you?
• Do you see my friend over there? He wants to know if you think I am cute.
• My friends over there bet me that I couldn't start up a conversation with the most beautiful woman in the place. Can I buy you a drink using their money?
• You are so beautiful you made me forget my pickup line.
• If home is where the heart is, then my home is in you.
Chapter 4: Energy is the key
Synopsis
Being an active and energetic person usually get the attention of all around and this is especially so if the individual is a male. Energetic males tend to give off a positive vibes that most people are impressed with and ultimately attracted to.
Energy
The ultimate platform to display such energy is in the office environment, on the playing field where games are an ideal way to portray energy and in the gym. The most popular would be the gym as there is always the presence of the female gender if the gym caters to all types of customers.
This is then followed by the office environment where the energy levels displayed are reflected the in work load the male is able to effectively carry. In this environment too, the mixture of sexes, ideally provides for the ultimate platform for displaying the energy levels the individual is capable of. Lastly there is the playing field where games are generally facilitated and where the male is able to display his energy levels in a very competitive and "raw" frame.
In this particular environment however, the attention of the female may not be as prevalent as in most cases the audience would be made up of other supporting male fans.
However this is still a popular platform for displaying the adequate amount of male energy and proficiency in the gaming environment.
Fitness centers are the ideal place for the male to display these energetic capabilities for all to see. Those who are able to impressively carry out various exercise programs are more likely to attract the attention of the female gender. Here the raw energy is often felt in its purest physical form and can be quite a turn on for those interested in making a connection.
The office environment however project a different kind of energy displayed which is no less impressive and impactful. Many women are automatically drawn to men who can portray such strengths and energy while displaying an aura that is in complete control.
Other Details
- 1 Article (DOC)
- 1 Ebook (DOCX, PDF), 27 Pages
- 1 Lead Magnet Report (DOC, PDF), 11 Pages
- 1 Autoresponder Email Messages (TXT)
- 1 Salespage (HTML)
- Ecover (JPG)
- File Size: 8,939 KB