Salespage Snapshot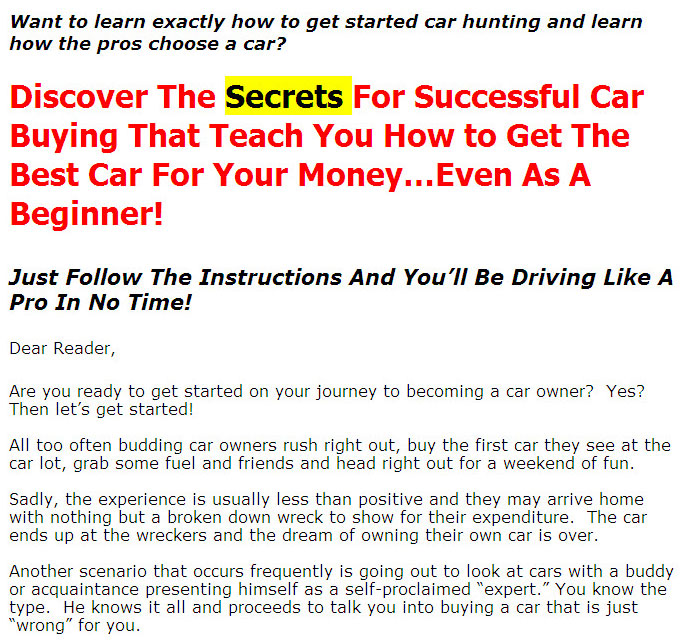 >> Click Here To View Sales Page...
PLR Ebook Table Of Contents
1. New or Used Car – Which is Best for You? ……………………. 2
2. Choosing a Car to Suit Your Needs …………………………… 3
3. Places to Buy a Used Car ………………………….. 4
4. Getting a Better Deal on a New Car ……………………………. 5
5. What Features to Look for in a New Car ……………………. 7
6. What Features Should a Used Car Have ……………… 8
7. Good and Bad Points of Owning a Used Car ……………….. 9
8. All About Leasing a Car …………… 10
9. Extras – are They Really Worth it? ……………………… 11
10. Maintaining Your Car Engine ………………….. 13
11. Taking Care of the Bodywork …………………… 14
12. The Necessity of Car Insurance …………………… 15
13. Why You Need Car Seat Covers …………………. 16
14. Car Safety Features to Look For ……………… 17
15. How to Fix Car Problems ………………….. 19
Ebook Sample Content Preview
1. New or Used Car – Which is Best for You?
Most people dream about owning their own car. But before that can happen you need to get a job and save some money so that you can pay it off more quickly. Then you have to decide on the type of car that you can afford, rather than the one you want. While you can dream about your ideal car, it is best to settle for something cheaper that you can afford. Then if it gets a few dents it will not matter quite so much.
When buying a car for the first time you need to consider if you should buy a new or a used car. Lately, the cost of new cars has surged upwards causing many people to opt for used cars although there are many incentives such as low interest payments and rebates from manufacturers of new vehicles.
With the availability of the internet it is not difficult to find incentives on new cars or savings that can be made by buying a used car. Despite the fact that there are choices to make when buying your first car, these choices can be narrowed down to two factors. The first is your reason for buying a new car and the second is a question of affordability. A used car will be considerably cheaper in comparison to a new one although this is a gamble and the benefits of a new car are many, there are of course advantages and disadvantages on both positions.
When you consider buying a used car, the history of the car is of utmost importance because that is what will determine if the car is worth buying or not. There are many vehicles that have been in an accident and when buying a used car it is important to know if this is the case or not. The issue of ownership is also quite important and if you are able to determine who or how many people have owned a used car before, this will go a long way in helping you decide if you want to buy it or not. Most cars have a record of maintenance and you can ask the owner to provide that for you.
And while a record of a vehicle's maintenance might not be 100% accurate, it is also possible to get validation by examining the used car history's records through its Vehicle Identification Number (VIN) which you will pay a fee for. The VIN will give you inspection reports, accidents the vehicle may have been involved in, odometer reading, previous usage for example if it was used for rental or leasing purposes, together with many other details.
Other Details
strong>* Sales Page: Included, HTML, MS Word Doc
* File Format:
MS Word Doc, PDF
* Number of Pages:
20
* Included Graphics:
Ecovers, PSD
* Download File Size:
3,083 KB