Salespage Snapshot: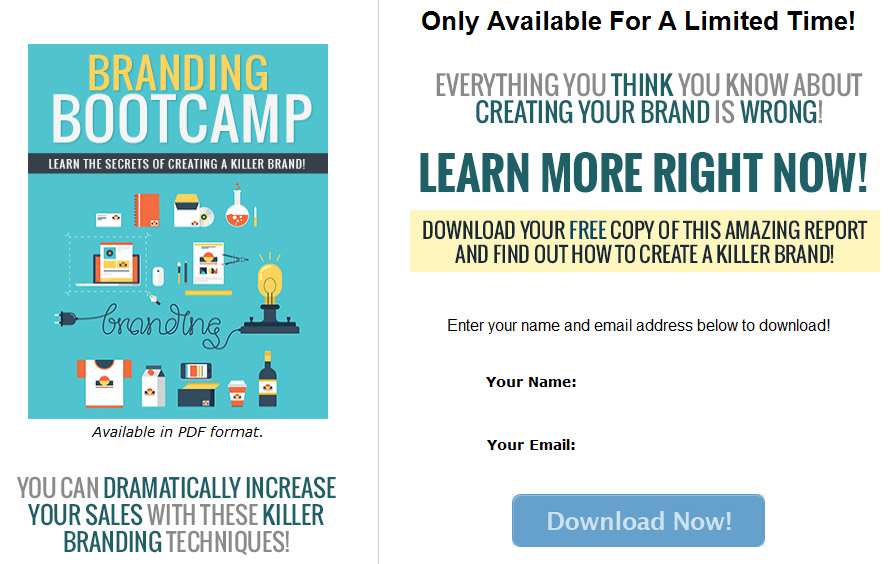 >>> Click Here To View Full Sales Page…
Table of Contents
Table of Contents …………. 3
Introduction …… 5
Vision & Voice . 6
Vision ……….. 6
Voice ………… 7
USP 9
Name …………. 11
Slogans or Taglines …….. 13
Visual Branding ………….. 15
Conclusion ….. 17
Resources ….. 18
Sample Content Preview
USP
Another important element of branding is finding your company's Unique Selling Proposition, or USP. Some people call this the Unique Selling Point. Either way, your company (and individual products) must have something that sets you apart from the competition—something they don't or can't offer—to differentiate you from your competitors.
Chipotle, for example, sets itself apart from the plethora of "fast food" restaurants by referring to itself as "fast casual", and by using ingredients that are more wholesome than its competitors. It focuses mostly on non-GMO ingredients, and uses locally grown produce whenever possible. For a while, the restaurant chain even took its pork carnitas off the menu over issues with the way the pigs were being treated by its suppliers.
In a sea of restaurants that focus more on offering cheap food quickly, the company managed to carve out a nice for itself by becoming a healthier, more socially conscious option.
Your company can do the same by figuring out exactly how you can set yourself apart from your competition. This may take a good deal of thought, especially if you're in a large niche with a massive number of competitors. For example, if you're a blogger, you may find yourself competing against thousands, or even millions of similar blogs.
What makes you different? Why should someone choose your company or products over your competitors'?
That is what you must figure out!
You may already have a USP, but if not, you should sit down and figure out something that makes you different. Let's take a look at some examples.
• Chipotle differentiated itself by using fresh, wholesome ingredients
• FedEx made a name for itself by reliably delivering packages overnight
• Dominos focused on delivering its pizza more quickly than its competitors
• Walmart found that keeping its prices lower than other stores skyrocketed its success
• To compete with Walmart, Target focused on more upscale merchandise and cleaner stores
• Avis focused on customer service with the slogan "We're number two. We try harder."
Each of these companies is widely known for being different from its competitors. They made a name for themselves by not only doing something to stand out from the crowd, but also focusing on that in their marketing and branding.
You must do the same!
Name
Your company's name should be reflective of your overall vision, but too many companies make the mistake of choosing a name they think is cool, cute, funny, or just strokes the ego of the owner/founder rather than reflecting the company's mission.
I understand it's tempting to name your company something that is meaningful to you personally, and it certainly can work. Just look at McDonald's. The founders used their name for the company, and after they sold it to Ray Kroc, it exploded.
Wendy's has also done remarkably well, despite being named after the daughter of the founder.
But that's not the norm.
Think about some of the companies that have really hit it big in recent years. Companies like Chipotle, Five Guys Burgers & Fries, and Shake Shack have exploded their growth quickly based partially on names that really focus on what they do. Sure, they could have named themselves specifically after the founders. Chipotle could have been named Ells after founder Steve Ells, but would it have made the same impact? Possibly not.
If you name your company (or product) something that suits the company (or product), your job is made easier. Sure, you can brand your company Smith Marketing, but naming your company something with more punch—more impact—will make the job of branding and marketing your company much easier.
For example, you could choose something like:
• Marketing Boom! – Explosive Growth with Marketing Boom!
• Marketing Ninjas – Quick. Sharp. Deadly to Your Competition!
• The Three Marketeers – Three Guys. Three Approaches. Big Results.
You want the name to be something that is memorable, conveys your company's vision, and lends itself to great slogans and marketing campaigns. This will make your job much easier.
Other Details
- 1 Ebook (PDF, DOC), 18 Pages
- 7 Part Autoresponder Email Messages (TXT)
- 1 Squeeze Page (HTML, PSD)
- File Size: 8,298 KB