Salespage Snapshot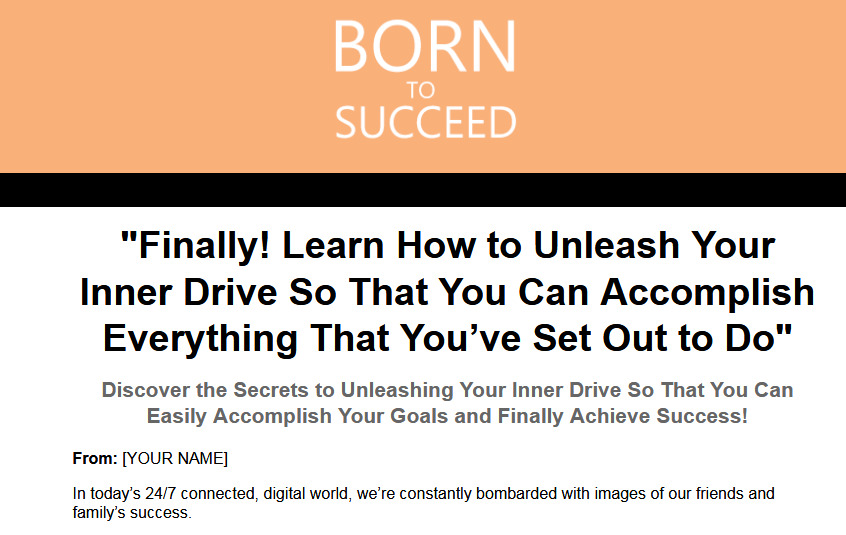 >> Click Here To View Sales Page...
Table of Contents
Introduction …… 6
Chapter 1 – What is Inner Drive?…….. 9
Chapter 2 – Finding Your Focus……. 13
To Focus is to Concentrate …… 14
Practicing Your Focus ….. 15
How to Find Your Focus.. 16
Chapter 3 – Changing Your Mindset 18
Understanding Mindset … 18
Your Mindset and the Middle … 20
Chapter 4 – Controlling Your Emotions…. 22
The Problem with Blaming Others …. 23
The Problem with Complaining 24
Reactions vs. Responses 24
Learn to Control Your Emotions…….. 25
Chapter 5 – Gaining Self-Confidence…….. 27
How to Become More Self-Confident 29
Chapter 6 – Increasing Your Self-Discipline ….. 32
Self-Discipline and Your Emotions…. 33
Developing Discipline…… 34
Becoming Disciplined…… 36
Chapter 7 – Adapting and Adjusting 38
Adapting to New Situations …… 40
It Takes Courage to be Flexible …….. 41
Adjusting Along Your Path ……. 42
Chapter 8 – Remaining Persistent…. 44
Creating Daily Rituals…… 45
It Takes Energy and Focus …… 46
Chapter 9 – Removing Negativity from Your Life …… 48
Your Perspective and Success 49
Finding Your Support System .. 51
Chapter 10 – Improving Your Health 53
Changing Your Eating Habits… 53
Implementing Exercise in Your Routine ….. 55
Conclusion ….. 56
Sample Content Preview
Ignorance
It maybe that you don't realize that you lack motivation in your life. You may have the erroneous notion that all is well in your life. You may feel that whatever you can't achieve in life is simply unachievable and leave the rest up to luck. Unfortunately, if you are ignorant about your lack of motivation, then you will find it extremely hard to achieve your goals and find success.
Depression
Another powerful force that can lead to a lack of inner drive is depression. If you are depressed, you naturally lose interest in your environment and other things. This can degenerate into a lack of motivation. According to experts, one of the most common symptoms of depression is anhedonia. This is merely a lack of interest in any activity, especially activities that were once enjoyable. The impact this can have on your lack of motivation can lead to failure in reaching your goals.
Procrastination
Something else that may be affecting your inner drive is procrastination. The need to continually shift your daily tasks until another time is both a negative and destructive trait that should be addressed immediately. Pushing your tasks off until later will only give you a backlog of tasks that you will find difficult to find the motivation to start. Procrastination can take away your motivation and replace it with excuses for not reaching your goals.
Low Self-Confidence
Having faith in yourself is a great way to stay motivated in life. When you lack faith in yourself, you will find it impossible to find success. Low self-confidence will stop you from daring to be different and make you wrongly believe that you don't have what it takes to be successful. Unfortunately, you may believe these negative things about yourself and find it challenging to push yourself forward in your quest for success.
Lack of Courage
To keep moving forward and pushing ahead you need courage in all aspects of your life. When the path to success becomes blocked with difficulties and troubles, some people just give up, because it is the easiest thing for them to do. Lack of courage will eventually lead to the absence of the desire to move forward and to work in alignment with your goals. If you give up when others are lacing their boos, you will end up lacking the inner drive to see your dreams through.
Chapter 2 – Finding Your Focus
Have you ever started something, only to find out later that you didn't complete it? There are many factors that could contribute to your incomplete tasks and goals, one being focus. Focus plays a vital role on your path to success.
With all the distractions that we have to content with these days, especially in the digital age, there is one thing that will make or break your path to achieving your goals: focus. Focus is being able to complete your tasks without being distracted by what's going on around you. If you have strong focus, you'll be able to get more done. While you can focus on anything, you really want to concentrate more on the completion of your goals. Your focus will become the foundation of everything you will be doing to accomplish your goals and achieve success.
To Focus is to Concentrate
It can be challenging to concentrate on anything when you are constantly bombarded with various notifications, dings, and pings. These are just some of the common disturbances that you can face, because everyone has a cell phone that chirps and chimes. Unfortunately we've been trained to look at our phones every time we hear these chirps and dings to see what's happening because we have what is known as "fear of missing out."
Our cell phones are a collection of different noises and other alerts that bring your attention and focus to whatever is happening when you're not there. There seems to be a ding and a ping for everything, and they are all working to distract you. Just about everything that you are being alerted to on your phone is something that can probably wait, so you can continue to focus on the necessary tasks need to reach your goals.
The good thing about a cell phone though is that you can turn off all the notifications. You can silence all the dings, pings, and bings, until after you've finished focusing on your task. The important thing that you need to do is to continue to build your foundation of focus.
Practicing Your Focus
Focus takes a lot of energy. It isn't something that you can find once and keep it for the rest of your life without practice. You have to practice your focus every day. You can start to practice your focus by developing a routine that triggers your mind to know that you are about to start work and get into some serious thinking. You can play a certain song or take a walk. Create a ritual that will help to calm your thoughts and allow you to concentrate on the task at hand.
Some people are unable to concentrate without slight noises contributing to their focus. They may need to have some sort of background noise in order to fully concentrate on their tasks. Others may have to work at a certain location if they want to have strong focus. Wherever you chose to work and whatever you might need to implement to help your concentration, it must be something that serves your concentration well.
Without focus, you won't be productive. Discipline, perseverance, and time management are things that are greatly enhanced by focus. For you to be effective, your concentration has to be on point. You will never produce anything of value if you don't have focus.
Eventually, with enough practice, you'll get to a point where you are so into what you're doing that nothing will break your concentration and nothing will stop you. You'll eventually find your "zone" and your work will constantly flow. This is the place you need to be in if you want to find success. This is when your best work shines.
How to Find Your Focus
Some people may not know how to begin to focus. If you're struggling to find focus, you want to first find somewhere quiet to work, or as quiet as you can stand. Sit down and take some time to think about what you are about to start. Then start your task. You want to let your ideas flow. Whether you're writing a paper or running a marathon, this process will help you get off to a great start and find your way to a solid, productive end.
In order to push through the middle of your goal, you have to be focused. If you can find and keep your focus while working through the middle, you will find your way to success in no time.
Chapter 3 – Changing Your Mindset
How you think is extremely important when it comes to reaching your goals and achieving success. It is absolutely critical that you have a solid mindset on your journey. Having the right mindset as you work toward your goals will allow you to discover a freedom of thought that you've never encountered before. You will be able to fight your excuses and weed out negative self-talk that has kept you from accomplishing everything you've set out to do. A strong mindset will drive you through the middle and to success.
Understanding Mindset
If you didn't already know, your thoughts can determine exactly how far you go in life. Some people have positive thoughts on everything they do, while others think the worst of everything that comes across their path. If you want to success in life, then you have to have a mindset that is always positive and forward thinking.
On your path to success, your mindset is your compass. Everything that you think about can be categorizes as either good or bad. If you want to be successful, then you need to learn to focus on the positive and those things that you can do to stay on course. With freedom of thought, whatever you can think of, you can do.
If you say you want to be a doctor, you've thought about what you want to do, (the beginning). However, most people stop there, because it means you actually have to figure out what to do next. Your next thought should be, "What can I do to become a doctor?" We are always making statements about what we want to do with our lives, but we rarely follow through on the thoughts. We know what we want to do, but we don't know how we are going to get there.
Becoming a doctor will require a lot of schooling and training. Most of our thoughts about what we want to do get stuck, because we haven't thought about it any further. When you are able to focus better on that thought, you can go a bit deeper into your thoughts and begin to process how to become a doctor.
Your Mindset and the Middle
The middle of your journey to success takes time and mental energy. You don't want to fall into the trap of being too lazy to think. Put some action into your thoughts, you can always make corrections if it's wrong. If it's right, you can move on and do what's next.
Your mindset can also be used to drown your excuses for not achieving your goals. Excuses are the easiest way for you to get out of doing something. The two most common excuses that you've probably used are, "I don't have enough time," and "I don't feel like it." Continually making excuses will rob you of your entire life if you get too comfortable with making them. Having a strong mindset will allow you to push past your excuses and continue down your path to success.
The excuse of not having enough time is all in your head. You do have enough time, you just have to adjust your schedule. You may have to sleep for only four hours on night, or skip your after work Happy Hour, but you can find the time to do what's important to you.
It's not to say that you have to work, work, work for the rest of your life if you want to be successful. But the time that you take for yourself needs to be time that is well deserved. To make sure that you continue to work on your success plan, use your free time as a reward for constantly working toward your goals. You have to prepare your mind to combat your excuses. Your focus has to be at its ultimate peak if you want to be able to get past these kinds of rationalizations. If you want to make the best choices and make it through the middle, you have to have a strong mindset.
Using your mindset efficiently is a critical strategy of success. When you envision what you want to accomplish in your life, it brings about the possibility of its existence. If you can see it clearly in your mind, you can bring it about in the world. Your mindset is what makes this possible. Give yourself the advantage and think in the right direction. No one can stop you from thinking, but it is ultimately up to you to think forward.
Other Details
- 20 Articles (TXT, DOC)
- 1 Ebook (PDF), 56 Pages
- 2 Graphics (JPG, GIF, PNG)
- 1 Salespage (HTML)
- 1 Promotional Ad Material (Emails)
- Checklist, Resource Cheat Sheet, Mindmap, Optin Page, Social Media Images
- Year Released/Circulated: 2018
- File Size: 54,069 KB
License Details:
[YES] Can be sold
[YES] Can be used for personal use
[YES] Can be packaged with other products
[YES] Can modify/change the sales letter
[YES] Can be added into paid membership websites
[YES] Can put your name on the sales letter
[YES] Can be offered as a bonus
[YES] Can be used to build a list
[YES] Can print/publish offline
[YES] Can convey and sell Personal Use Rights
[YES] Can convey and sell Resale Rights
[YES] Can convey and sell Master Resale Rights
[NO] Can modify/change the main product
[NO] Can modify/change the graphics and ecover
[NO] Can be given away for free
[NO] Can be added to free membership websites
[NO] Can convey and sell Private Label Rights