Salespage Snapshot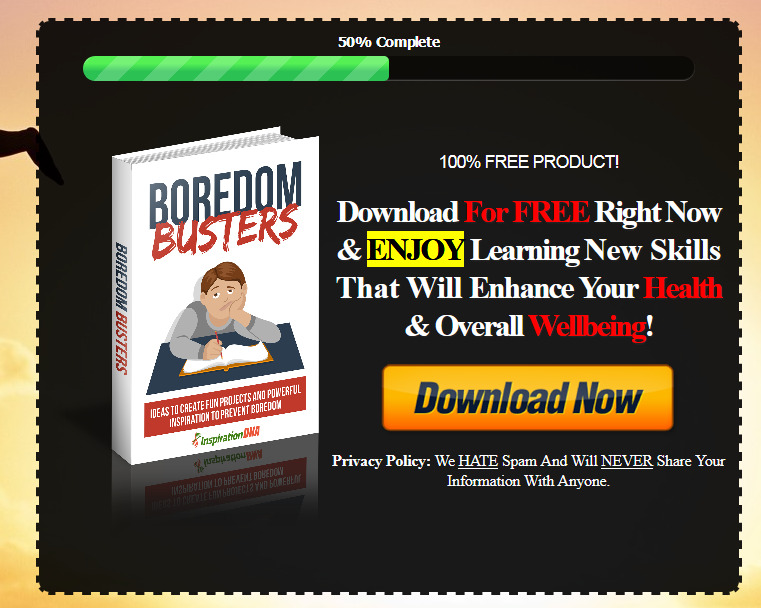 >> Click Here To View Sales Page...
Table of Contents
Foreword
Chapter 1:
Boredom Basics
Chapter 2:
Why Are You Bored
Chapter 3:
Make Everyday Interesting
Chapter 4:
Be Curious
Chapter 5:
Final Tips
Wrapping Up
Sample Content Preview
Chapter 2:
Why Are You Bored
You have to figure out why you are bored in order to move past it and think more inspiring thoughts.
What Are The Reasons
Are you executing something that you have executed a lot of times before? Attempt adding something fresh or executing it a different way. If that simply does not cut it, quit executing the same thing over and over again.
Of course, if repetitious tasks are a part of your line of work, then you might, unluckily, have no choice but to stick with it.
Are you feeling work-shy, tired, or unmotivated? A nap may restore you and it may be surprising how much more motivated you are able to feel after a quick catnap. As an alternative, breathing in the fresh air outside for simply ten minutes may freshen up your mentality and the space and (maybe) sunshine may do wonders for your mood.
Are you rested yet still feeling lazy? Try to convince yourself to do just one little thing: something little or short in duration or just part of an undertaking. Taking baby steps toward a goal may give you a sense of achievement that will crush any boredom.
Are you bored as you feel you can't do the things you wish to do? This may be a very annoying situation to be in, as the only thing blocking you from finishing a task or having some fun is the lack of materials or maybe expertise.
Try to think of alternate ways to accomplish what you want to accomplish, working with what you have useable.
Are you bored as you can't think of anything to do? Do something physically or socially active.
Doing a few exercises may get you into a better frame of mind, as well as the added incentive of keeping you in shape. Social activity (i.e. talking to somebody) fulfils one of our general human needs. Face-to-face contact is, if conceivable, much better than talking over the telephone or Facebook.
Chapter 3:
Make Everyday Interesting
Every day is a special day. Only you're too busy to see it. Abide by these further steps and make your day intriguing and not a ho-hum routine.
Get A Grip
Live your day as it is the final one. Having a plan of what are you going to accomplish is a great thing, but you may see interesting things prior to finishing your goal?
Illustration: If you're going to work, while you are doing so, open your eyes and look around, see what is fresh in the town. Is there any fresh building, is there any fresh store, you never know when you may need that fresh boutique you came across while you were on your way to work.
Spend a little time to arrange your desk. Likely you have plenty of work to do however sitting at a messy desk it is not a great alternative. The world isn't going to end if you spend a quarter-hour cleaning your desk. You'll work more efficiently subsequently.
Accomplish something for other people. Occasionally we forget how selfish we are. I know you have to work and you've a plenty things to accomplish, however giving a helping hand to someone will make you feel happy and it's worth it.
Learn something fresh. Every day you are able to learn something that you didn't know before. Utilize the net and even if you learn a fresh word you will be richer than the day before.
Grin. Pick out optimistic individuals to hang around with, not those who are toxic. Optimistic individuals may infect you. And that's what you need when you feel bored.
You might want to produce your own rules how your day ought to be. Depending where you spend the day, do things that you will feel valued, appreciated and happy at home or elsewhere.
Chapter 4:
Be Curious
Build up your curiosity on what's occurring around and inside you. You find life boring because of the repeating or a pattern of a few habits or activities. Attempt to look at and accomplish them differently and get yourself fascinated in other selections and possibilities.
New Things
Better your memory. Much of what is commonly considered intelligence is merely the ability to recall things well. You will be able to better your power to retain and recall memories in a variety of ways, including utilizing mnemonics and by paying more attention to details.
Read a lot. Just about everything that human beings understand may be found in print, whether in books and magazines or on the net. Become a ravenous reader, and you'll expose yourself to more thoughts and data. If you're a slow reader, think about learning speed reading. Think about jotting notes, and perhaps consulting a word or two in the dictionary.
Be more curious. How do some individuals get to understand so much? Great memory skills are only part of the answer: you likewise have to be curious. If you're satisfied going through life with little or no understanding of things you're unacquainted with, you won't learn much and get bored. Make a witting effort to be more curious by prompting yourself that developing your curiosity will broaden your horizons and help to make you less bored.
Curiosity without initiative is like having an automobile that's out of gasoline — it won't take you anyplace.
Figure things out on your own. There's a lot more to curiosity than "book smarts". We may all learn to perform daily tasks at work, home, and school better and more intelligently. If you don't understand how to accomplish something, resist the urge to ask someone else to do it for you or show you how. In many cases, you will be able to figure it out by yourself, either by trial-and-error or by researching.
Exercise your brain in different ways. Most of us are great at the things we excel in by nature or the activities we do daily. Challenge yourself to learn a fresh skill or to think in a different way, however, and you'll actually become less bored. Select something you'd like to learn to accomplish (play the guitar, for instance) or a subject you don't do well in (perhaps mathematics) and center on that thing. At first, you might be uncomfortable and feel even more bored than you did before, but if you study or practice diligently, you will become more confident, and you'll make fresh connections in your mind.
Discover a hobby that interests you. A lot of individuals increase their intelligence by attempting to get better at something that they're already great at. Not only does it make you look smarter but it can help you to be less bored.
Surround yourself with intelligent individuals. Being around individuals that are smarter than you are able to help you become less bored.
Other Details
- 1 Ebook (PDF), 20 Pages
- 2 Graphics (PNG)
- 1 Squeeze Page (HTML)
- Year Released/Circulated: 2017
- File Size: 2,802 KB
License Details:
[YES] Ebook Can be given away against an email address
[YES] Can sell the WHOLE product and keep 100% of the sales
[YES] Can sell the WHOLE product with Resale Rights
[YES] Can sell the WHOLE product with Master Resale Rights
[YES] Can edit the Squeeze & TY + MRR Upsell Pages
[YES] The WHOLE product can be packaged with other products you sell
[YES] The WHOLE product can be offered as a bonus with other products you sell
[YES] The WHOLE product can be added to paid membership sites
[YES] The WHOLE product can be offered through auction sites
[NO] WHOLE Product can be given away
[NO] WHOLE Product can be added to free membership sites
[NO] Ebook can be modified in any way
[NO] Can sell with Private Label Rights