Salespage Snapshot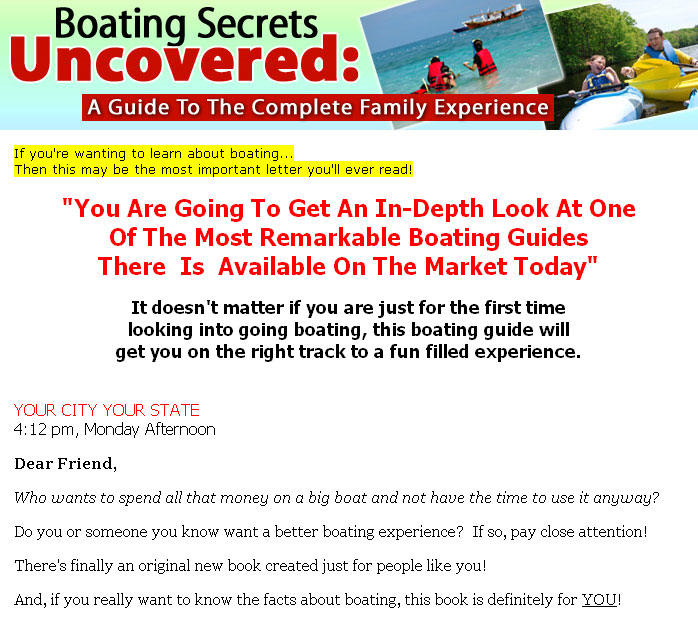 >> Click Here To View Sales Page...
PLR Ebook Table Of Contents
Introduction                                3
Buying a Boat                            4
Kinds of Boats                        4-9
Buying a Used Boat                        9
Engine Check List                        12
Boat Check List                        13
Best Places to Buy a Boat                    15
Boat Financing                            17
Insurance and Registration                18
Boat Maintenance                            20
Emergency Boat Repair                    26
Boat Equipment                            27
Getting On the Water                        29
Rules of the "Road"                        32
Boat Safety                                38
Boating Etiquette for Guests                42
Boating With Children                        45
In Case of Emergency                        49
Conclusion                                61
Ebook Sample Content Preview
INTRODUCTION
For some people, the perfect day is clear and sunny.  It's not too cool and it's not too warm.  There is a gentle breeze blowing and the water is like a smooth plate of glass and they are happily riding along the water in their new boat enjoying the scenery along the way.
If this sounds like your perfect day too, there are some things that you need to know about before you begin your boating adventures.  Boating is much more than just putting a craft on the water and switching on the motor or hoisting the sails.  While it may seem like an easy undertaking, you should still become an informed boater knowing the rules of the water as well as boat safety.
Boating has lots and lots of advantages that you may have never thought about.  It can help bring you together as a family, it can ease stress, and it is a lot of fun.  Experienced boaters can share with you their love of boating and why it's something they pursue heartily.
Recreational boating provides a constructive outlet for entertainment that reduces stress and provides ample opportunities for self-enrichment.  It doesn't matter if you're learning to water ski, relaxing as you try to catch a fish, or just relaxing on deck and enjoying a sunset, boating can bring quality to your life.
About ninety percent of Americans live less than an hour away from a navigable body of water.  That means that boating is also a convenient means of entertainment that requires just a little travel time.
Believe it or not, boating can greatly reduce the amount of stress in your life as well.  In fact, a 2005 National Marina Manufacturers Association survey of over 1,000 American households listed boating in the top-three of all stress-relieving activities.
There are many activities you can do while boating that can also contribute toward your overall well-being.  Water skiing is great exercise.  Some people believe that just breathing in the fresh air from the deck of your boat can have healing qualities as well.  Nutritionists know that fish is good for you.  Boating allows you to catch your own fresh fish thus improving your health as well.
If you're new to boating, don't fear.  There is a lot to learn, but the good news is that it's easy to learn.  This book will explore all aspects of boating from picking out a boat to boat safety.  Whether you are interested in boating for recreation or as a way to connect with family and friends, with our help, you'll be on the water in no time.
With the information contained in this book, even a person with no boating experience will be able to enjoy this great activity like more experienced sailors.  This is Boating 101 – let class begin!
BUYING A BOAT
Many people would love to get into boating as a regular activity in their lives, but they think they can't afford to own their own boat.  While buying a boat can be a large expenditure, there are actually many options prospective boat owners can use when buying a boat.
Almost all boat dealers will offer financing for your boat, and most of the time, your payments will be under $200 a month.  You can also look into securing a personal loan for your boat through your local bank.
Many new boat owners will buy a previously owned boat as their first watercraft.  A lot of times people will upgrade their choice of boats and then sell their old boat.  This can be a great way to get into boat ownership without spending a lot of money.
Let's start by identifying what exactly certain boats are.  Sometimes the terminology can get lost on beginners, so we'll look at some of the most common boats and what they're called.
Bass/Fishing Boat
These boats are exactly what the name implies.  They are meant to be used for fishing.  Most fishing boats are powered by outboard motors, and many also have a trolling motor mounted on the bow.
Bass boats can be made of aluminum or fiberglass.  Aluminum is lighter and easier to maneuver thus requiring a smaller motor than …
Other Details
* 60+ Page PLR Ebook
* Professionally Written Salesletter
* 50 PLR Articles
* 5 Part Autoresponder Email Course
* 1 Complete Adsense Website
* 5 Part Press Release
* Professionally Designed Graphics Set
* Highly Targeted Keyword List
* Pre Written PPC Ads
* PDF and MS Word Source File For eBook
* PSD Files For Graphics