Salespage Snapshot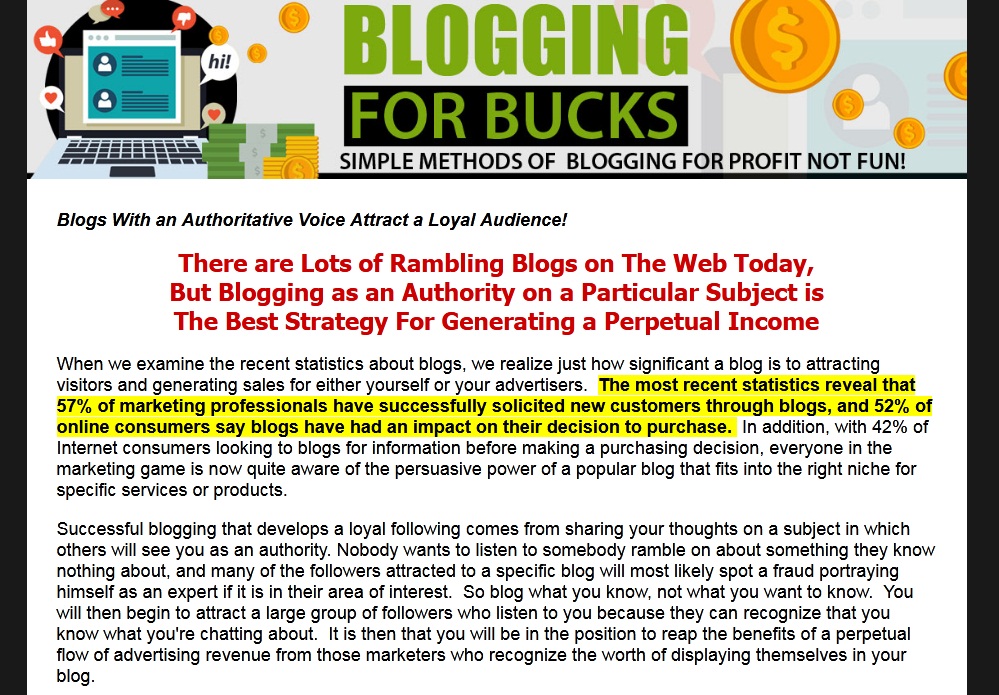 >> Click Here To View Sales Page...
Table of Contents
Blogging Building Blocks ……. 3
Creating Sponsored Reviews for Greater Income ….. 5
Using Google's AdSense Program for Profit .. 7
Advertising – Are You Sure? .. 9
Does Content Matter? ……… 11
Can Income Streams be Made? …… 13
Final Words . 15
Sample Content Preview
Personally, I do not pay a lot of attention to figures because traffic is not part of my objective. I consider and track analytics each month, but that is really more about curiosity. I seek trends, try out other ideas, and learn from my errors. I consider my site as a ring, and I think about appealing to readers who heighten the quality of the discussion. The point? My technique is deliberate and fits my total goal. Incidentally, my figures have more than tripled since 1/1/10. Information, expertise, and opinion are promptly available from an endless assortment of sources.
I consistently follow writers and other bloggers to keep up with the trends and ideas of others. The things that are most important are consistency and legitimacy. Antics and tricks provide short-term spikes at the expense of long-term trust and loyalty. You may fool me into visiting, but I won't be back if you treat me like a fool. Beware of barriers. I appreciate concerns about spam and privacy, but balance those against the need for readers to connect.
Make your commentary form friendly and inviting. With so many available forums, I'm likely to choose those that cater to my communication preferences. For example, some blogs force me to use my Google ID. Since I don't access my Gmail account, I'll never see follow-up comments; why bother composing a thoughtful comment? I know there are ways around that, but why should I have to do extra work to contribute to your blog? I find that many folks don't like to leave public comments, but they love more personal contact. If you don't want to provide an email address, consider creating a simple contact form.
It seems obvious but fewer barriers, more connection, and so more readers. That is what I offered as guidance to get her pointed in the right direction. What would you add?
Creating Sponsored Reviews for Greater Income
Are Your Blogs Losing Money
What is the culture medium with the biggest advertising spending on the globe? Television. Television ads are so effective for advertisers and so lucrative for TV companies, because viewers will inevitably pay attention to the advertisements. Would we be able to say the same things about content based websites, like blogs? Not exactly. If you consider Google AdSense or banner ads, the most used monetization methods, you will conclude that they practically different from the editorial content.
For instance, if you have a blog and display ads on your sidebar only your readers will be able to altogether brush off the advertisements if so they desire. A few even use ad-blockers, so they will not see your AdSense units or banners regardless where you place them.
What would the equivalent of a television ad be for a blog? Likely an advertorial, which is an article written by the advertiser about his product, and put up in the blog like an additional post. Another option is the sponsored reviews, which are posts published by the blogger critiquing a particular product or service. Most bloggers choose this example because they get to write the article content themselves, and readers will not be bothered with another writing style.
Here's a fact that reinforces the similarity of sponsored reviews with TV advertisements: If you ask any advertiser whether he would like to pay for a banner ad or for a sponsored review, he will certainly say the sponsored review. Why? Because he will acquire a much better return on investment, as the sponsored review will give his product a better and greater kind of exposure with the readers of that blog.
As a result, a sponsored review is probably among the most lucrative way to monetize a blog. Last week one company offered me $1000 to write a critique about its last product. It was related to my niche, and I was sure most of my readers would find it of value.
This made me wonder: are most bloggers leaving money on the table by not doing sponsored reviews? For instance, if I started doing them on this blog I could easily add another $4,000 per month in profits (considering one sponsored review per week), which would simply double up my advertising profit on the blog. I think this proportion is true for most bloggers. If bloggers started doing sponsored reviews they'd double up their ad revenue. That being said, I think it's possible for a blogger to do sponsored reviews while keeping his integrity. There are 3 main requirements:
Other Details
- 1 Ebook (PDF), 15 Pages
- 15 Graphics (JPG, PNG)
- 1 Salespage (HTML)
- 1 Squeeze Page (HTML)
- Year Released/Circulated: 2023
- File Size: 2,128 KB
License Details:
[ Yes ] Can sell the eBook to your customers.
[ Yes ] Can give away eBook (PDF Format).
[ Yes ] Can be used as a bonus (PDF Format).
[ Yes ] Can include eBook in membership site (PDF Format).
[ Yes ] Can be combined with other offers or sold as a package.
[ No ] Can include within website flips.
[ No ] Cannot sell Resell Rights to customers.
[ No ] Cannot sell Private Label Rights to customers.