Salespage Snapshot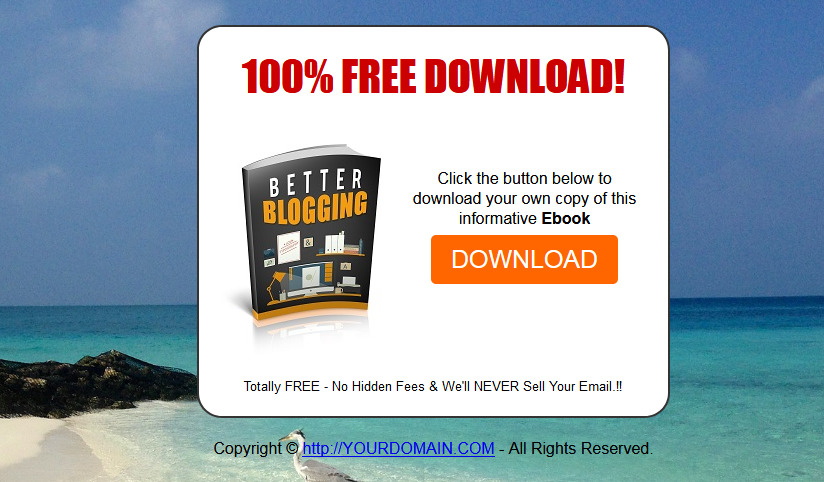 >> Click Here To View Sales Page...
Table of Contents
GETTING SETUP .. 4
BLOG PLATFORMS: AN INTRODUCTION .. 4
CHOOSING THE RIGHT BLOG PLATFORM FOR YOUR BUSINESS 4
BASICS OF BLOG SETUP… 5
USING BLOGGER .. 6
Steps to Create Your First Blog Post with Blogger … 7
USING WORDPRESS. 8
Steps to Create Your First Blog Post with WordPress … 9
USING TYPEPAD 11
OTHER CONSIDERATIONS . 12
HOW YOUR BLOG SHOULD BE ORGANIZED … 13
LAYOUT AND BASIC COMPOSITION … 14
PICKING APPROPRIATE COLOR THEMES AND PALETTES 15
CHOOSING THE NUMBER OF COLUMNS .. 17
FONT STYLES AND YOUR BLOG .. 18
FORMATTING TEXT 18
DESIGNING A CUSTOMIZED BLOG TEMPLATE 19
A FEW NOTES ON SQUARESPACE FOR A CUSTOMIZED BLOG . 20
WHY A FREE TEMPLATE MIGHT BE A BETTER CHOICE 20
BLOG LAYOUT AND PAGEVIEWS: UNDERSTANDING THE CONNECTION . 21
BUILDING SOCIAL AUTHORITY . 22
ELEMENTS FOR CREDIBILITY: WHAT YOUR BLOG MUST HAVE . 23
BLOG CREDIBILITY AND SEO . 29
HOW VISITORS DETERMINE CREDIBILITY 29
GETTING THE WORD OUT . 32
DEVELOPING RELATIONSHIPS WITH OTHER BLOGGERS 32
TOP BLOGGING COMMUNITIES .. 33
BRAND IDENTITY AND ITS VALUE FOR BUSINESS . 36
SUMMARY OF MARKETING ESSENTIALS FOR PROMOTING YOUR BLOG 37
PROMOTION AND PUBLICITY … 42
DEVELOPING BLOG CONTENT THAT WORKS .. 42
USING TAGS CORRECTLY .. 46
CATEGORIES VS. TAGS: KNOWING THE DIFFERENCE 46
TYPES OF TAGGING … 47
LEARNING FROM TAG CLOUDS … 48
THE BUILT-IN SEARCH BOX … 48
HOW DO I IMPLEMENT TAGGING IN MY BLOG? . 48
TAGGING AND MARKETING: EFFECTIVE MARKET RESEARCH . 50
Sample Content Preview
Using powerful color combinations is very helpful when choosing the layout of your blog, and most blog platforms offer 'color combos' so you make the right choice. If you are designing your palette from scratch, just remember the principles of each color's psychological impact and proceed accordingly.
Choosing the Number of Columns
The number of columns in a blog has been debated time and time again, and there are both advantages and disadvantages of each. All blogs are set up in as one-column, two-column, or three-column structures. The best way to pick one is to simply choose something that suites your blog's purpose. For example, if you plan on linking out to partner sites or other blogs, you'll need a three-column structure. This will give you enough space to create a blogroll and relevant links on the right sidebar, include your blog commentary down the middle, and then put advertising and other links on the left side bar.
A two-column blog is most advantageous for a blog that has limited advertising. You will still have space for an extensive link roll and perhaps some contact information, but all reading will take place on the left side of the page.
A one-column blog is very basic, and is a good place to start if you want the blog to stand alone and not link out to different areas. This will help you create immediate interest to the content itself, and will definitely be less distracting for most web visitors and readers. Sometimes a minimal look works better, especially if you have a lot of content that requires attention.
Font Styles and Your Blog
Unless you are using a customized blog template, there are only a few standard font styles to choose from. This is not necessarily a bad thing, since most web users are becoming with the typical font styles such as Arial, Times New Roman, and Verdana. These are easy to read, and can help people 'scan' blogs much more easily. Choose a style that complements your website and company image, and you'll easily avoid using something that may not even download correctly on all web browsers. Just keep in mind the impact and readability of the text on screen, and you'll be making it much easier for all readers to continue reading. Formatting Text
Blog posting works under a similar format as writing articles, and the more SEO-friendly you can make each entry, the higher the chances of reaching the top of the major search engines. When you are writing your headings and titles, be sure to include keywords as often as possible. Each title of your blog will become an extension of the URL, and this is what search engines can find and rank accordingly. A well-formatted blog entry will also include bullet points and headings. Even though blog posts are generally much shorter than articles, developing a well-organized post will help increase readership and be more favorable to search engines. It's a simple step that many startup bloggers overlook, and can help significantly as you make your presence online. Making sure that you tag and organize all blog entries is another important element of your blog site design and overall layout. Archives of each blog entry are automatically created for review, but you can organize each entry by adding 'Categories' and posting each item into the appropriate section. This makes it easy for people to find specific keyword-based posts, and will also help with search engine rankings.
Designing a Customized Blog Template
If you decide to do something a little more creative, you may want to pursue a customized blog template instead. Customized blog template services are offered by many web designers and companies, and give you the chance to pick exactly the colors you want from your own website's color palette. If you want to include a special font, logo, or other artwork of your own, this is your best choice.
If you have web design skills, try developing your own blog template with the basic layout elements in mind. A customized template can be made with the same elements of a typical blog, but you will have the freedom to place and organize it as you would like to. Alternatively, there are upgraded versions of blogger platforms available.
A Few Notes on Squarespace for a Customized Blog
Squarespace is another valuable blogging and content management system platform. Squarespace is very similar in setup to WordPress, but gives you more freedom to set up your basic blog layout, include specialty items such as catalogs, media galleries, and discussion forums, and works with a simple drag-and-drop format.
If you're new to web design, this is a great choice when you're looking for something professional but unique. Squarespace offers different packages depending on the bandwidth and customized options you need, but even the basic plan is comprehensive enough to develop something that will stand apart from your competitors. You don't need special software to use it, and everything is very clean and efficient.
Why a Free Template Might Be a Better Choice
Still, if you're new to blogging or simply can't decide how the color scheme and layout should come together, a free template will save you time and upfront investments. You can always change your color choices later, and can try different types as you go along. WordPress, TypePad, and Blogger make it very easy to switch between themes as you start publishing, but you'll want to settle on something well before you start marketing and promoting your blog. Changing themes and colors too often may lead to confused visitors, so be sure to make some final decisions before you move ahead with promotions.
Other Details
- 25 Articles (TXT)
- 1 Ebook (PDF), 50 Pages
- 1 Squeeze Page (HTML)
- 2 Ecovers (PNG)
- Year Released/Circulated: 2018
- File Size: 1,859 KB
License Details:
[YES] Can sell and keep 100% of the sales.
[YES] Can edit the squeeze page.
[YES] Can be bundled into another paid package and sell at a higher price.
[YES] Can be used as a bonus to another product you are selling.
[YES] Can be sold in a Dime sale event.
[YES] Can be added into a paid membership site.
[YES] Can pass on the Master Resell Rights privilege to your customers.
[YES] Can be given away for free AGAINST an email address (lead generation)
[NO] Contents of the product can be edited, modified or altered.