Salespage Snapshot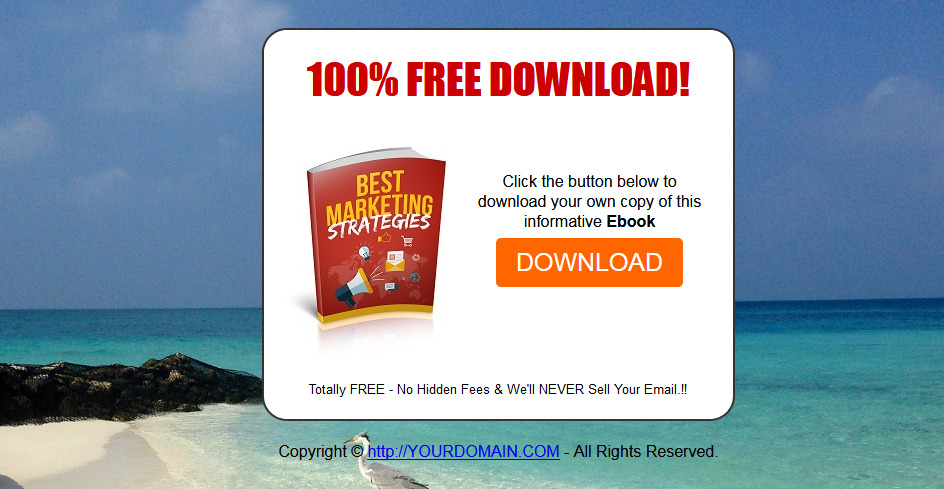 >> Click Here To View Sales Page...
Table of Contents
Chapter 1 . 3
Right Into The Strategies 3
Running with the giants ….. 3
Getting started 4
Marketing Tips ….. 5
OTO (One Time Offer) Marketing . 6
A Few Good Markets . 8
Free publicity…. 9
Not quite free publicity. 11
Pay-per-click strategies ….. 17
Affiliate strategies …. 20
Chapter 2 The Startup Phase .. 23
Free instant Internet business: Just add blog .. 23
Website words of wisdom ….. 26
Budgeting basics….. 28
More on traffic … 31
Chapter 3 The Most Common Mistakes . 33
Chapter 4 Getting The Recurring Signup .. 36
To charge or not to charge … 36
Free subscriptions …. 36
Paid subscriptions …. 37
Chapter 5 Your Affiliate Program 39
Multiple affiliations, multiple paychecks .. 39
Top tips for affiliate success. 41
Sample Content Preview
Affiliate strategies
If you have ever read anything about Internet marketing, you've probably heard a little about affiliate programs. With an affiliate program, you host a banner or text ad from another website on your site. When your visitors click on the affiliate link, you get paid. Sometimes affiliates pay per click (a few cents). Other affiliate programs offer a commission (percentage of sales) if visitors from your website purchase something on theirs.
Many Internet marketers enroll in a number of affiliate programs, because in most cases they only earn a few cents per click for each program. Enrolling in carefully selected affiliate programs that complement but do not compete with your business can be a good way to make money online.
However, an even better way to make serious money is to start your own affiliate program, and enlist other websites to advertise your products and services for you. It's like hiring a sales force that works cheap, but effectively.
As long as you offer a decent commission for your affiliate program, you will attract several people interested in becoming affiliates. Of course, the higher the commission you offer, the bigger "sales force" you will amass. It's a good idea to look at other affiliate programs that are related to your business area and find out what their commissions or per-click pay rates are, then offer a higher payout if you can.
You'll need to write an affiliate sales letter that outlines your program. This letter should be just as compelling and persuasive as your sales letter for your products or services. As you create your affiliate program, try to think of things from the potential affiliates' point of view. What are the benefits to them when they enroll in your program—outside of profit, of course? Are you offering quality products or services their customers will enjoy? Do you have bonuses for top performing affiliates?
If you create an affiliate program, you will also have to design your own banners and text ads for your affiliates to place. Not only is this more convenient for your affiliates, it is also more effective for sales. You know your products or services better than your affiliates will, and so you are the best person to craft compelling ads that will draw visitors from your affiliates' sites to yours.
When you are ready to set up your affiliate program, there are a few options available to you. If you have a decent level of computer skill, you can purchase affiliate software program that will allow you to design and track your program yourself. Another option is to "hire" a third-party affiliate tracking company.
There are benefits and drawbacks to each program. With affiliate software, you have complete control over the design of your program, and you keep all the profits. However, you must be prepared to invest more time in the program, as you will be handling all of the tracking, enrollment, and issuing of commission checks yourself.
If you use a third-party company, you must pay them a commission (normally this fee is subtracted from your affiliate profits, and the balance is forwarded to you). However, you won't have to worry about sign-ups, tracking, and commission payout, so you will have more time to devote to other areas of your business.
Remember: Do your homework before signing on with any affiliate marketing program! Each program is different, and the commission and payment structures vary from program to program. Make sure you read the agreement carefully and look for the following information:
• How is a "click" counted?
• How is a "lead" factored?
• How will you be paid (check, PayPal, electronic transfer), and how often?
• Does the company have a good reputation (are other affiliates satisfied with the results)?
• Are there any reviews about the company? Good or bad?
Whether you enroll as an affiliate in several different programs or start your own affiliate program, there are profits to be made from affiliates. Once again, when it comes to affiliate programs, strategy is key. Take the time to determine which programs or methods will work best for your products or services, and you will see a sharp increase in traffic to your website!
Chapter 2 The Startup Phase
Now that you know why you should market on the Internet, where to find a great online business that will work for you, and when to start your business and marketing campaigns, it is time to learn how you can go about doing it!
Free instant Internet business: Just add blog
You should now possess a basic understanding of the key ingredients for successful Internet businesses. You need a product or service, you need customers to target, and you need a website to reach them.
If you already have a website, you're one step ahead of the game. However, if you don't yet have your own business website, you can get one that is free, easy to maintain, and can be set up in about thirty minutes with a specialized website form called a blog.
What in the world is a blog? The word is short for "web log", and refers to a website that is set up like an online journal: you can "post" to your blog as often as you want, and you can add pictures, sound, and graphics to your posts. Blogs are one of the most interactive media forms available online—with the comments feature, visitors can leave notes on your blog to let you know what they like or dislike about your products or services, and what they would like to see in the future.
Blogs are not used only for business. In fact, there are millions of personal blogs that Internet users have created just to connect with other like-minded souls. The popularity of blogs has spawned a whole new subsection of the Internet that is commonly called the "blogosphere" and involves bloggers (people who blog) linking to other blogs, reading and commenting regularly on other blogs, and enjoying many visitors and commenters in return.
Other Details
- 25 Articles (TXT)
- 1 Ebook (PDF), 42 Pages
- 1 Squeeze Page (HTML)
- 2 Ecovers (PNG)
- Year Released/Circulated: 2018
- File Size: 1,939 KB
License Details:
[YES] Can sell and keep 100% of the sales.
[YES] Can edit the squeeze page.
[YES] Can be bundled into another paid package and sell at a higher price.
[YES] Can be used as a bonus to another product you are selling.
[YES] Can be sold in a Dime sale event.
[YES] Can be added into a paid membership site.
[YES] Can pass on the Master Resell Rights privilege to your customers.
[YES] Can be given away for free AGAINST an email address (lead generation)
[NO] Contents of the product can be edited, modified or altered.