Salespage Snapshot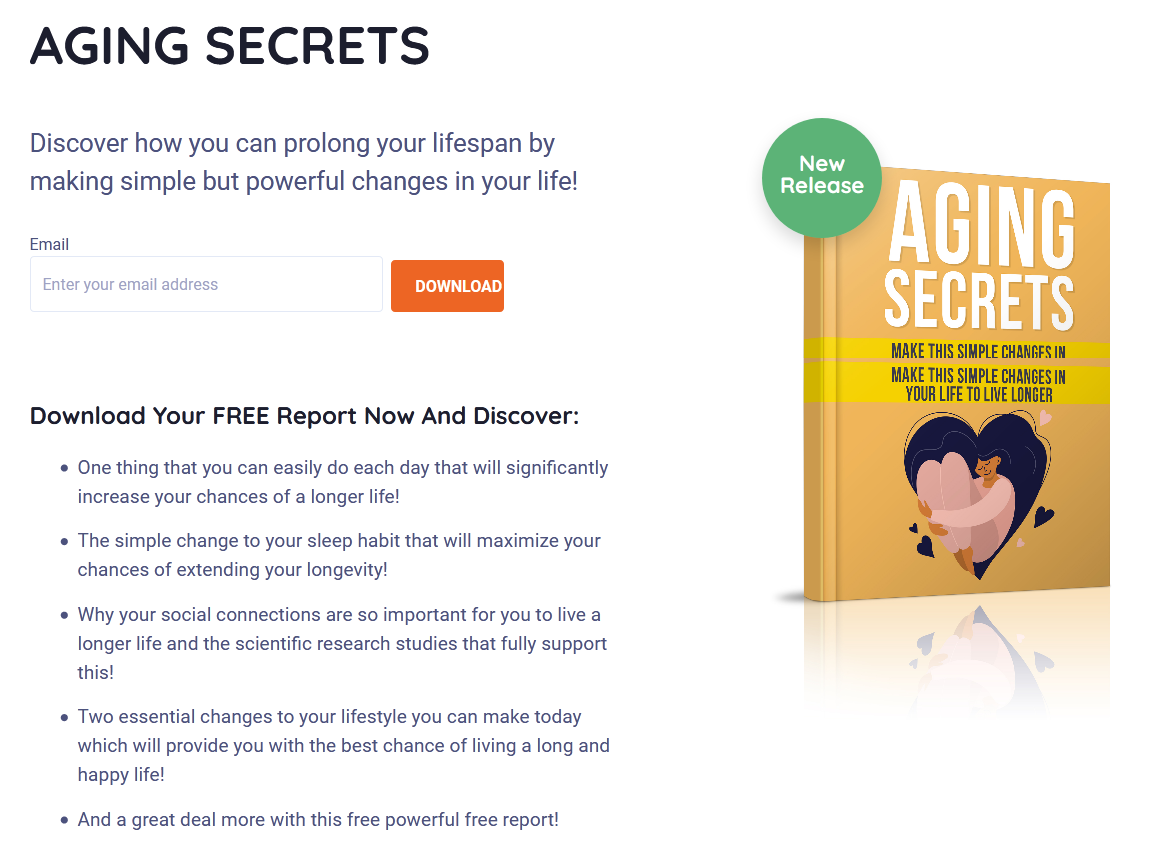 >> Click Here To View Sales Page...
"Aging Secrets" – The Ultimate Guide to a Long and Healthy Life – Now Available with PLR License!
Are you searching for an exceptional digital product with Private Label Rights that can add tremendous value to your business? Look no further! We proudly present "Aging Secrets," a powerful report designed to help your audience gain insights into the secrets of longevity and make positive lifestyle changes.
In this comprehensive PLR report, your customers will discover the most vital factors influencing their lifespan and learn practical strategies to tilt the odds in their favor. Let's dive into the life-transforming knowledge they will uncover:
Prioritize Regular Health Checkups
The report emphasizes the importance of seeking professional advice through regular health checkups. Encourage your audience to rely on medical experts rather than self-diagnosing using unreliable sources like Google. An annual comprehensive checkup will help identify and address potential health issues promptly.
Unveiling the Power of Vitamin D
Discover the significance of vitamin D and how to naturally acquire it from sunlight exposure. This section provides valuable insights into the benefits of vitamin D and sheds light on the risks associated with its deficiency. Inform your audience that spending quality time outdoors can ensure a healthy dose of this essential vitamin.
Conquer the Sleep Deprivation Epidemic
Sleep is a crucial aspect of a long and healthy life. Help your customers understand the detrimental effects of sleep deprivation on overall well-being and longevity. Inspire them to prioritize solving any sleep-related issues to enhance their quality of life.
The Social Connection Advantage
Studies prove that socializing and fostering strong connections can extend life expectancy. Your audience will be amazed to discover the benefits of engaging with friends and family members. Additionally, emphasize the significance of effective communication skills, as this also contributes to a longer, happier life.
Empowering the Body and Mind
Diet and exercise hold the key to longevity. Empower your customers with valuable insights on why diet and exercise play pivotal roles in their well-being. Equip them with practical advice to transition to a healthy diet and incorporate regular exercise into their routines. Encourage them to embrace the power of a balanced lifestyle.
The Elixir of Life: Water
Lastly, uncover the life-enhancing benefits of proper hydration. Explain the profound link between drinking sufficient water and promoting longevity. Encourage your audience to prioritize hydration to unlock the fountain of youth within themselves.
But wait, that's not all! With the PLR license included, you have the freedom to repurpose this exceptional report to suit your unique business needs. Leverage the power of "Aging Secrets" in various ways:
Publish it as an authoritative e-book, establishing yourself as an expert in the field.
Break it down into blog posts or articles for your website, attracting organic traffic.
Create an engaging email series, nurturing your subscriber base while providing valuable content.
Develop an informative video course or webinar to educate and inspire your audience.
Customize the report with your branding and offer it as a valuable lead magnet to grow your email list.
Unlock the potential of "Aging Secrets" as your go-to PLR solution! Grab your copy today and elevate your business to new heights.
Don't miss this opportunity to captivate your audience, empower their lives, and drive your business forward. Get "Aging Secrets" now and witness the transformation it brings to your business and the lives of your customers!
Sample Content Preview
The Importance of Regularly Visiting Your Doctor
You need to know if you are healthy or not and the best way to achieve this is to visit your doctor. A lot of people, especially seniors, do not visit their doctor on a regular basis because they assume that they are healthy. Do not make this same mistake.
As you get older, it is natural for you to experience twinges and pains that you have not experienced before. These may only appear for a short time and then disappear.
Regular Doctor Visits can help to Prolong your Life
If you want to prolong your life then ensure that you see your doctor regularly. We are all busy these days and it is tempting to avoid visiting the doctor for small aches and pains. You believe that they will go away in a short time. But what if they don't go away?
You don't want to risk ending up in the emergency room for something that you ignored in the past. These days, a lot of health problems can be rectified if your doctor can diagnose them early enough. If you do not go for a regular doctor's checkup then you are not going to know if there is something that requires quick medical attention.
Forget about Self-Diagnosis
The Internet is one of the greatest inventions ever. Today, you can use a search engine like Google to find the answer to just about every question under the sun. This presents a problem as the tendency these days is for people to self-diagnose what is wrong with them.
Something else that is trending is the number of searches for home remedies. More and more people are trying to fix their own health problems by using these natural home remedies. But this can be a big mistake. If you are feeling unwell then go and see your doctor. Your doctor will have a much greater chance of curing you of your ailments if you tell them about your health problems early.
Get a Comprehensive Checkup
There is nothing more important in your life than your health. If you are in the United States then you probably have health insurance cover. Nowadays, a lot of health insurance policies demand that the policyholder has a comprehensive annual checkup and they will pay for this as part of the policy.
What do we mean by comprehensive? We are talking about the full works here such as x-rays, EKGs, and MRI scans. There are other modern health scanning techniques that you can discuss with your doctor.
A lot of people die from coronary artery disease and aneurysms and don't even know that they have these problems. Don't take the risk of not knowing how healthy you are. It is also a good idea to know your family history. Some health issues can be passed on and it is worth checking this with your doctor as well.
Having the most comprehensive health scans using the latest technology may not be covered by your health insurance policy. Speak to your insurer to see what is covered and what isn't. If you have to pay for the scans out of your own pocket then we recommend that you do this. Your health has to be your number one priority.
In the next section, we will discuss the benefits of getting outside more…
The Benefits of Getting Outside More
Are you getting outside as much as you can so that you are exposed to sunlight? Getting outside in the sunlight is very effective to make you feel happier and science has proven that it can improve your well-being and help you to live longer.
The Importance of Vitamin D
Why are we recommending that you get outside more? It is because when you expose yourself to sunlight it increases the amount of vitamin D in your body. Most people spend far too much time indoors these days and they are depriving themselves of this essential vitamin. Do you get outdoors regularly?
It does not have to be hot outside for you to benefit from the sun's rays and vitamin D. You do not have to spend a lot of time exposing yourself to sunlight either. Just 15 minutes per day is enough. As long as you can expose your face and hands to sunlight during this time.
You may have heard that too much exposure to sunlight can be harmful. This is true as the ultraviolet light in the sun's rays can cause skin cancer and burns if you are exposed to sunlight for too long. Believe us when we tell you that 15 minutes of direct exposure to sunlight is all that you need to get that much-needed vitamin D.
Other Details
- 1 Ebook (PDF, DOCX), 30 Pages
- 1 Squeeze Page (HTML)
- 2 Ecovers (JPG)
- Year Released/Circulated: 2022
- File Size: 3,875 KB
License Details:
[YES] Can be sold
[YES] Can be used for personal use
[YES] Can be packaged with other products
[YES] Can modify/change the sales letter
[YES] Can modify/change the main product
[YES] Can modify/change the graphics and ecover
[YES] Can be added into paid membership websites
[YES] Can put your name on the sales letter
[YES] Can be offered as a bonus
[YES] Can be used to build a list
[YES] Can print/publish offline
[YES] Can convey and sell Personal Use Rights
[YES] Can convey and sell Resale Rights
[YES] Can convey and sell Master Resale Rights
[YES] Can convey and sell Private Label Rights
[NO] Can be given away for free. You MUST ask for at least an email address
[NO] Can be added to free membership websites