Salespage Snapshot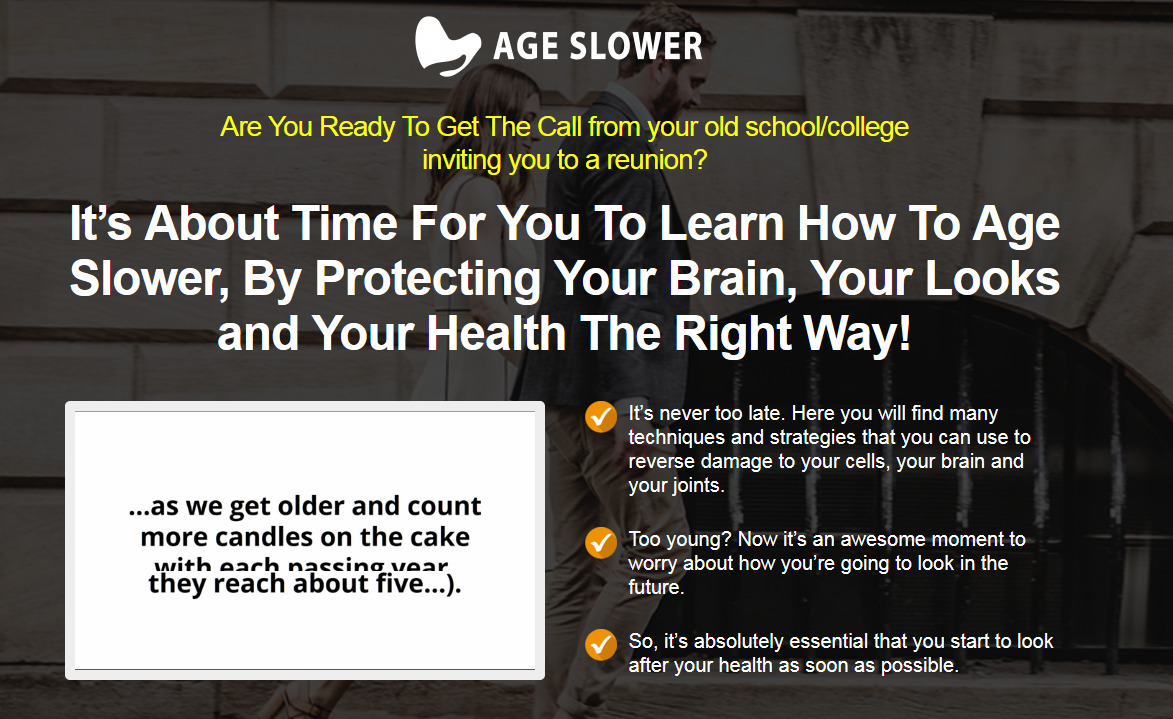 >> Click Here To View Sales Page...
Table of Contents
Chapter 1: Introduction . 4
Who is This Book For? 5
Chapter 2: The Impact Of Your Lifestyle: Incredible Examples of Celebrities That Have Aged
Amazingly (And How You Can Steal Their Secrets) 7
How to Tap Into the Secrets of the Celebrities for Youthful Looks and Vigor . 9
Chapter 3: Why it's Never Too Late to be What You Always Wanted to Be . 12
How Our Goals and Expectations Change as We Age 13
The Practical, Tactical Advantages of Getting Older 13
Examples of Ways You Can Still Achieve Amazing Things 14
Chapter 4: How to Look Younger Than You Are 16
Top Tips for Looking Younger When You're Older . 17
Skin Products for Reversing Aging 17
Makeup: How Women Can Use Makeup to Look Younger and Work Their Current Age . 18
How to Work the Cougar/Milf Look . 20
Grooming 20
Hair Color 21
Hairstyle 22
Some Final Tips for Looking Younger Quickly 23
Chapter 5: How to Look Younger for Longer . 27
The Number One Strategy for Slowing Aging: Antioxidants 27
Ionized Water for Profound Anti-Aging Effects 28
The Master Antioxidant: Glutathione 29
Protection . 30
Stress. 31
Skin Care and Diet 31
Chapter 6: Staying Fit and Healthy As You Age . 33
Overcoming the Challenges of Staying Fit As You Age 34
Mobility, Energy and Health at Any Age 36
Chapter 7: Your Brain – Keeping Your Mind Sharp as You Age . 38
The Most Important Way to Keep Your Brain Young and Healthy in Older Age . 42
Chapter 8: The Future: Has the First Person to Live Forever Already Been Born? . 45
Why It Might be Possible . 46
Popular Life Extension Techniques 46
Imagine This Scenario… . 47
Sample Content Preview
All the examples of people who look and feel fantastic in their older age that we've looked at here have been famous celebrities. As we've insinuated, they have had a bit of an unfair advantage, seeing as they have armies of beauticians and scientists and the money to spend on all the most amazing anti-aging creams and anti-wrinkle supplements.
You are likely not a celebrity and that means you likely don't have the endless resources.
But you can take the same approach. That approach is to invest in yourself and to invest in your future.
That's what these celebrities did. They recognized that their faces and their vitality were the main things they had to offer. They recognized that their careers would not be the same if they were to allow themselves to go grey, then bald and then toothless…
While you might not be a famous actor or musician, the same is actually true for you. You will earn less, do less and be less happy if you don't invest in your future. And you don't need to spend as much as the celebrities. In this book, you're going to learn the secrets that the celebrities use to stay in shape and to stay looking young but then you're going to learn how you can hack those methods and achieve the same thing (or near-as-dammit) and spend half the amount.
I recognize that you don't have unlimited resources or unlimited time. But I'm going to outline the strategies you can use quickly and affordably that will protect your looks and your mind for many decades to come.
Chapter 3: Why it's Never Too Late to be What You Always Wanted to Be
You might be expecting me to jump into some tips on protecting your skin now. But let me tell you this: that is entirely superficial. It's important sure (and indicative of greater overall health) and you can rest assured that we're going to cover it later in this book.
But more important is how you feel. And what you accomplish.
Because the way you feel about yourself and about life is going to have a huge impact on how you end up looking, how you come across and what you can accomplish. If you feel younger, you will look younger. And if you are excited and enthusiastic for life, then that's going to make all the difference.
Many of us will start to age physically the moment that we let go of our dreams and resolve to simply get by day to day. It's when you have a goal and a reason to live that the passion within shines through and you stay youthful and magnetic. So, you must never let go of your aims. And there is no reason to after all…
How Our Goals and Expectations Change as We Age
Many of us wanted to be amazing things when we were younger. Some of us wanted to be astronauts, some of us wanted to be rock stars and some of us wanted to be rock stars. Maybe you dreamed of owning your own business.
Then you reached your twenties and realized that achieving those dreams was harder than you thought and that you needed money faster. So you start working a regular job in the meantime. Then you reach 30 and have a spouse and kids. Then you reach 40 and realize you're old and tired. And in short, you realize that you're never going to be that thing you always wanted to be. Dreams are for younger people, right?
The Practical, Tactical Advantages of Getting Older This is certainly the stance taken by many people but in reality the opposite should be true. As long as you hold on to those dreams, they actually often become more attainable the older you get.
Why? For starters, being older gives you more experience and means you're going to have a better idea of how to go after what you want.
Then there's the fact that you'll have had longer to accumulate useful assets. That includes money – you'll have more funds to put behind you – but also other intangible and tangible assets such as a property, contacts, a better CV etc. And if you're retired, or if your children have moved away from home, then you'll have more time as well.
And if you combine all that with a savvy knowledge of how to leverage your age, there's no reason that you can't get things done even when you're older.
Examples of Ways You Can Still Achieve Amazing Things
Many people want to be actors for example but never get around to it when they're younger. When you're older however, you have the option of applying to appear as an extra in films and to play bit parts. You have the time now to attend and the older you are, the more in-demand you'll find you become for smaller roles. Build up a CV and who knows!
Or you could start a YouTube channel. Silver surfers make up a massive proportion of the web and there isn't as much content there for them. You could make a fitness YouTube channel for over 50s for example and it would likely be a huge hit.
You'll likewise have more time to write books and more time to pursue hobbies. And if you can't become an astronaut (admittedly unlikely), then how about signing up for a Virgin Galactic flight? If you can't be a football player, you could certainly maybe be a coach, or join an older team.
And this post isn't just for people in their 80s. It applies to those in their 40s too. Did you know that the average age for successful startup founders is 40? Did you know that you're twice as likely to start a successful business at the age of 55 as you are at 20-34?
Never give up.
Now of course looking healthy, avoiding chronic pain and keeping your brain youthful and quick will all further help you to make the most of your opportunities at any age. Your mindset and success will help you to look younger and looking younger will help your mindset and success. So in the next chapter, we'll take a look at some of the ways you can stay looking young…
Chapter 4: How to Look Younger Than You Are
When it comes to looking younger, the kinds of tips you will receive can broadly be split into two categories. On the one hand, you have tips that will focus on how you can prevent yourself from looking older. Prevention is better than cure as they say, so if you focus on looking after your skin and avoiding aging habits, then you can keep yourself looking youthful for years to come.
But this chapter is not about that. This chapter is about the other type of advice: the advice that will help you to look younger when it's 'already too late'. This is the chapter that is all about getting away with your current look and we're starting with this because it's the fastest and the easiest way to immediately make a difference to your lifestyle and the way you feel.
We've discussed how your mindset, approach to life, and expectations can all help you to feel and therefore look younger. Making these immediate changes will alter the way that people act toward you and the way you feel about yourself
Top Tips for Looking Younger When You're Older
No one above the age of 20 wants to look their age. And as you start to approach middle age you will find that each birthday seems like something of a kick in the teeth as you realise you are now less likely to ever become a rock star and less likely to go out with an 18 year old again.
And then there's the other little downside – the way you look as you get older and the ay you lose your one time youthful skin and body tone. It's like watching yourself slowly fall apart as everyone writes you off and it's understandably a little painful. However the good news is that there are ways we can slow down the hands of time and to protect our skin so that we don't necessarily advertise our age to anyone who happens to look in our direction. Here are some of those strategies.
Skin Products for Reversing Aging
Skin products work in a variety of ways and are successful in what they set out to do to varying degrees. Be wary of things claiming to contain collagen as the collagen particles are often too large to get through the skin pores.
Likewise, though things like moisturizers are very good at giving our skin back its buoyancy, while things like exfoliants can reduce the apparent depth of wrinkles by removing residual dead skin from the surface of our face. In fact, if you were to use only one skin product in an attempt to try and reverse some of the signs of aging, then an exfoliant should be it.
Skin products with vitamins and minerals can also be very helpful, while some also contain topically applied antioxidants. Make sure to read reviews, and to learn the science before making your choice.
Another great strategy is to get a tan. A tan will help you to hide lines and wrinkles by darkening your skin so that the dark 'shadows' where your lines are strike less stark a contrast against the rest of your skin.
As we'll learn in an upcoming chapter, sun exposure is one of the biggest culprits when it comes to making your skin age more quickly – so that's not the aim here. Rather, look for 'self-tanning moisturizers'. These are an under-utilized product that will naturally add pigment to your skin and give you a slightly darker tone. At the very least, this will make you look healthier and give you more of a glow.
Other Details
- 20 Articles (TXT, DOC)
- 1 Ebook (PDF), 48 Pages
- 10 Graphics (PNG)
- 1 Salespage (HTML)
- 12 Ecovers (JPG)
- 5 Promotional Ad Materials (Emails, Banners)
- Resource Report, Cheat Sheet, Mindmap, Social Media Images, Legal Page, Sales Video
- Year Released/Circulated: 2017
- File Size: 134,784 KB
License Details:
[YES] Can be packaged
[YES] You Can Use This Product Yourself
[YES] Can be sold as it is not less than $7 price tag!
[YES] Can pass on the Resell Rights privilege to your customers.
[YES] Can Add This Product to a Membership Site or Bundled Within a
Product Package as a Bonus.
[YES] Can be used to create audio/webinar/video products
[YES] Can Give Away The Product (NOT The Source Code Files) To Your
Subscribers, Members or Customers as a Bonus or Gift.
[YES] Can change sales page and/or graphics
[YES] Can be added to paid membership sites
[YES] Can sell master resale rights
[NO] Add to a free membership sites
[NO] You can't just pass away the product to anyone
[NO] Contents of the product can be edited, modified or altered.