Salespage Snapshot: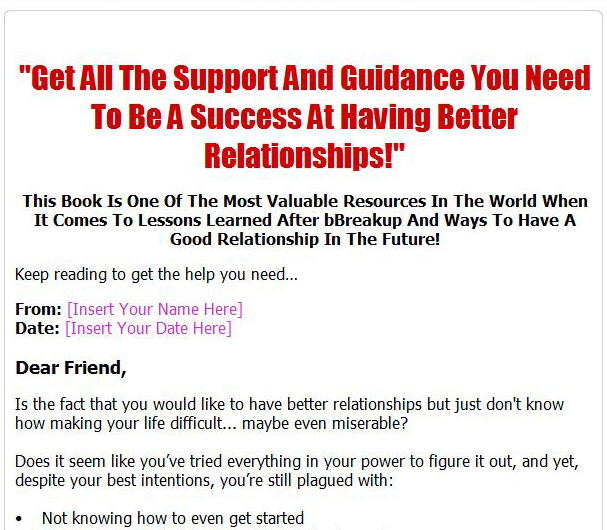 >>> Click Here To View Full Sales Page…
Table of Contents
Foreword
Chapter 1:
Be in the right relationship
Chapter 2:
Having a common purpose
Chapter 3:
Some relationship are temporary
Chapter 4:
Always listen to your gut – when felt something is wrong
Chapter 5:
Don't be possessive
Chapter 6:
Breakup makes you stronger
Chapter 7:
Reacting to breakup
Wrapping Up
Sample Content Preview
Chapter 2: Having a common purpose
Synopsis
Having a common purpose for the relationship or in life is a great way to maintain the right relationship. Knowing the common purpose that both he /her share will help to make sure if this is the right relationship. Therefore, one should consider the common purpose that both of them share before getting into a relationship.
Importance of Having a Common Purpose
You know what your relationship will lead to. By having a common purpose, you will know your directions in the relationship or in life. It is better that both partners are ready for a marriage, rather than only one is being passionate.
You can communicate with each other effectively. You know what your partner asks for, you know his/her needs, and perhaps, you can figure out how he/she thinks. With a common purpose, you will also be able to participate with your partner's daily routines. This lessens misunderstandings and suspicious towards each other.
It is easier to express feelings to each other. You will understand his/her conditions well, what he/she is facing and going through currently. Thus, he/she will have trust in you and express their emotions and thoughts to you because you understand and care. You will also feel better and let down your guard to tell him/her your feelings when you are certain that he/her understands your situations.
You are able to work towards solutions together. If either partners have different thoughts about the relationship or everything they are going through, it will be hard to get things right. With a common purpose, you will know how to react to a problem faced and solve it. You will also be able to respect your partner's way of fixing issues, as you know both of you have a common thinking.
Chapter 3: Some relationship are temporary
Synopsis
Whether you are a high school student or an adult trying to find a new love and new life, you would want to have a good relationship, which is better than your previous one. Relationships are not all perfect where "'til death do us apart" occurs in reality; you must understand there are some relationships that are destined to be only temporary. Make sure you know what to do to maintain a long-term relationship.
How to Maintain a Long-Term Relationship
Think long term. Being in a relationship does not only involve you and your partner, but both your families and friends. Hence, you must also maintain a good relationship with people close to your partner, understand and know how to treat them well. This will prevent conflicts from happening if you and your partner are facing difficulties.
Forgive and forget. Forgive is the greatest love act of all. Try to forgive your partner for all the wrong doings he had done. Try to forget bad things happened yesterday or before and look forward for a better today or tomorrow. Also, do not blame your partner for everything.
Provide mutual support. Everyone needs support from his/her partner especially when staying in a relationship, whether it is physically, financially, emotionally or spiritually. Give trust and gain trust from your partner is essential to avoid having only a temporary relationship. Always listen to him/her and understands your partner's needs.
Find a quick and effective resolution. Find an immediate way to fix issues and solve conflicts between you and your partner. It is advisable to solve today's problems before going to sleep. Share your thoughts. If possible, discuss the matter and allow your partner to participate in solving the problems together. Also, be mature in handling the matter and think rationally before you act.
Chapter 4: Always listen to your gut – when felt something is wrong
Synopsis
Listening to your gut or trusting your instincts always present the most truths about you and your partner. Listening to your gut is being honest with yourself. Especially when you fell something going wrong, your instincts tells you what to do and how to resolve the matter in the most natural way. Over thinking sometimes may show doubts in your statements or your actions, which leads to suspicions, distrust, and misunderstandings.
Always Listen
Do not deny your feelings. Preferring to solve problems in a particular way, may be because of the gut feeling. You find it suspicious that your partner comes home late every night, and so think that he/she might be cheating on you. Asking if you really want to get the answers to such a question and trusting the answers requires gut feeling. After some time if you are trying to hide the matter, you may find yourself doubting your partner and misunderstandings occur. Therefore, go with your gut to prevent all mishaps.
Avoid over thinking. Do not think too much or analyse too much when you feel something is wrong. Over thinking may draw away your attention on the positive feelings, generating more negative feelings and emotions. Because of this, you may have to undergo unnecessary stress and this ruins your relationship.
Speak out. If you are concerned about something, stand up and say something about it. Speaking out there and then helps to lessen the rising doubts. Talk or discuss the matter with your partner. Explain your feelings or reasons why you reacted the way you did.
Try to understand your gut feelings and express them in the right way. Listening to your guts and going with it is important, however, do express them in a way that you will not hurt your partner. Avoid over thinking, and consider if your reaction may or may not hurt your relationship, and most importantly, your partner's feelings.
Other Details
- 1 Article (DOC)
- 1 Ebook (DOCX, PDF), 21 Pages
- 1 Lead Magnet Report (DOC, PDF), 11 Pages
- 1 Autoresponder Email Messages (TXT)
- 1 Salespage (HTML)
- Ecover (JPG)
- File Size: 18,199 KB