Salespage Snapshot: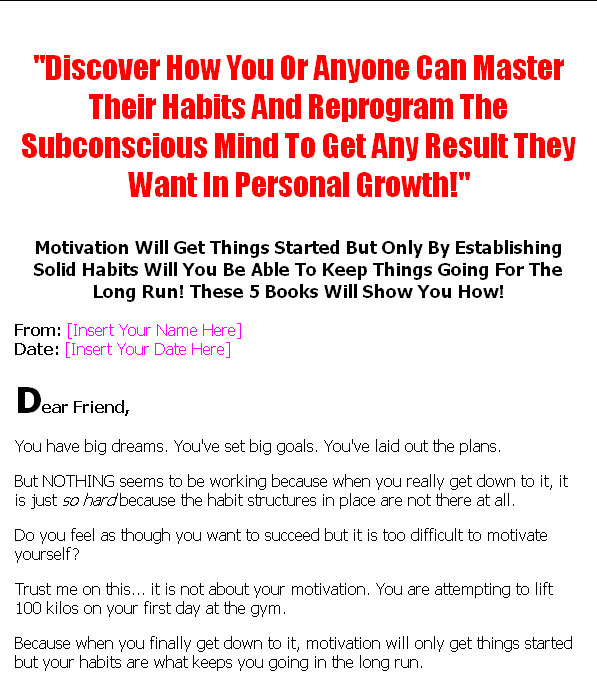 >>> Click Here To View Full Sales Page…
Table Of Contents
Forward
Chapter 1: Smoking
Chapter 2: Liquor
Chapter 3: What You Can Do About Alcohol
Chapter 4: Sex
Chapter 5: Attacking Sexual Addiction
Chapter 6: Drugs
Chapter 7: Supporting Recovery
Chapter 8: Gaming
Wrapping Up
Sample Content Preview
Chapter 6:
Drugs
Synopsis
Being addicted to drugs is a complicated matter that's been specified as a disorder that evidences in the obsessional thinking about and utilization of drugs.
It's a matter that may continue to get worse and become calamitous and deadly if left untreated. Drugs work by affecting the chemicals in the brain and inducing an insubstantial state of euphoria or a 'high'.
All the same as the body becomes used to the results of the drugs, it calls for more and more to achieve the same affect, consequently beginning an unceasing pursuit to achieve this faux happiness – with awful consequences.
Have A Good Look
As the disease advances, users will let relationships, jobs, studies, careers and kids fall by the wayside as the substances turn into a key requirement in their life. Persons addicted to drugs may similarly discover themselves in self-denial.
For addicts to continue such a destructive, self harming and detrimental way of life there has to be a truly strong level of denial existing to keep them from discovering the reality and truth of the sickness. Therefore, self-denial lives as a survival mechanism to protect the disease. With substance abuse treatment and knowledge, addiction might be addressed and a better, fitter lifestyle adopted. Start your journey today!
So to breach the cycle of habitual drug use, drug-dependent folks must make crucial changes in their lifestyles and attitudes and commonly require help in doing so. Behavioral and psychosocial treatments are the foundation of services available to assist users accomplish and sustain meaningful periods of abstention.
Among the most important things in addiction treatment and recovery are drug rehab programs. These are places that you're able to go to in order to acquire assistance for your substance addiction. Drug rehabs are going to furnish you with places that you're able to go and stay while you become sober.
These are excellent for you as there's no way to get drugs in drug rehabs, and so you've no choice but to get sober in one of these places. There are medical people on staff in drug rehabs, so that while you're getting withdrawals, they may be on hand to assist you through it and to make certain that your body is going to be able to come through eliminating your drugs. They might help you in numerous different ways and you're able to feel secure and safe about checking into drug rehabs, as they won't let anything happen to you when you're going to get the substances out of your system.
Drug rehabs are important to your recovery as they let you stride away from your life for a little while and focus on merely becoming better. You won't have to fret about the daily tensions of your life for a while and you're able to center all of your power on merely coming through your drug addiction.
This is truly helpful for a lot of individuals as it lets them be able to view their lives from the outside and there are occasionally matters that they're able to see about their lives while they're in treatment that they would not differently be able to see if they were not in treatment.
Substance rehabs are also crucial to drug dependency recovery, as they'll supply you the tools and the means to work out why you're addicted to substances firstly. You're gong to be able to make heaps of different decisions about why you turned to substances, and through these decisions you're going to be able to work out what it was that made you need to become an addict or what guided to your addiction.
You'll be able to recognize these matters in your life, so that when you're no more in treatment and you have to cope with these same issues, you'll be able to make better decisions and fend off the traps that may lead to retrogressing into drug abuse.
Drug rehabs provide people the tools that they need to deal with the emotions that might commonly lead to drug abuse. If an addiction recovery person might learn how to deal with tension, and emotions like rage and grief without using substances, then when they're in recovery and are confronted with these same emotions, they'll be better able to handle them.
It's very important that an individual becomes cognizant of different techniques to deal with these emotions, as it's frequently these emotions that lead individuals back to substance abuse, even following recovery.
Drug rehabs are likewise going to contain services for family and acquaintances of people with substance addictions. There are going to be meetings that family and acquaintances might attend in which they'll hear all about what their loved one is feeling, and they'll likewise learn ways to cope with their loved one and how to support them when they're in recovery. These meetings are truly essential to recovery, as it's frequently deficiency of support that leads someone back to drug abuse.
Drug rehabs will also put together patient services that you yourself might go to while you're in recovery. These meetings and guidance sessions become very essential in order to keep you clean and sober as they're places that will furnish you with the support that you require.
Other Details
- Ebook (PDF, DOC), 27 Pages
- Ecover (PSD, JPG)
- File Size: 34,259 KB