Salespage Snapshot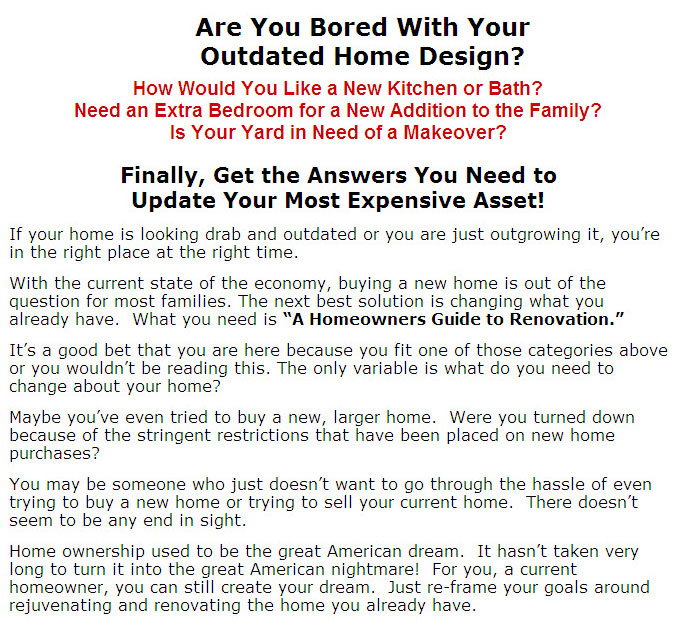 >> Click Here To View Sales Page...
Ebook Table Of Contents
Renovating Investment Property
How to Get Financing in a Bad Economy
Renovating Closets
Kitchen Renovation
Ideas for Bathroom Renovations
Creating a Home Theater
Converting a basement
Shopping for Building Supplies
Selecting the Right Paint
Shopping for Bathroom Fixtures
Buying New Appliances
Choices in Flooring
Granite or Laminate Surfaces
Outside Spaces
About Buying Clubs
Ebook Sample Content Preview
Renovating Investment Property
Renovations for Investment Property
There are two reasons why you are thinking of renovating. First, make the house look better. Second, help you sell it at a higher price so you can gain some profit. But what should you fix to increase the resale value of your investment property? Well there are a lot of ideas out there and you just have to come up with a few.
For instance, if you bought a home that has 3 bedrooms and 1 bath, you can add an additional bathroom to the house. You can also convert the attic or the basement to another room so that customers who have a large family will be interested in buying it. Should you have a large backyard, why don't you plant trees or put in a swimming pool?
But renovating a home is no guarantee that you will be able to sell it and earn a bundle of cash. This is because there are other things to consider and one of the most important is where the house is located. The other, of course, is the condition of the properly.
Is the house you are renovating in an upscale neighborhood? Is the area crime free? Is it close to schools and other establishments? Is the location adequately providing local government services to the community? If the answer to all these questions is yes, then a property in this part of town is worth buying and renovating.
But aside from that, investing in a property and hoping for a return on investment is also dependent on property taxes. The amount that you pay varies depending on where you live and some people don't want to pay a lot of money for it. But did you know that these high taxes are a blessing in disguise given that the schools are better and the roads are well maintained?
Other Details* Sales Page:
Included, HTML, MS Word Doc
* File Format:
MS Word Doc, PDF
* Number of Pages:
56
* Included Graphics:
Ecovers, PSD
* Download File Size:
1,683 KB