Salespage Snapshot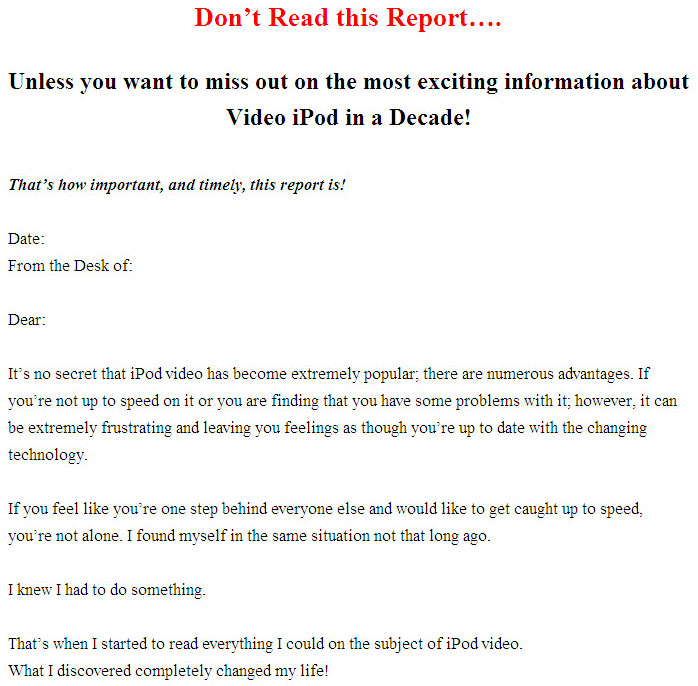 >> Click Here To View Sales Page...
Ebook Sample Content Preview
A brief history of Apple's iPod
iPod or as I would like to call it Apple's 'interactive or intelligent Portable Device' has transformed the way people now listen to the way people listen to music on the move. The days are not far when the bulky old walkmans which once changed the face of how people listened to music would be found only in antique stores and museums. Apple has sold close to 50 million iPods since its launch in Oct 2001. Despite the high cost of an iPod as compared to other portable music devices, its utilities have left all competition behind struggling to find a place for themselves. It all began when a former Philips employee and currently senior director of iPod & Special Projects Group at Apple, Tony Fadell recognized the need for a more portable music device, which we today know as iPod.
Nevertheless, since the launch of first iPod it has not undergone any major change in its looks. Although Apple has constantly been trying to bring down it is the size and increase the features including its music capacity.
Apple currently markets three distinct players bearing the iPod name. Some models come with different capacities or with different designs. The model range includes:
• iPod (30 GB and 60 GB).
• iPod nano (1 GB, 2 GB, and 4 GB).
• iPod shuffle (512 MB and 1 GB).
The iPod mini (4 GB and 6 GB and in various colors) are now discontinued, having been replaced by the iPod nano. The Harry Potter 20 GB Collector's fourth-generation iPod has been replaced by the Harry Potter 30 GB Collector's iPod, which is simply a fifth-generation iPod with a Harry Potter engraving and the Harry Potter audio books pre-loaded.
Several product revisions have taken place since the original model of iPod appeared, leading to the existence of five distinct generations. As with most hard drive-based devices, the actual drive space available for music, photo, and video and data storage does not quite attain the advertised capacity. For example, a 4 GB iPod mini actually had 3.77 GB of usable storage. This is due to iPod's firmware, which eats up a little space of the memory.
iPods can be classified broadly into its five generations namely first, second, third, fourth and the most recent fifth generation.
Other Details* Sales Page:
Included, HTML, MS Word Doc
* File Format:
MS Word Doc, PDF
* Number of Pages:
65
* Included Graphics:
Ecovers
* Extras:
Keywords
* Download File Size:
550 KB