Salespage Snapshot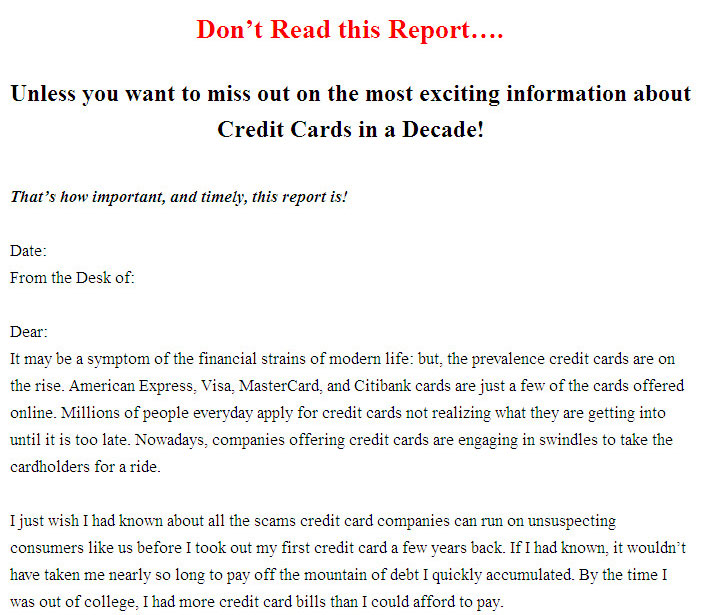 >> Click Here To View Sales Page...
PLR Ebook Sample Content Preview
American Express and Credit Cards
American Express is one of the well-known card providers that offer low APR. The introductory is 0% APR up to 15 months on some cards, and includes low balance transfer APR. The transfer is 3.99% fixed rates for life on few American Express cards. Few cards offer free reward programs enabling the cardholder to earn points and redeem the points for products, travel, hotels and so forth. Many of the cards offered have no annual fees.
The Citi Platinum Select has 0% APR introductory on purchases and balance transfers. The 0% APR will not be relevant to cash advances on some cards. If the cardholder fails to make payments on time then the 0% may be subject to change. Few cards have no annual fees or balance transfer fees during the introductory.
Chase cards have a 5% on purchases and 0% APR up to one year. The cardholder can receive 1% cash back on additional purchases. Chase like many other cards offer a variety of cards; therefore, you should review them all before making a decision.
HSBC MasterCard Offer an assortment of manufactured goods to choose from if the cardholder qualifies upon the completion of the "Pre-qualified form." Few cards offer 0% APR and may not apply to the cash advances. If the cardholder fails to make payment during the introductory, or else goes over the cards limit, the APR may increase up to 18.74%. Other fees are included on balance transfers. Be sure to read all details on any credit card considered to avoid overcharges.
Discover Platinum Cards also offer 0% APR introductory up to one year. There are no annual fees, 5% cash rewards, 0% fraudulent liability and limitless cash rewards of 1% on other purchases. The card lenders offer double rewards to customers purchasing products from name brand companies. Stop right here! If you are paying twice the amount for a similar product at full price, the double rewards may not be worth your time. In other words, if you buy name brand clothes you will pay nearly double, or triple sometimes for the product. Therefore, you are spending more than you will make back in most instances, and then you will pay APR charges on the purchase.
The card lenders may also charge fees on banking processes or internet purchases therefore make sure you read all information about the card before applying, since some card companies offer misleading information. Some of the misleading slicks may include, FREE online accounts.
Other Details* Sales Page:
Included, HTML, MS Word Doc
* File Format:
MS Word Doc, PDF
* Number of Pages:
160
* Included Graphics:
Ecovers, PSD
* Download File Size:
1,447 KB