Salespage Snapshot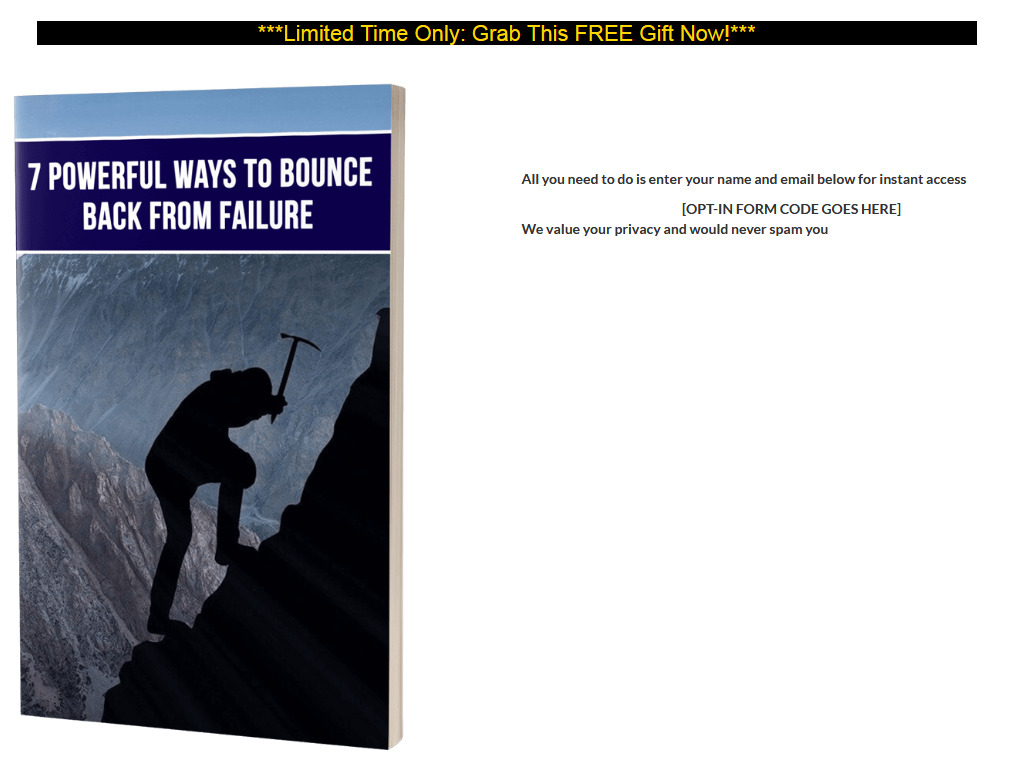 >> Click Here To View Sales Page...
Sample Content Preview
Don't despair – these are the negative findings. On the positive side, research has also shown that those who are hungry for success and willing to go the extra mile always bounce back from failure more quickly and spectacularly. This is what this book is all about.
Why do we take failure so hard? One reason is because we take it so personally! Have you ever known anyone who intentionally set themselves up to fail? Yes, failure happens and it could be our fault but never our fault by intention.
The key to bouncing back from failure is not to take it personally. You need to learn to look at failure objectively in order to pick yourself up, dust yourself off and put it behind you.
There are 7 powerful ways to develop that neutral, objective mindset to be able to honestly assess failure, learn the lessons you need to and move on to bigger and better successes.
Is that all it takes? Yes! You're just 7 steps away from developing amazing resilience and grit in the face of any failure!
Approach Vs. Avoidant Mentality — Which One Are You?
No two failures or setbacks are exactly the same nor are any two reactions to failure exactly alike. The way individuals deal with failure is a uniquely personalized experience. Their perception depends upon their character, their circumstances and the type and scope of the failure.
For some, losing their job can be like a devastating hurricane that totally crushes them. For others, it's like a tornado that does some minor damage. Others see it like a thunderstorm that will temporarily derail them. Still, failure isn't fun and nobody takes it lightly.
Understanding how you perceive and deal with failure is the first step to bouncing back more effectively. There are two basic mindsets that govern how we relate to failing; approach or avoidant. Read on to identify whether you have an approach mentality or an avoidant mentality.
The approach mentality
People with an approach mindset understand that failure is a natural part of the landscape. They know that despite their best efforts, failure and setbacks are a possibility.
This type of person is mentally prepared. In the event that failure is in the cards, they're not completely knocked off their feet if it happens. Some people actually create a physical "plan B" for how they'll proceed in the face of a failure or setbacks.
This could be anything from a small emergency fund to a complete reshuffling of their business structure.
Needless to say, this type of mindset makes it easier to pick yourself up and bounce back. That's not to say that the 7 steps discussed here become irrelevant. As you will see, you still need them to make a more effective and successful comeback.
In essence, an approach mentality means forewarned is forearmed and as a result, you will avoid a lot of mental anguish and heartache.
The avoidant mentality
A person with this mindset avoids preparing mentally for failure. He avoids acknowledging that it's a possibility. He sees only the shining success ahead of him and makes that his sole purpose and focus. There's another good word for this mentality: denial!
This is a great motivational mindset to have but it doesn't hold up very in the face of failure. Failing or experiencing a setback tend to be more devastating for someone with this mentality.
In essence, an avoidant mindset can be defined as being intentionally blind to the possibility of failure.]
What type of mentality do you have regarding failure? If it's the first, then you're in a good place. If it's the second, you need to work on being more mentally prepared.
When embarking on a new goal or project, simply take the time to assess the things that could go wrong, and how you would tackle these issues. Ask yourself a lot of "if" questions; "If this happened, I would do this… If this went wrong, I would need to… If I fail, it would mean…"
Remind yourself that unexpected situations may arise that simply weren't on your radar and if they do, you will deal with them as best you can.
Developing an approach mental requires no specific skills or talents. It needs nothing more than practice. Always teach yourself to think in this way until it becomes a habit. This will put you in a much better place in the event that you fail.
Other Details
- 1 Ebook (PDF, DOC), 32 Pages
- 5 Part Autoresponder Email Messages (TXT)
- 1 Audio (MP3)
- 2 Graphics (PNG)
- 1 Squeeze Page (HTML)
- Year Released/Circulated: 2022
- File Size: 10,462 KB
License Details:
You're granted master resell rights, resell rights or to resell with personal use rights.
You may add this product to your PAID membership site
You may giveaway the product as a bonus when people buy through your affiliate link
You may edit the included opt-in / squeeze / landing page
You may giveaway the eBook for Lead Generation purpose
No, you may NOT edit the contents of the eBook
No, this product does NOT include private label rights. You are granted Master Resell Rights only