Salespage Snapshot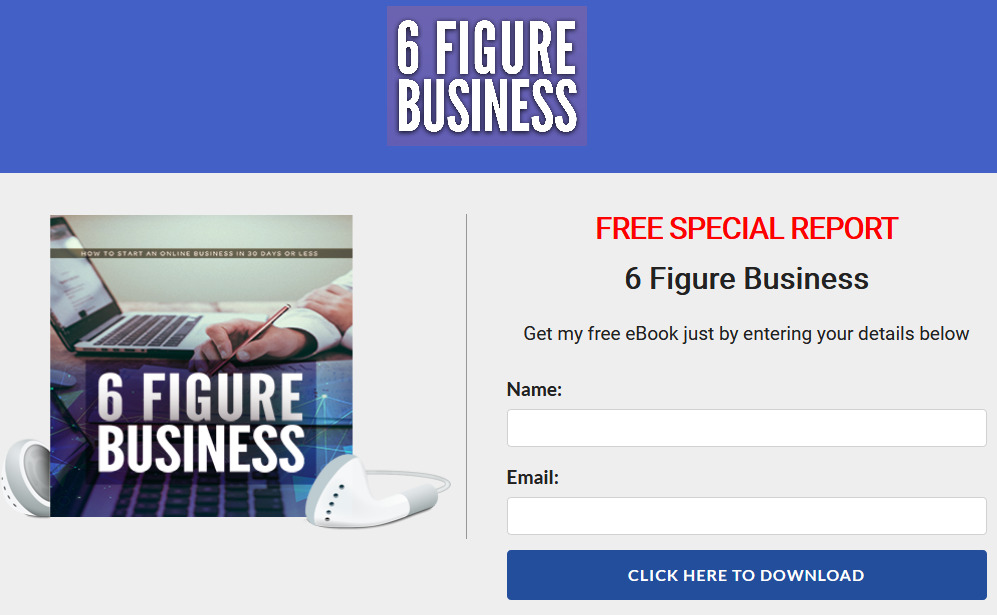 >> Click Here To View Sales Page...
Sample Content Preview
If you have any of these skills then you can market them and make good money online. You will need to be disciplined if you are going to do this as your customers will expect work of the highest quality delivered on time.
Probably the easiest online business to get started with is affiliate marketing. If you don't know what this is the concept is simple. There are a lot of product vendors out there that will pay you a commission for promoting and recommending their products.
All you have to do is to sign up to their affiliate program and then drive targeted traffic to the offer. Each time that someone makes a purchase using your affiliate link, you will earn a commission from the product vendor.
You can promote physical products or digital products. Physical products are an easier sell but the commissions tend to be low. It is harder to sell digital products but the commissions are usually much higher.
There are affiliate networks that you can use to find offers to promote. If you are interested in physical products then you could join the Amazon Associates Program. You can find thousands of products to promote but you will only make around 3% to 5% commissions.
If you go for digital products then you can join Clickbank.com or Digistore24.com and find products that offer 50% commission and higher. One thing that you need to bear in mind is that because it is so easy to get involved with affiliate marketing there are a lot of online business owners doing it so you are going to have competition.
Do you have the latest bestselling novel swirling around in your head? If so you can write your novel and then self publish it on platforms such as Amazon Kindle and Barnes and Noble. There is also the opportunity to write nonfiction books and sell these on self publishing platforms as well.
Dropshipping is where you sell physical products on your website and a dropshipping company fulfils all of your orders to your customers. You do not need to purchase any stock as you just promote the products that the dropshipping company offers. The commissions are not that high for this business so you need to sell a lot of products to make good money.
Dropservicing is a fairly new term but the concept has been around for years. It is really service arbitrage – you purchase a service from a freelancer at a low price and sell it at a higher price to the customer.
All of these online business models have the potential to make you a lot of money. You must choose the one that is right for you and stick with it. There is a lot to learn about all of these different models. Don't flit between different online business models as this will never provide you with the results that you want.
The grass is always greener over there. You have probably heard this term before. It means that there are better opportunities for your online business success elsewhere. We call this the "shiny object syndrome".
When you choose an online business model there will be people who tell you that you made the wrong choice and that you should switch to another program and purchase their training to show you how to make a fortune from it.
A lot of people that choose the wealth creation niche (make money online) are constantly bombarded with new shiny objects to distract them. There are new courses and programs released every single day in this niche. All of them will tell you that you need to stop what you are doing now and follow their lead.
We strongly advise that you resist the shiny object syndrome no matter how tempting another offer sounds. Some people are serial purchases of these new "wonder methods" because they believe that the right solution for them is just around the corner.
They have hundreds of courses sitting on their hard drive gathering digital dust. Some people buy these products and then never open them! You do not want to get caught up in this negative spiral. Just focus on what you are doing and do it to the best of your ability.
We are not saying that you shouldn't invest in more training for your chosen business model. You should learn everything that you can about it and be prepared to try new methods to make it work. But what you need to avoid is changing direction completely because the grass seems greener over there.
If you had to guess why the majority of online businesses fail what would be the main reason in your opinion? Would it be lack of interest? Lack of resources? Not having the best Internet connection? In our opinion it would not be any of these things. The answer is:
Not enough traffic!
If you do not get targeted visitors to your offers then you are not going to make any money online. You can be promoting a mediocre offer and still make good money from it if you drive enough visitor traffic to it.
On the other hand you can have the best offer in the world, but if you don't send enough targeted visitor traffic then you will not make many sales, if any. Traffic is the most important aspect of any online business no matter what online business model you choose.
If you are a freelancer and nobody knows about your services then your online business will fail. As an affiliate marketer if you don't drive enough traffic to the offers you are promoting then you will not make any commissions. Without good traffic to your ecommerce store you won't sell anything – and so it goes on.
Once you have setup your online business you need to spend the majority of your time promoting it. There are several ways that you can do this. If you do not want to spend money then you can do content marketing, video marketing, social media marketing and so on.
If you have a little money to invest then you can use paid advertising to promote your online business. You can purchase pay per click (PPC) traffic from search engines such as Google and Bing. Or you can go for social media ads to get the word out about your business.
Other Details
- 1 Ebook (PDF, DOC), 12 Pages
- 1 Audio (MP3)
- 1 Graphic (PNG)
- 1 Squeeze Page (HTML)
- Year Released/Circulated: 2021
- File Size: 8,449 KB
License Details:
You're granted master resell rights, resell rights or to resell with personal use rights.
You may add this product to your PAID membership site
You may giveaway the product as a bonus when people buy through your affiliate link
You may edit the included opt-in / squeeze / landing page
You may giveaway the eBook for Lead Generation purpose
No, you may NOT edit the contents of the eBook
No, this product does NOT include private label rights. You are granted Master Resell Rights only