Salespage Snapshot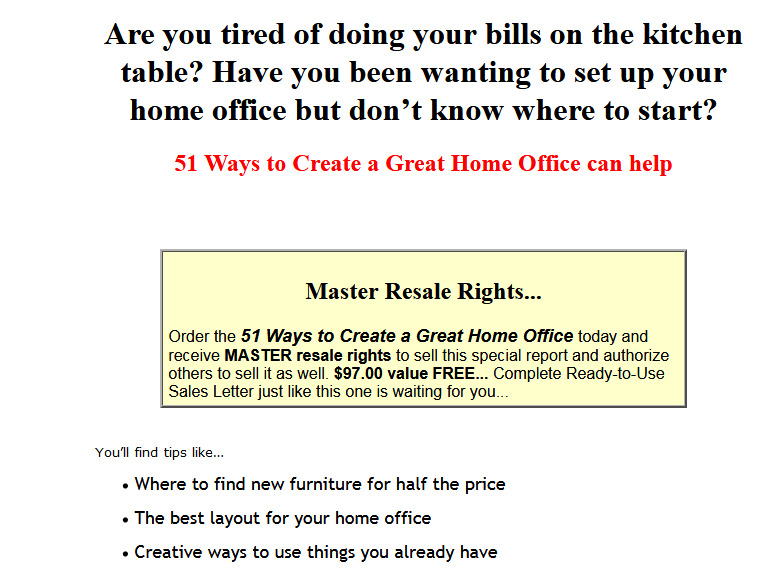 >> Click Here To View Sales Page...
Sample Content Preview
9. Garage or Basement
Don't forget to consider your garage or basement for a make-shift home office. You may need to do some temperature and lighting control, but in the end, either could make a great office.
ROOM LAYOUT
There are several types of room layouts for your home office. This next set of tips will help you get an idea of what yours might look like.
10. Corner Layout
The corner-layout is great if you need to share your room with something else: Here's a diagram:
11. "U" Layout
The "U" Layout is great for giving you lots of room. Here's a diagram:
12. "T" Layout
A "T" Layout is great for sharing your home office with another person. Here's a diagram:
13. Shared Room
Remember that when you share your home office with another room, like a bedroom, living room or kitchen, it's important to find a way to separate your office from the other part of the room. If you can't afford a partition, get creative with backs of couches or home-made curtains.
ON A TIGHT BUDGET
Not all of us can afford to go out and buy new office furniture. This next set of tips will give you some creative ideas about building your home office on a shoe-string budget.
14. Use Things You Already Have
Start by looking around for things that you already have. Go through your attic, garage or storage unit. You'll be surprised at what you find you already have.
15. Build Your Desk
Need a custom-made desk for a tight space? Build one! You'll be surprised at what you can do with three sturdy pieces of wood and some nails. I'm sure the employees at your local hardware store can give you some great tips as well.
16. Second Hand Stores
Second hand stores are great places to find gently-used furniture. If you can't find what you need on your first visit, keep going back every few days. If you're persistent, you'll find just what you need.
17. Garage Sales
Don't forget about garage and yard sales. Many treasures are found every week at these. Just start early one Saturday, newspaper in hand, and hit as many as you can. You're bound to find something for your home office.
18. Swap With Friends
It's fun to ask a friend if they want to swap furniture with you. Maybe that ugly end-table in your garage is just what she's been looking for. And maybe the desk gathering dust in her basement is exactly what would work great in your home office.
19. Coffee Cans and Flower Pots
Look around your home for things that you can use to hold smaller things like pens, pencils, and paperclips. Coffee cans, flower pots, and small boxes work great.
20. Visit Professional Offices
Be sure to visit professional offices to see if they are redecorating. Quality hotels redecorate guest rooms every 4 or 5 years. They'll sell their old furniture to you dirt cheap.
BUYING FURNITURE
If you're lucky enough to be able to buy new furniture, you need to be sure that it's the right kind. This next set of tips will give you some questions that you should answer before buying.
21. Is it Easy to Assemble?
Does it come already assembled, or is it quite simple to assemble? What tools will you need? Are the instructions in English and easy to read and follow?
22. Will it Last?
Does the furniture you're buying have a warranty? Is it sturdy and strong? Is it real wood or particle board? Look close, because sometimes they'll trick you and put a thin layer of veneer over the particle board to look like wood.
23. Is it Safe?
Look at your furniture from top to bottom and make sure it's safe.
Look for things like:
– Sharp corners
– Position of nails
– Sturdiness
– Smoothness (no slivers)
24. Does it Need to be Portable or Versatile?
Do you need to be able to tuck things away when you're not using them? For instance, a small desk on wheels that you can roll into a corner, or a desk that can be shut up into an armoire are two great options.
25. Is Your Desk and Chair the Right Height?
Make sure your desk and chair are the right height for you. Sit in the chair at the store, then put the chair up to the desk. Make sure your feet are comfortably on the floor, and the desktop is at a good distance to work from.
FILING SYSTEM
Every office needs a good filing system or else papers will start piling up fast. This next set of tips will help you set up a great home office filing system.
26. Filing Cabinet
Whether it's new or used, a good filing cabinet is important. Make sure it's sturdy and roomy enough for your needs. The drawers need to slide smoothly and be easy to open and close.
Other Details
- 1 Ebook (PDF), 18 Pages
- 1 Audio (MP3)
- 1 Salespage (HTML)
- Year Released/Circulated: 2020
- File Size: 3,220 KB
License Details:
[YES] Can be sold
[YES] Can be used for personal use
[YES] Can convey and sell Personal Use Rights
[YES] Can convey and sell Resale Rights
[YES] Can convey and sell Master Resale Rights
[YES] Can modify/change the sales page
[YES] Can be packaged with other products
[YES] Can be added into paid membership websites
[YES] Can be offered as a bonus for buying another product
[YES] Can be used to build a list (giveaway eBook then upsell Audio MRR)