Salespage Snapshot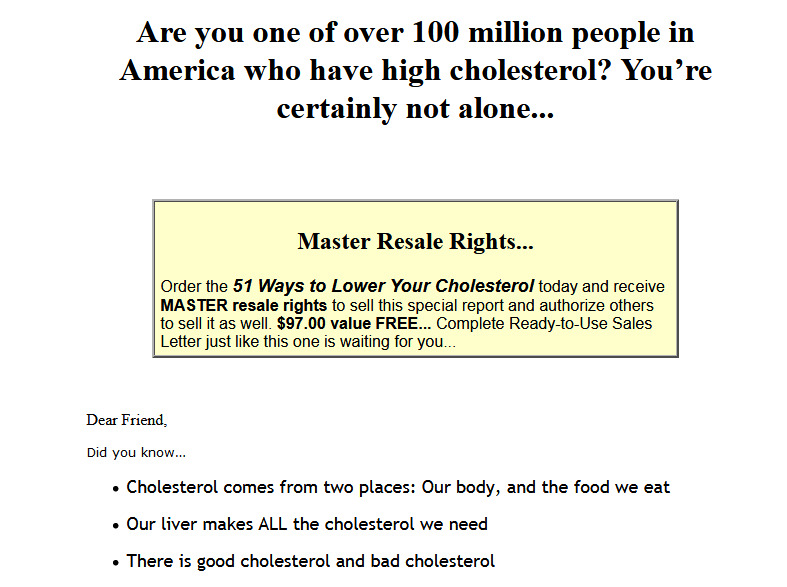 >> Click Here To View Sales Page...
Sample Content Preview
According to Jennifer Moll of about.com, oatmeal lowers cholesterol. The oat fibers mix with cholesterol in the small intestine and carry the cholesterol out of the body instead of it being absorbed into the blood. The Food and Drug Administration is also convinced of this, as oatmeal was the first food to carry the distinction on its label to lower cholesterol levels.
19. Switch to Tea
According to an article on www.prevention.com, in late 2003, USDA scientists reported that 15 people cut their cholesterol by 7% and their bad LDL cholesterol by 11% after just three weeks of drinking five daily cups of black tea. "A cup or two a day for a longer period should also work," says Joseph Judd, PhD.
20. Honey
Get out that sticky stuff! Studies have shown that honey can lower your cholesterol. It slows the oxidation (dangerous plaque deposits in blood vessel walls that can lead to heart attack and stroke) of bad LDL cholesterol in human blood.
21. Fruits and Vegetables
Make sure and get in five servings of fruits and vegetables a day. It's easier than you think, and it's probably the simplest way to lower your cholesterol.
22. Beware of Trans-Fat Foods
Trans-fat foods are foods with the wrong types of fat in them – the fats that can send your cholesterol levels soaring. Here's a list of ten bad ones:
– Cake mixes
– Cereal bars and energy bars
– Chips and crackers
– Dried soups
– Fast food
– Frozen entrées
– Margarine
– Nondairy creamers and whipped topping
– Packaged cookies and candy
– Packaged doughnuts, pies, and cakes
GET MOVING
Eating the right foods goes hand in hand with exercise. Getting your heart pumping is a great way to get healthy. Here are some good things to do to get that cholesterol where it needs to be.
23. Golf
Now you have a great reason to hit that golf course. According to Michele Stanten, Prevention.com's Fitness Director, when 55 sedentary, middle-age men started playing golf two or three times a week, over a five month period they Increased "good" HDL cholesterol by 5%, and lowered "bad" LDL cholesterol and triglycerides by 4%.
24. Walking
Walking is a very effective exercise for getting healthy. In fact, taking a 15-20 minute walk every day can reduce your bad cholesterol by up to 8%.
25. Yoga
According to www.yoga.com , yoga can be very beneficial at getting cholesterol levels where they need to be. Practicing yoga on a regular basis improves the blood and oxygen flow in the body, which aids in the removal of toxins and waste.
GO NATURAL
There are lots of vitamins, minerals and herbs that can help get those cholesterol levels where they need to be. Below are some ideas to help you.
26. Pantethine
Pantethine can significantly reduce LDL-cholesterol (the bad) while increasing HDL (the good) levels in several clinical trials. While you can get pantethine in supplement form (you can read more and order some here:http://www.loweringcholesterol.net/supplement-category/Pantethine), Pantethine also occurs naturally in these foods:
– Vegetables
– Dairy
– Eggs
– Grains
– Meat
– Liver
– Salmon
– Yeast
27. Artichoke Extract
This heart healthy extract can help lower your cholesterol levels. In studies, it's been proven to lower cholesterol up to 18%. You can find out more and get some here: www.HerbsPro.com.
28. Vitamin C
Vitamin C is great at reducing bad cholesterol. Says Sudhir Kurl, MD, "Vitamin C minimizes artery damage from free radicals, reduces blood pressure, and helps control cholesterol."
29. Vitamin E
Taking Vitamin E each day may help keep the bad cholesterol out of your diet, which in turn helps your heart to be healthy. Vitamin E also raises the level of good cholesterol.
30. Calcium
Research shows that calcium can help reduce cholesterol. It attaches to cholesterol-carrying bile acids and expels them from the body as waste, thus lowering the total cholesterol and the LDL cholesterol ("bad" cholesterol).
Other Details
- 1 Ebook (PDF), 16 Pages
- 1 Audio (MP3)
- 1 Salespage (HTML)
- Year Released/Circulated: 2020
- File Size: 4,402 KB
License Details:
[YES] Can be sold
[YES] Can be used for personal use
[YES] Can convey and sell Personal Use Rights
[YES] Can convey and sell Resale Rights
[YES] Can convey and sell Master Resale Rights
[YES] Can modify/change the sales page
[YES] Can be packaged with other products
[YES] Can be added into paid membership websites
[YES] Can be offered as a bonus for buying another product
[YES] Can be used to build a list (giveaway eBook then upsell Audio MRR)