Salespage Snapshot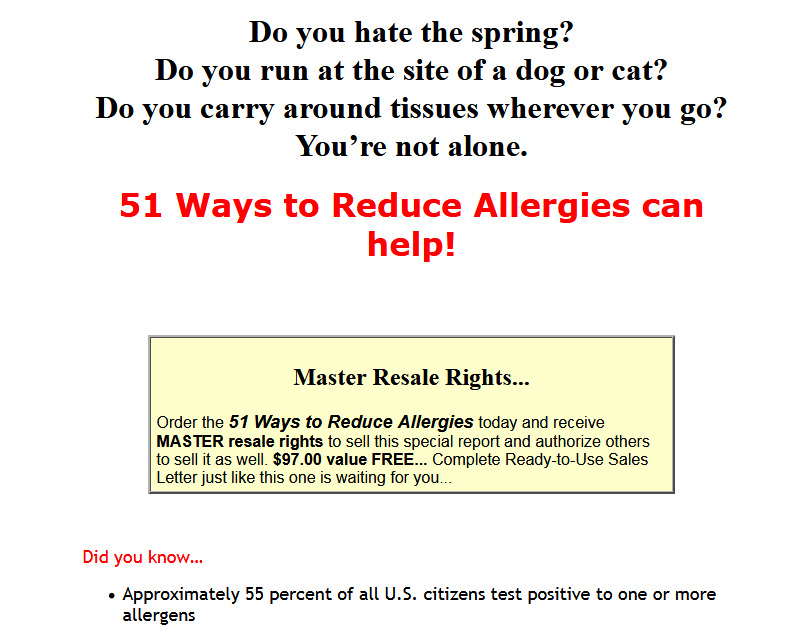 >> Click Here To View Sales Page...
Sample Content Preview
32. Avoid Alcohol
Alcohol can worsen nasal allergies. It stimulates mucus production, aggravating nasal congestion and runny nose. So think twice about drinking. And remember to never mix alcohol with allergy medication.
33. Use Filters
Placing filters over heating and cooling vents can help alleviate allergies.
Vent filters can trap airborne particles like dirt, lint, dust mites and hair.
Filters aren't very expensive and can be found at any hardware store.
34. Choose New Carpet Carefully
If you're in the market for new carpet, it's important to remember that from an allergy sufferer's view, not all carpet is the same. New carpet can be a source of chemical emissions and irritants. Ask your carpet guy what chemicals were used on your carpet and give it time to air out. Serious allergy sufferers may want to consider hardwood floors.
35. Thoroughly Clean Down
Down comforters, pillows or feather beds can be hard to clean, but are also good at trapping dust and dirt. It may mean a trip to the dry cleaners, but the results are well worth it. You can also look for hypoallergenic down. This is specially made for allergy sufferers and will greatly reduce allergens.
36. Shower Before Bed
Showering and washing your hair before going to bed can greatly reduce your night-time allergies. During the day, you can get dust mites, pollen and even mold on your skin and hair. Showering at night will keep these things out of your bed.
37. Clean Your Floors
It's important to clean all floors in your home twice a week. This ensures that allergens are being disposed of. A good way to do this is to vacuum the area, then go over the floor with a wet rag or clean mop.
38. Avoid Smoke
This may sound like a no-brainer, but many people don't realize how smoking tobacco can actually make their allergies worse. Smoking weakens your immune system, making it easier to be effected by allergens. Also keep in mind that the air around people who smoke actually makes a great place for mold to grow.
39. Disinfect
A few times every month, clean all of your bathroom and kitchen surfaces with an industrial grade disinfectant (not just a spray disinfectant like Lysol). This will make sure that all of the allergy-causing germs are out of your home. This is also the best way to kill mold.
40. Clean Your Carpets
Make it a habit to have your carpets professionally cleaned each fall, after you close your windows for the winter. Do your homework, and ask your carpet cleaners if their service will get rid of mold, pet dander and dust mites.
41. Keep Your Windows Closed
A good rule for a serious allergy sufferer is to keep your windows in your house and car closed all year. Use the air conditioner instead. This makes sure that allergens outside won't blow into your car or home through your windows.
42. Drink Plenty of Water
A good tip for an allergy sufferer is to drink at least one gallon of water per day. This may seem like a lot, but it can actually help quite a bit. Along with flushing toxins out of your body, water also hydrates you. When your body is sufficiently hydrated, allergens don't stick as much and collect in your throat and lungs.
43. Exercise
Exercising daily will boost your immune system. Research shows that moderate exercise such as jogging, cycling and speed walking can boost the body's defenses against viruses, bacteria and allergies. Don't overdo it, though. Exercising too much can actually weaken your immune system.
44. Talk To Your Doctor
It's important to talk to your health care professional about your allergies. Whether it's your family doctor or an allergist, good communication is important to receive the best treatment for your allergies. Web MD (www.webmd.com) suggests asking these questions:
Other Details
- 1 Ebook (PDF), 17 Pages
- 1 Audio (MP3)
- 1 Salespage (HTML)
- Year Released/Circulated: 2020
- File Size: 4,292 KB
License Details:
[YES] Can be sold
[YES] Can be used for personal use
[YES] Can convey and sell Personal Use Rights
[YES] Can convey and sell Resale Rights
[YES] Can convey and sell Master Resale Rights
[YES] Can modify/change the sales page
[YES] Can be packaged with other products
[YES] Can be added into paid membership websites
[YES] Can be offered as a bonus for buying another product
[YES] Can be used to build a list (giveaway eBook then upsell Audio MRR)