Salespage Snapshot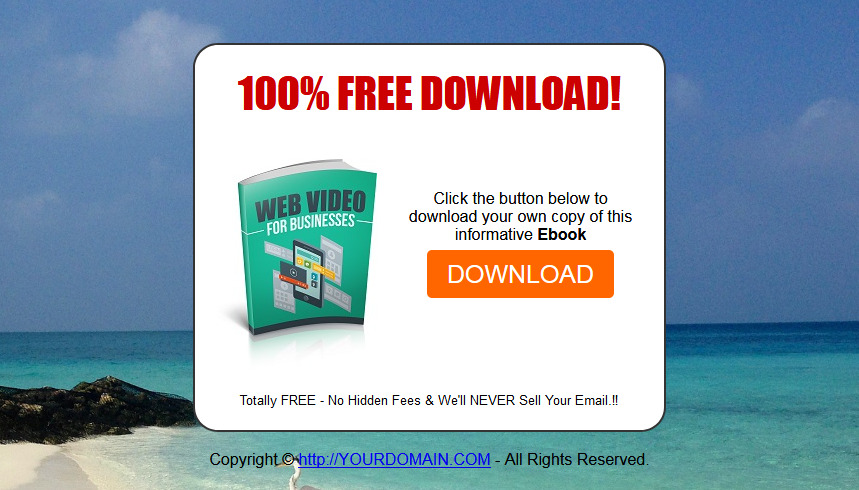 >> Click Here To View Sales Page...
Table of Contents
YOUR RECORDING SETUP .. 4
CAMERAS: DOS AND DON'TS …..4
THE FACE OF YOUR PRODUCT ….7
LIGHTING ……..9
NOTES ON CHROMA-KEYING … 10
PREPARATION FOR EDITING ….. 12
THE TRUTH ABOUT EDITING …… 14
FUNDAMENTALS OF GOOD EDITING ….. 14
MORE EDITING TIPS FROM THE WEB …. 18
ADVANCED EFFECTS AND WHEN TO USE THEM . 18
SOLUTIONS FOR CREATING ADVANCED EFFECTS 21
ZS4 …….. 22
Transparent Video Effects …….. 22
PAGE SETUP . 24
PLACEMENT ISSUES …. 24
The Front Page Solution 25
The Embedded Video Solution .. 28
Autoplaying ……. 30
Side Pages: Yes Or No? . 31
WHERE SHOULD AV CONTENT GO IN THE CODE? …….. 33
GETTING YOUR CONTENT ONLINE ……. 36
FLASH CONTENT …….. 37
STREAMING MEDIA ….. 39
DIRECT DOWNLOAD …. 42
GOING LIVE! 45
TESTING …….. 45
LAUNCH ISSUES ……… 47
THE MOST IMPORTANT RULE OF YOUR LAUNCH . 49
Sample Content Preview
Mini-DV tapes have the distinct drawback of being expensive, unless of course you keep erasing and reusing old tapes. Doing that, though, eliminates one of the best advantages of the mini-DV tape format: archiving your footage. One man's trash is another man's treasure, and if you can't use that nice exterior footage you filmed for this project, you can certainly use it for a future audio-visual project without spending extra time on filming things twice. You also have a permanent backup of any critical footage (an interview with a difficult-to-contact but well-known actor who uses your product, maybe), in case the worst happens, you lose your edited movie files, and you have to start over from scratch. Over time, you'll likely find that the added peace of mind and convenience of having your footage backed up far outweighs the hassle and cost of buying tapes.
A direct USB connection is the other viable option. You lose the ability to store all of your footage, since you'd have to store it on a computer rather than on tapes, and your footage will quickly eat up too much of your hard drive space if you're filming at high quality. But you do save on the cost of tapes, and you do have the ability to quickly grab the day's footage from your camera and shoot it directly into your editing software without any hassle. Mini-DV tapes sometimes require complicated interfaces in order to get your footage into your computer, and transferring your footage from peripheral to peripheral can lead in a worst-case scenario to losing significant amounts of quality. If you don't want to mess around with this problem and you don't think you'll need to retain much of the footage you've been shooting for future projects, just make sure your camcorder has a USB connection (honestly, you'd have to work pretty hard to find a new camcorder that doesn't.)
The only other thing to remember when choosing a camcorder is, of course, to test it out before you buy it. Make sure you like the control options–zooms, resolutions, effects. Make sure you like how the camera captures and displays light: if everything looks overexposed and difficult to make out just in your test footage, you're not going to want to wrestle with the thing for your entire project. And again: make sure that the camera's resolution and file format works with your editing software, and that it's reasonable as far as how much memory it takes up. There's no point in getting perfect footage if doing so will inevitably crash your editing software.
The Face Of Your Product
No one expects you to hire John Gielgud to be in your software commercial. That said, though, you don't want to go as cheaply as possible where actors are concerned. It just takes one halting delivery, problematic accent, or other flaw to turn your site into the laughing stock of the Internet. Either use people in-house who you can rely on to represent your product, or consider investing a little bit of time in finding an actor or actress.
This isn't as expensive as it sounds, especially if you're near a major city. Any college town or large urban center will have a population of actors, many with impressive technical training, but few actual production credits as yet. If you find a sufficiently young and resume-poor actor or actress through online creative services sites (Craigslist being a classic option) or through other channels, you can often convince them to do a day or two of shooting with you for nothing but the experience of being on camera and a good letter of recommendation to future potential employers. There's plenty of talent out there waiting to be discovered, and there's no reason to let it lie fallow when you could put it to work for you or your project for almost nothing.
If you live in a rural area or just don't have a good local talent pool, you'll have to use someone in house. There are endless books written about the difficulty of casting, but as a general rule, pick someone with a pleasant, friendly face and pick someone who's easy to understand. It'll make your content seem more professional and it'll provide a more positive emotional branding for your product.
And if you simply don't have other options, don't overlook the power of testimonials. Get some friends of yours who've used your product and who like it to let you record them talking about how much they enjoy the product. In this case, their lack of technical acting training is an asset: it'll give your production an air of authenticity and make the testimonials that much more convincing. Plus working with friends is an all-time good deal, since they'll most likely be excited enough by the prospect of appearing in your "commercials" that they'll work for friendship, or for free.
Lighting
Professional lighting probably isn't in your budget, but it's not usually a good idea to rely on natural lighting alone. Natural lighting on video tends to make an image look flatter than it would otherwise be, washes out colors, and just makes your image look drab and home-made. It doesn't really separate your content out from anyone else's.
You can get a professional lighting effect without paying professional fees, though. If you're shooting indoors, all you'll need is two light sources–three, if you happen to have a spare lamp lying around.
One light is your primary lighting source, responsible for creating strong areas of light and strong shadows. Another light, placed directly opposite the first but further away, is responsible for filling in and softening some of the shadows created by the first light, but still preserving the greater contrast and definition. The third light, if you've got one, is small and placed behind the image you're shooting in order to provide a little bit of separation from your background.
That's really all it takes: three light bulbs and some creative ideas for placement. Jack Black (of all people) provides a good tutorial for creating this lighting setup at acceptable.tv (full URL: http://acceptable.tv/tutorial/18 ) The presentation is a little bit absurd and the tutorial is more geared for creative/dramatic work than for commercial purposes, but the information about how to design a lighting setup and place individual lights is simple, solid, and usable. (The integration of the video player into the design of the site itself is also something you'll want to pay attention to, since the custom coding and visual distinctiveness of the video player is what gives the acceptable.tv site a great deal of its charm.)
Notes On Chroma-Keying
Depending on what your basic concept is, you may need to plan your video recording sessions to take into account the process of chroma-keying. Chroma-keying can be an incredibly powerful, cost-effective, and exciting tool to make your video projects more dynamic and visually interesting. But it also gives you a host of new challenges to deal with in your shooting and can lead to some serious technical problems along the way if you're not careful.
Other Details
- 25 Articles (TXT)
- 1 Ebook (PDF), 49 Pages
- 1 Squeeze Page (HTML)
- 2 Ecovers (PNG)
- Year Released/Circulated: 2018
- File Size: 1,707 KB
License Details:
[YES] Can sell and keep 100% of the sales.
[YES] Can edit the squeeze page.
[YES] Can be bundled into another paid package and sell at a higher price.
[YES] Can be used as a bonus to another product you are selling.
[YES] Can be sold in a Dime sale event.
[YES] Can be added into a paid membership site.
[YES] Can pass on the Master Resell Rights privilege to your customers.
[YES] Can be given away for free AGAINST an email address (lead generation)
[NO] Contents of the product can be edited, modified or altered.