Salespage Snapshot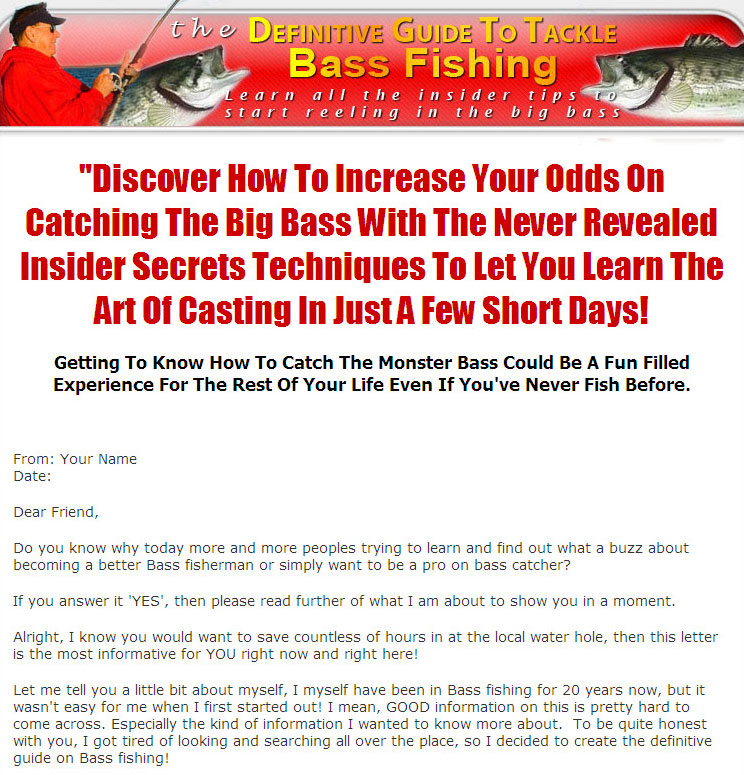 >> Click Here To View Sales Page...
PLR Ebook Table Of Contents
Foreword ………………………………………………………………….…………… 4
Introduction …………………………………………………………………………… 8
Chapter 1 – The basics of Bass Fishing…………………………………………… 11
-> Tools of the trade ……………………………………………………………. 15
-> Things to consider for Bass Fishing ……………………………………….. 27
-> Techniques for Bass Fishing like a Pro …………………………………. 34
Chapter 2 – Mistakes and Secrets to Bass Fishing ……………………………. 39
Chapter 3 – Styles and Specialty Bass Fishing Techniques ……………………. 41
Summary and Conclusions ………………………………………………………. 43
References and Other Handy Books …………………………………………… 44
Appendix on Bass Fishing ……………………………………………………… 45
Recommended Resources ……………………………………………………….. 59
PLR Ebook Sample Content Preview
Introduction
Knowing and Going Where the Bass Are
Bass defined: A fighter, ever-elusive, choice game-fish, predator by nature and reputation, the one sought-after, prized hook, catch, reel-in and land, of many an
aspiring angler.
How to catch Bass AND then catch more, larger bass, more often, in more places, with more consistency, having a pro-active plan and approach, stacking the odds in your favor to succeed, catching more fish and enjoying the process, is what this basic guide is all about.
The hunter becomes the hunted – learn how a small change in your paradigm, thinking and approach can lead to bass-angling success! Start thinking like the watery hunter, become and understand the bass as a hunter. Observe, learn, follow, study and use its natural habit, preferences, patterns, habits, prey and choice of food, in your angling-strategy, and you will have some interesting fishtales to tell. (None of them tall tales of course, we hope!)… And yes, we may even learn something from the ones that get/got away!
So, without further ado, let us get our rods and reels going…
If you were told that, there is one particular species of fish that most would describe as tough-minded, smart, outwitting and elusively hard to catch, then it the Bass – in all its shapes, sizes, iterations and sub-classes.
It rings true, no matter what the context, body of water, special and or any situation or condition, regardless of secrets, tips, proven science, technique and intent in the world! Bass fishing is challenging and rewarding at the same time. To ensure hours of countless pleasure, follow the pointers (and add some of your own here too!) provided here, for The Definitive Guide to Tackle Bass Fishing and be ready to hook the next big one… repeatedly, and actually be able to ENJOY it too!
There are various aspects, working in combination in the art and science, sport and pursuit that is Bass Fishing! Strategy and synergy, contribute to eventual, and (we will argue), consistent and repeatable success. Equipment, site, lure and skill, dawn and or dusk, shallow or deep waters, fresh/salt water, from boat or shore – it does not matter! There are secrets and techniques for each of them.
Novices, beginners, seasonal and seasoned anglers alike, are all welcome to flip through these pages to discover some magical, sought-after truths about bass fishing! In the end, it is as much about the process, enjoyment, understanding and appreciation, as it is about the fish!
Other Details* Sales Page:
Included, HTML
* File Format:
MS Word Doc, PDF
* Number of Pages:
58
* Included Graphics:
Ecovers, PSD
* Extras:
4 Graphics Sets
* Extras:
5 Part Autoresponder Email Message Series
* Extras:
10 Parts Google Ads
* Extras:
10 Parts Yahoo Overture Ads
* Extras:
50 Articles
* Extras:
Adsense_Website
* Extras:
Blog Themes
* Extras:
Keywords
* Download File Size:
23,195 KB