Salespage Snapshot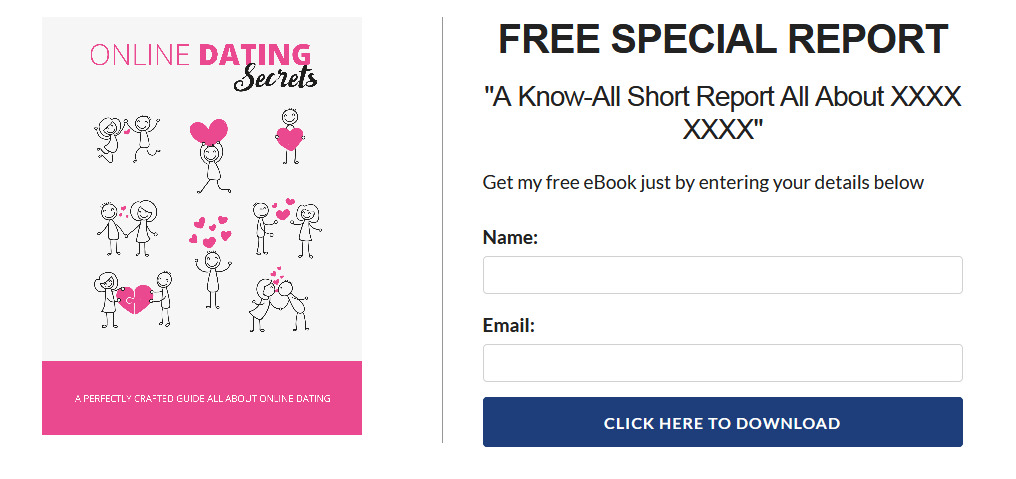 >> Click Here To View Sales Page...
Table of Contents
Introductory 4
Chapter 1: Make The Most Of Adult Online Dating 6
Chapter 2: What To Talk About On A Date 8
Chapter 3: Growing Online Dating Relationships 10
Chapter 4: Online Dating Mistakes to Avoid . 12
Chapter 5: Online Flirting – A New Art Form 13
Chapter 6: Online Dating Safety for Women . 16
Chapter 7: Creating Lasting Love . 17
Sample Content Preview
Chapter 1: Make The Most Of Adult Online Dating
Adult online dating sites are formed based on a simple concept – to create a site for adults to connect.
Adult online dating services are available for those who are looking for intimate encounters, and enable people to meet others with similar interests and needs. Whether you are looking for a friend, lover, sex partner, intimate encounter, one-night stand, group activities or just someone to chat with, adult online dating is the place to meet all types of people from across the globe.
Most of the well-known adult online dating services allow you to join for free and have limited use of their site. You can create a free profile, upload some pictures, browse other member profiles, and sometimes even view the details of your favorite members.
But unless you whip out the ol' credit card and upgrade your membership, your freedom and options are severely restricted. Generally, with a free account, you can receive messages but will be prohibited from contacting any other members – and since the purpose of joining an adult online dating site is to initiate contact, these restrictions force most people to upgrade.
There is, however, one loophole within this paid dating service that allows you to avoid member fees, and the secret lies in creating a truly award-winning profile and attracting the paying members to contact you!
A snappy, attention-grabbing headline will encourage people to have a closer look at your profile. Try to come up with a unique title or tagline to solicit attention from other members.
Posing a question is often a good way to entice people to click through and view your full profile. Appeal to others' curiosity, and don't be afraid to be interesting! Be sure to include a lot of information about yourself to give the full picture of who you are and what you want. You will find many fields to enter such data: your bio, interests, favorite books, preferred movies, and so on. The more effort you put into your profile, the more opportunity you give people to meet you.
In order to use any paid adult online dating services without spending a cent, all you need to do is create an attention-getting profile that encourages people to respond.
People who use this technique at many of the popular adult dating online sites have several hundred responses a week without ever upgrading to a paid account. Now you can save your hard-earned cash – and maybe even pay for dinner on your next big date.
Chapter 2: What To Talk About On A Date
I'm sure you want your date to have fun and you want to have fun, too! You want to ensure that the conversation is interesting and stimulating to both of you.
Body language always speaks first in any conversation. When you are confident your body relaxes, becomes more open, you lean in, you smile, and you become more animated. When you are tense or not at ease with yourself, you will be sitting back, crossing your legs, maybe your arms, your mouth will barely break a smile, and your eyes will be searching elsewhere in the room. Knowing this will allow you to convey confidence with your body language.
Your verbal dating conversation skills will largely be judged on how able you are to create a conversation that your partner enjoys. Ultimately, that leads to you getting more dates. If you're thinking this is obvious, yes, it is! The question is HOW to create an interesting conversation.
Your dating conversation will be made up of you both asking and answering questions. If you ask the right questions, your partner is going to have fun. If you ask the wrong questions, they are going to ditch you. If you are evasive or less than honest when answering her questions, she is going to ditch you quicker.
Questions are powerful. Funny thing is that when a person is asked a direct question they somehow feel obligated to answer it.
Here are some conversation starter question ideas for your first date:
"What do you love to do in your spare time?"
"What do you particularly enjoy about that?"
"If you could go on a fantasy holiday, anywhere in the world, where would it be and what would you do?"
By asking these questions you will cause your date to recall pleasant past experiences and share them with you.
Popular Online Dating Activities
All types of everyday activities are growing in popularity online these days like sharing photos and greeting cards. In fact, both of these even go hand in hand with online dating opportunities, one of the most popular online activities for singles today.
Before actually meeting in person, many dates get acquainted online first. Here's how.
Photos – As a wonderful keepsake of your budding romance, create an online photo album for your new cyber-mate. Include digital photos of favorite outdoor scenes, pets, flowers, cars, silly moments, your computer corner or laptop, etc. Then you'll even have more to discuss during online dates via emails and chat rooms. Search for "photo albums" to find places that store your photos.
Other Details
- 1 Ebook (PDF), 20 Pages
- 1 Squeeze Page (HTML)
- 3 Ecovers (JPG, PNG)
- Year Released/Circulated: 2019
- File Size: 2,159 KB
License Details:
[YES] Each product to be sold for no less than $7.00 each.
[YES] Can be sold
[YES] Can be re-branded as your own
[YES] Can be used for personal use
[YES] Can be packaged with other products
[YES] Can modify/change the sales letter
[YES] Can modify/change the graphics and ecover's
[YES] Can add to ANY membership site (MRR Only)
[YES] Can be offered as a bonus
[YES] Can be given away free to build a list
[YES] Can print/publish offline
[YES]Can convey and sell Personal Use Rights
[YES] Can convey and sell Resale Rights
[YES] Can convey and sell Master Resale Rights
[YES] Can be given away for free
[NO] Can convey and sell Private Label Rights
[NO] Can be given away in PLR format
[NO] Can sell or giveaway the FULL package