Salespage Snapshot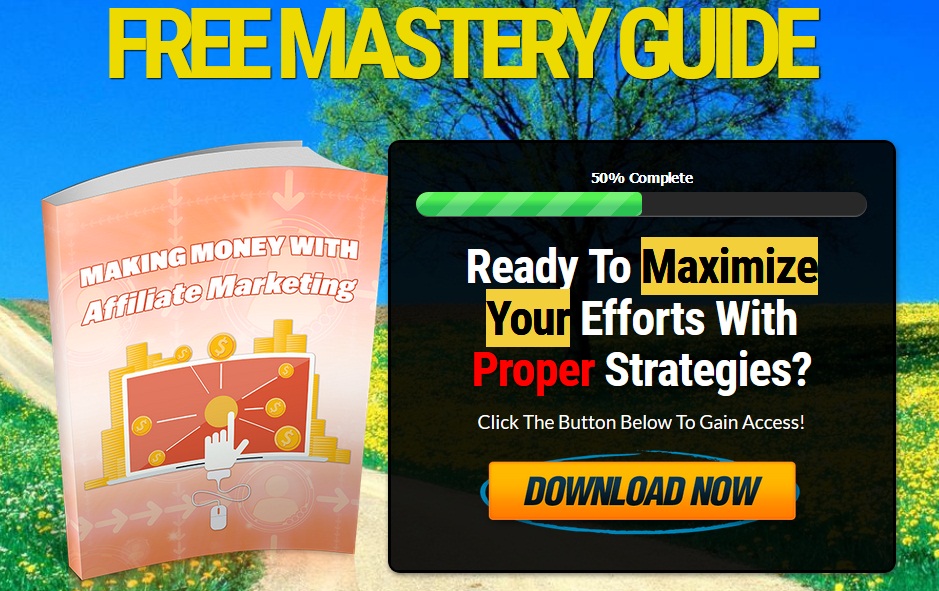 >> Click Here To View Sales Page...
Sample Content Preview
MAKING MONEY OFF REFERRALS
Another great way to make money off affiliate programs is to carefully select networks that have referral bonuses or tiered programs. A two-tier program is when you make money off the people that you refer, at a lower commission than your own. But, every little bit helps. The beauty of a multi-tiered program is that you don't do the work, other than make a referral. Once the referral is made, the affiliate network keeps track of the earnings and sends them to you.
Some limit the timeframe in which you can collect commissions off your sub-affiliates. So, keep in mind that you will want to replenish people on your rolls if that's one way you want to make some income. And, not everyone you refer will be a top earner, so the more people you refer, the better the likelihood that you will make some money. However, if the network also offers a bonus for signups (about $10 or $15 per sign up), then you can at least count on that money to sweeten the pot.
This is also a great way for network owners to expand their network and create a better business. They may be paying out some money for each sign up, but the value that person adds to their network is much higher than what they are paying out. And, many of the network owners also keep payouts at a basic level to encourage participation.
The most levels that are used is three. You can sign up sub-affiliates and earn and they can sign up sub-affiliates and you continue to earn. These types of programs are much rarer, but can offer a further opportunity to increase your income.
So, when looking to create income through referral bonuses, check the following: • Time period for sub-affiliate commissions – If it's less than a year, and they offer no sign up bonus, don't exert too much time promoting something that isn't going to generate much income.
• Sign up bonus This is a very good indicator that you can make some serious money. However, check to make sure that the payout limit on the accounts is less than or close to a single sign up bonus, so that you get that money in your hand, and not just merely as dollar signs on your screen.
• Number of tiers Three tiered programs are the best, but you have to make sure that the rest of the factors, like time period, and sign up bonus are good too. You don't want to join a three tiered program that limits it to one month sub-affiliates commission, and offers no sign up bonus. It's just a waste of time then.
DOYOU KNOW YOUR AFFILIATE'S REPUTATION?
One word of caution here about affiliate programs. You have to carefully check out the network's reputation and the affiliate offers that you use. They are going to impact your online image and if they are fraudulent, you not only lose the money you made, but you can lose future opportunity for making money because your online reputation is shot via association too.
So, before you sign up to a network program, try to find out how long they have been in business and how carefully they vet their members. You may get some flash in the pan startups that offer outrageously good terms, incredible sign up bonuses, three tiered programs that last a lifetime, and then when you get on and work your butt off, they disappear off the Internet the next day. That is not the position you want to be in, either as an advertiser or a publisher.
So, go to different marketing and webmaster forums and check out the reputation of different offers and networks. You will find people are very helpful and will answer your questions or any misgivings you might have. Be careful to take these with a grain of salt too, however, as people do get paid to promote different affiliate programs. However, it's better than not doing a little background check on your own.
A couple of good places to find information on affiliate programs are:
• Digital Point This is a webmaster forum, but it also offers and Internet marketing board where you can go and talk about all kinds of great online affiliate strategies. It is located at http://forums.digitalpoint.com.
• Warrior Forum Another awesome resource to find information on all things about Internet marketing. In particular, they have a board on affiliate marketing where you can get the latest scoop on some of the hottest topics in affiliate marketing, like CPA networks. It is located at http://www.warriorforum.com.
If you start getting complaints from people who used your links to go get an affiliate offer that didn't deliver or committed fraud or theft, immediately remove that offer from your lineup and substitute with another one, while you investigate. This will save you multiple headaches down the road. Now, you may be wondering how the heck you're going to be able to do that when you might have inserted that link all over the web, in free infoproducts that were downloaded, or on social networking site walls and bulletin boards. Impossible, right?
With a little extra planning you can save your reputation and continue to add marketing offers that uphold your high standards and make good money for you. All you have to do is always use a re-direct URL instead of the actual affiliate URL to send people to the offer. This way, should a problem occur, or even if the offer gets suspended, you can substitute, by simply reprogramming the re-direct URL located on your website in ONE location, rather than trying to grab all the links you sent out all over the web! Pretty nifty, huh? You'll be glad you did this, especially if it turns out your network didn't vet someone well enough and ended up hosting a fraud or online thief.
Other Details
- 1 Ebook (PDF), 12 Pages
- 1 Squeeze Page (HTML)
- 2 Ecovers (PNG)
- Year Released/Circulated: 2019
- File Size: 2,306 KB
License Details:
[YES] Can sell and keep 100% of the sales.
[YES] Can edit the squeeze page.
[YES] Can be bundled into another paid package and sell at a higher price.
[YES] Can be used as a bonus to another product you are selling.
[YES] Can be sold in a Dime sale event.
[YES] Can be added into a paid membership site.
[YES] Can pass on the Master Resell Rights privilege to your customers.
[YES] Can be given away for free AGAINST an email address (lead generation)
[NO] Contents of the product can be edited, modified or altered.