Salespage Snapshot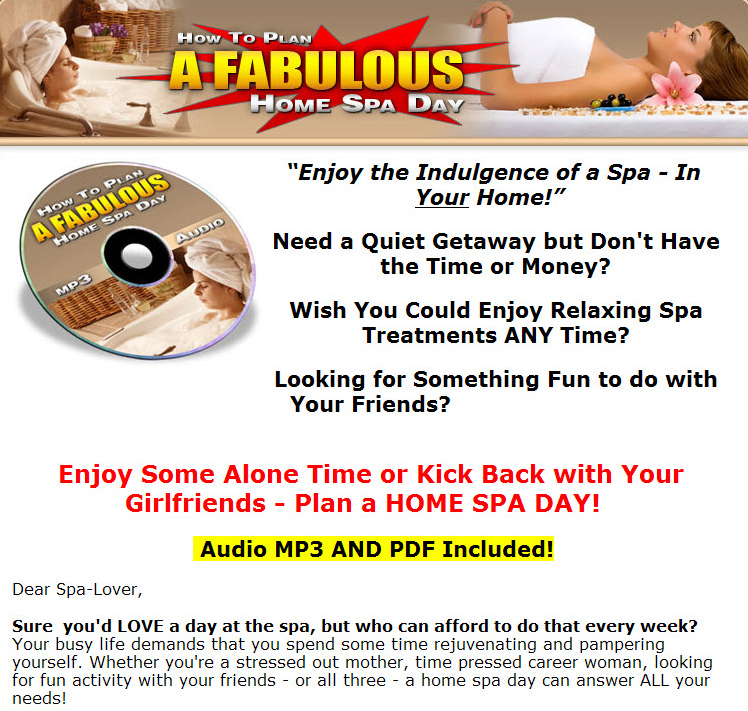 >> Click Here To View Sales Page...
PLR Ebook With Audio Table Of Contents
What Do You Need to Plan for a Home Spa Day?    4
Basic Spa Treatments You Can Do at Home    6
Products You Need for a Home Spa Day    8
How to Set Up Your Home Spa    10
How to Choose the Right Treatments    12
The Role of Scrubs, Masks and Peels    14
The Role of Oils    16
The Role of Heat and Steam    18
The Role of Moisturizers    20
Spa Treatments for Your Body    22
Spa Treatments for Your Hands and Feet    24
Spa Treatments for Your Face    26
Spa Treatments for Your Hair    28
Food and Drink Ideas for Your Home Spa Day    30
How to Store Your Home Spa Products    32
PLR Ebook With Audio Sample Content Preview
What Do You Need to Plan for a Home Spa Day?
To treat yourself to a home spa day, the first thing you need to do is organize the children to be away. If they could sleep over at Nan's that would be ideal, then you could count on having a decent night's sleep as well. Wherever they go, try to have several hours free of both children and other interruptions. Take the phone off the hook or switch your answering machine on. You may have to organize ahead of time so that people won't be worried about you not answering.
Your home spa day needs to be planned well in advance.  Draw up a plan for the day, as well as planning what you'll need to purchase. Things like facial scrubs, hot oil pack for your hair, essential oils, scented candles to create a calm and soothing atmosphere and food that you don't have to prepare yourself. The weather may play an important part in your food choices.
If the season is hot, then food can be healthy and easy to prepare. Simply eat a full tomato, a cheese stick, lettuce leaf, celery and yogurt with your choice of berries or other fruit. Choose something that you don't usually have to make it a bit more special. If it is cool weather, you may like to prepare a nourishing chicken soup the day before, or simply buy a frozen dinner from the supermarket.
Tomato and grilled cheese on toast is almost as healthy as a salad snack and more warming for cool weather. Don't stress out over your food choices. Healthy is good, but trouble free is better for this one day. There will be plenty of other days when you will prepare healthy food. For breakfast you could choose to make a smoothie with strawberries, banana and yogurt. Or if you have a juicer, apple, celery and carrots are a great blend.
Make sure you set out all the things you will need before you start. You don't want to have your hands and face covered with cream, then find your relaxing music source is hidden at the back of the cupboard. Place your bath salts or bubbles close to hand, along with the towels, spritz or moisturizer for afterwards.
If you plan on making your own facial or body scrub, prepare it the day before, if possible. If not, have all the ingredients on hand to make preparation easy. Don't forget to pamper your feet with a soak in sea or Epsom salts. A gentle scrub with a pumice stone or foot scrub cream and moisturizer will rejuvenate them…
Other Details* Sales Page:
Included, HTML
* File Format:
MS Word Doc, PDF
* Number of Pages:
33
* Included Graphics:
Ecovers, PSD, JPG
* Download File Size:
39,287 KB